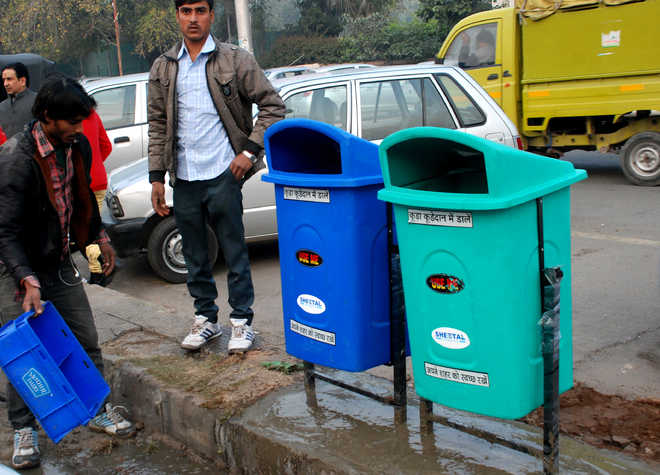 Sanjay Bumbroo
Tribune News Service
Panchkula, September 9
The Panchkula Municipal Corporation has imposed fine on 28 households, bulk garbage generators and those found littering in the city on Monday.
Sources said 16 residents were fined for failure to segregate the wet and dry garbage while five persons have been fined for littering garbage on roads and open spaces. About six bulk generating institutions, which generate more than 50-kg garbage, have also been fined. An owner of a construction site has also been challaned.
Sources said sanitation supervisors were issued challan books today for challaning people on the spot. Those challaned would have to pay fine from Rs 500 up to Rs 9,500 for the offence depending upon the quantity of the garbage collected.
Confirming the same, MC Commissioner Rajesh Jogpal said that sanitation staff had already sensitised residents about separating wet and dry waste before handing it over to the garbage collectors. He said they had directed the garbage collectors to only accept the segregated garbage and if they were found accepting non-segregated waste, they would also be fined by the sanitation supervisors.
Meanwhile, residents have urged the Municipal Corporation to streamline the garbage collection rates. Residents demand that the MC should fix a rate for the city instead leaving it to the whim of garbage collectors.
SK Nayar, president, citizen welfare association, said he had been raising the issue with the MC for the past one year.
Referring to his own street in Sector 15, he said the garbage collector was charging from Rs 70 to Rs 150 from houses which are in the same area. He said the authorities should fix equal rates as per the size of the house.
Subhash Papneja, president, RWA, Sector 16, said his sector was divided in five zones and the door-to-door collectors were charging as per their wish as the MC did not have any control over them.
Commissioner Jogpal said the authorities were chalking out a plan to streamline the garbage collection rates in the city as well other areas falling under the MC limits, including Kalka, Pinjore and some villages.