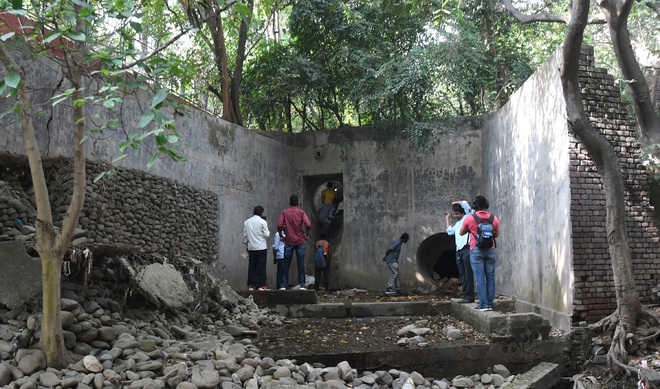 A pipe 32 ft below earth surface being used as a chamber or bunker is a serious matter when it comes to security of Chandigarh and its residents. It is a failure of not only the police, but the intelligence of the country too. Residents cannot be absolved of their negligence in ignoring activities going around them. They should also be vigilant against such activities and inform the authorities concerned. The authorities should make all efforts to find more such bunkers. These should be immediately destroyed or prevented from misuse.
Bharat Bhushan Sharma, Chandigarh
---
Incident has come as a jolt to us
Knowing about unknown persons living 32 ft below the earth surface in Chandigarh comes as a jolt. The imagination of such chambers being used for hiding by anti-social elements sends shivers down the spine. Terrorising sincere UT residents with CCTV camera footages and challaning even for minor traffic offences has become a routine affair in the City Beautiful. Why can't the police and the Administration utilise sophisticated gadgets to find misuse of bunkers, which has been going on for years?
MPS Chadha, Chandigarh
---
Failure of public health authorities
Underground sewerage inspection chambers are technically need-based/vantage points at the confluence of sewerage pipes. It is shocking that some vagabonds in the city have turned one such chamber into a dwelling unit. Surprisingly, how could they live in a dingy, filthy, unhygienic and obnoxious conditions? This remained unnoticed by the public health authorities until accidentally found now. It, therefore, proves beyond doubt that no periodical inspection of these chambers for their functional efficacy is carried out. Perhaps such hideouts could have been of greater security risk. Thankfully, no subversive activities found in the instant case. The civic authorities must take a call to prevent such activities, and ensure periodical inspections of all such underground structures with proper logging. Besides GIS-based mapping of all underground service infrastructures must be done to monitor/keep a watch for preventing any illegal and unsocial activities from such sub-surfaced structures.
SS Arora, Mohali
---
Officials should be named and shamed
Usage of a chamber 32 ft below the earth's surface for residential purposes and that too in a sensitive government building is nothing short of a scene from a James Bond movie. It is sheer luck that no illegal activity was taking place in the bunker or could have taken place earlier. But the manner in which the entire episode is being covered up clearly shows criminal negligence, failure of the police and civic authorities, which all need to be named and shamed. It was an ideal hideout for anti-socials, vagabonds and a den for criminal acts. This is an eye-opener for the Municipal Corporation, but the most surprising aspect of this revelation is that no senior official, politician or the Mayor, has taken cognizance and given his/her views or taken action against any official concerned. This is total apathy towards public safety, security and law and order. The UT Adviser needs to take up this matter with alacrity.
Rajiv Boolchand Jain, Chandigarh
---
Security, police did not do their duty
The use of underground chamber made for storm water by homeless people is illegal and dangerous. Failure to detect occupation of the chamber by the security and civil agencies can expose the city and highly sensitive buildings to risk. Security is provided, but least important places are left unchecked, which can be a hazard. There is a need to make SOPs for all structures or ditches made for future use for their safety and security. Police patrolling teams and security personnel of the place have not done their duty carefully, which has led to such lapse.
Wg Cdr Jasbir Singh Minhas (retd), Mohali
---
Book officials for laxity on their part
This is a matter of security of the country. The criminal may not be thieves. They can be terrorists making a plan to strike. The police force should put their best efforts to arrest the unknown persons staying 32 ft below the earth. This is 100 per cent failure of the force and the UT Administration. What security is this? Some instrument can be prepared to find underground hideouts of criminals and regular checks be carried out by the authorities concerned. Hereafter, officials responsible for any type of laxity should be booked.
MR Bhateja, Nayagaon
---
Better be safe than sorry
These days when people can hide gold in their rectums to smuggle it from foreign shores, you can imagine what they can do with underground chambers. They may give it any name like ' bunkers' or basements or rain harvesting tanks, but many of these 'deep and dark holes' are used for hiding something illegal – be it an activity or commodity. Of course, all are not nefarious. But the police and the UT authorities have to be watchful. House owners and shopkeepers must declare such areas if they have created and the police must check it regularly. It is better to be safe than sorry.
Col RD Singh (retd), Chandigarh
---
Cops, public should be aware of activities
A chamber 32 ft below the earth surface used by some unknown persons for living is a major security lapse on the part of the Chandigarh Police and the civil authorities. By God's grace it was not used by anti-social elements. But imagine the severity of the consequences if it was used by some criminals. Regular patrolling by the police not only during the daytime, but also at night is the need of the hour. The police need to be more vigilant. Even public should be aware of activities happening around them. In case they notice any such movement, they should immediately report to the police. The CCTV cameras must be checked regularly. The ones not working should be replaced/repaired at the earliest. So, only vigilance by the police, administration and the public can help in tackling such illegal activities.
Bir Devinder Singh Bedi, Chandigarh
---
Police, administration not at fault
It's a rare case of some poor person living in a big chamber connecting storm water pipes 32 ft below the earth surface. It cannot be termed failure on the part of the police or the civil authorities as they are not meant or equipped to keep round-the-clock vigil on underground drains more so, as no incriminating material or activity was found at the site. Nonetheless, an in-depth probe by the police and the CFSL underway would lead to corrective action needed if any. As virtue is its own reward, every crime does leave a trail for revelation sooner than later.
Lalit Bharadwaj, Panchkula
---
It's Premature to establish cops failure
There is nothing new in some homeless poor finding refuge at a place with a roof on his head in a big city. The number of such homeless people coming from the rural areas in search of livelihood in Chandigarh has increased many folds in recent years. Such people finding refuge in empty, but deep underground storm water pipes in Sector 36 need not be ruled out till, their criminality of any sort is established by the police. Till then treating it as a failure of the police or the civil authorities to let such refugees stay there and use pipes as bunkers might be a bit premature.
SC Luthra, Chandigarh
---
MC's only aim is to earn revenue
A big chamber in Sector 36 was used as shelter by some homeless people. Such big sewer pipes are everywhere in Chandigarh. The main concern of the police and civic body is to challan residents and shopkeepers and collect revenue rather than checking such activities and keep an eye on outsiders coming to Chandigarh and find their purpose of visit. Training should be given to the police and the civil administration to build trust with people in order to decrease anti-social activities in the City Beautiful.
Avinash Goyal, Chandigarh
---
Authorities act only in case of adversity
I am of the firm opinion that the police and the civil authority must have checked before allowing persons to stay in a chamber connecting storm water pipes in Sector 36. I have also seen that the authorities concerned take action when something adverse happens. The police and the civil authority must judge the negative aspect of everything. In this case also if some anti-social element had done something wrong only then the authorities would have repented not having taken action.
Tarlok Singh, Mani Majra
---
Unreported matter doesn't bother police
In the early age, people used bunkers to hide for their own safety. Maybe these persons living in drain hole are homeless. They must have know the Sector 36 chamber well since its construction. The police and the civil administration are never bothered about things, which go unreported.
Sardul Singh Abrawan, Chandigarh
---
Criminals have no fear of law
Nowadays, burglars and criminals have surely lost the fear of cops in the the tricity because of the latter's laziness. This is proved by the recent revelation of unknown persons living in a 32 ft deep bunker in the City Ceautiful. A city with the best police-public ratio can surely have the lowest crime rate if the police patrol in day and night. They should investigate crimes, check internal and external roads in the tricity. The authorities concerned should educate people not to steal things and tell about steps to be taken if someone steals their goods. Cops should answer all telephone calls for help. The CCTV cameras with audio should be installed on all street lights. Cops should also be provided latest weapons. There is a need for moral education to reduce crime in the tricity.
Saikrit Gulati, Chandigarh
---
It is security lapse on part of authorities
No doubt, homeless live in sewer pipes in big cities. In the present case, unknown persons living in a chamber connecting storm water pipes near the CFSL complex in Sector 36 can be considered a security lapse. People living underground near a premier laboratory could be criminals or anti-social elements. Although nothing incriminating was found from the site, the incident raises security concerns. Earlier too, 150-metre-long hideout of robbers was found near Jagatpura. The Chandigarh Administration has to gear up to tackle and prevent such activities. Departments responsible for maintaining underground infrastructure should be fully equipped to conduct regular checks of storm water pipes. The police and residents too need to be more vigilant and keep an eye on activities around them.
HJS Gill, Chandigarh
This is a grave negligence on part of the Chandigarh Administration and the UT police. If these sewers are in the knowledge of beggars, then anti-social elements and terrorist groups are bound to know about them too. Such elements can hide in storm water drains after or before commtting a crime. These unused sewers should be thoroughly searched and closed by the authorities before it's too late. Rajat Malhotra , Gen Secy, CRAWFED
The revelation of unknown persons living in 32 ft under an earth block connecting storm water pipes outside the CFSL complex in Sector 36 is a stray incident. After this, a single case of manhole came into our knowledge. We conducted a survey of all such 10 to 12 manholes, which have chambers, in the City Beautiful. Nothing has been detected in manholes with chambers in our survey. Shailender Singh, MC Chief Engineer
This is total failure of the Chandigarh beat policing, intelligence agencies and the civil authorities. These chambers are used by bad elements for anti- social activities. Officials responsible for this serious lapse should be suspended. The authorities even failed to intercept electronic gadgets used for telephonic calls and internet services during the stay of unknown persons in the chamber. The UT police and other agencies even failed to learn a lesson from the Burail jailbreak case. GC Dhadwal, retd principal
This is failure of the agencies, which are responsible for the maintenance of storm water pipes in the City Beautiful. Someone lived in the chamber conntecting storm water pipes as the Municipal Corporation's Public Health Department and the UT Administration did not do their duty. Moreover, the police beat system has also come under the scanner for this potential security risk, which went unchecked. RK Garg, president, second Innings Assn
The fact cannot be denied that such places like chambers connecting storm water drains can be used as hideouts. I believe that the authorities maintaining storm water pipes in Chandigarh should look for ways to ensure that nobody enters these pipes. Moreover, the authorities concerned should also inform the police about any such suspicious activities so that immediate action can be taken. Charanjit Singh, DSP, Chandigarh
---
QUESTION
Roads in Chandigarh and other parts of the tricity are in bad shape. Potholed roads make driving a woeful experience in the tricity. The Chandigarh Municipal Corporation is starved of funds and hence repair of roads doesn't seem on top of its priorities. Do you think tricity residents deserve a better deal?
Suggestions in not more than 70 words can be sent to openhouse@tribunemail.com