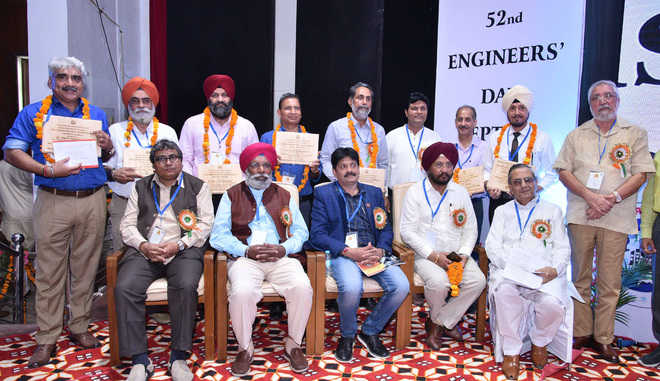 Tribune News Service
Chandigarh, September 15
The Punjabi Engineers' Welfare Society (PEWS) today celebrated the 52nd Engineers Day at the Law Department auditorium in Panjab University.
Engineers working in various departments, boards and corporations were present during the event.
Manmohan Singh, president of the Punjabi Engineers' Welfare Society, appealed to participants to extend help flood victims in Punjab. "It was unanimously decided that all engineers of the state of Punjab will contribute a day's salary to the Chief Minister's Flood Victim Relief Fund," he told the gathering.
The Engineers Day is celebrated every year to commemorate the birth anniversary of Bharat Ratna Awardee Sir M Visvesvaraya, a prominent engineer of the country.
During the occasion, retired chief engineers of various departments were felicitated. Engineers with significant contribution to sports and other sectors were also recognised.
SMS Sandhu, Chief Engineer (Retd) Department of Public Works (PWD), and Er ML Sood, SE (Retd), PWD, were also honoured.
SS Nahar, Additonal Director General, Ministry of Road, Transport and Highways, was the chief guest on the occasion. He talked about the importance of road network and highways in the overall development of the nation.