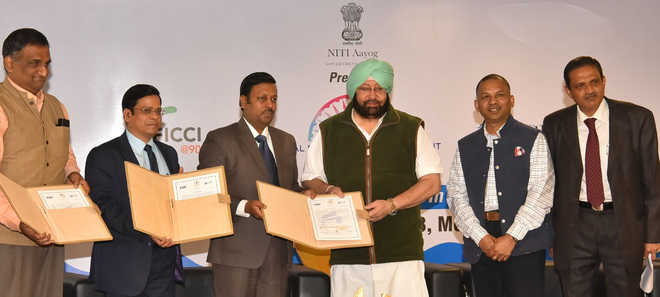 Tribune News Service
Mohali, November 22
Punjab Chief Minister Capt Amarinder Singh today unveiled the draft Punjab Start-up and Entrepreneurship Development Policy 2017, underlining the government's commitment to support women start-ups.
While delivering the inaugural address at the 'Road to GES' programme at the Indian School of Business (ISB), Mohali, ahead of the Global Entrepreneurship Summit 2017, scheduled to be held in Hyderabad later this month, the Chief Minister said women were more committed in terms of dedication towards industrial entrepreneurship and his government was doing everything possible to encourage them.
"The start-up and entrepreneurship development policy would go a long way in boosting the state's efforts to promote entrepreneurial culture, especially among women," he said.
"The government will assist women start-ups in every possible manner by giving them financial and other support. GES will be a platform to connect with entrepreneurs, domain expertise and mentors from across the world," he said.
The 'Road to GES', focused on celebrating and empowering women in entrepreneurship'. It was organised by NITI Aayog in partnership with FICCI and ISB.
Inviting suggestions and feedback for the draft policy, the Chief Minister said his government was focused on making the state competitive for industrialists, and the draft policy, along with the industrial policy brought out earlier, would facilitate industrial development in the state.
The CM said his government was focused on empowerment of women and was enhancing their participation in decision-making, having already increased women's reservation in Panchayati Raj Institutions and Urban LocaL Bodies to 50%.
Women empowerment was critical to the development of the state, said Capt Amarinder, adding that during his meetings with captains of the industry, he had told the ICICI Bank MD and CEO, Chanda Kochhar, that the best way to help Punjab was to enhance the income of women.
Rajinder Gupta, Regional Chair, FICCI; Chairman Trident Group; and vice-chairman, Punjab State Planning Board, underlined the role of women in fostering the social and industrial growth.
"The women entrepreneurial community should be provided with all safety nets to create a self-sustained path of development," he said.
Top News
The indictment enmeshes the Justice Department in the most p...
BSF personnel deployed in depth areas hear the buzzing sound...
There have been signs of differences between the party and i...