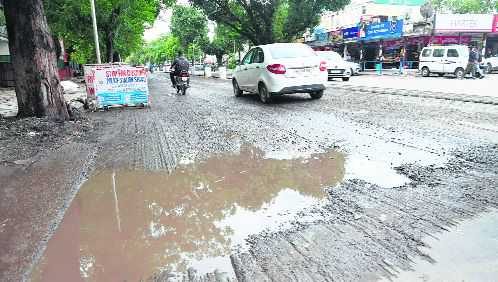 Ramkrishan Upadhyay
Tribune News Service
Chandigarh, July 11
Rain has halted the ongoing works of recarpeting in the city, causing harassment to commuters.
The halted works have created chaos at more than 20 places in the city. The work has been stopped on roads in Sector 22, 21, 24, 37 and 20 besides some southern sectors.
The roads were scraped for recarpeting and the work was left midway due to showers. Vehicles are allowed only on one side of the road due to which traffic jams have become a routine on such roads.
An MC official said the works would resume in coming days only if rain does not affect the existing area further.
Rajiv Kathuria, a Sector 21 resident, said the MC scraped the road, which worsened the situation.
The engineering wing of the MC had kicked-off road recarpeting and construction works late this time due to shortage of funds.
Construction and recarpeting of roads have remained a major issue in the city. The recarpeting works were started after the UT Administration released Rs 50 crore for the purpose last year. All works relating to repair and recarpeting of roads was stopped for months due to the financial crisis in the civic body.
Recarpeting was overdue as rain had already damaged roads, putting lives of commuters at risk. Several roads in the city, particularly those in Sector 18, 21, 22, 38, 46 and 47 and the Industrial Area are in bad shape.