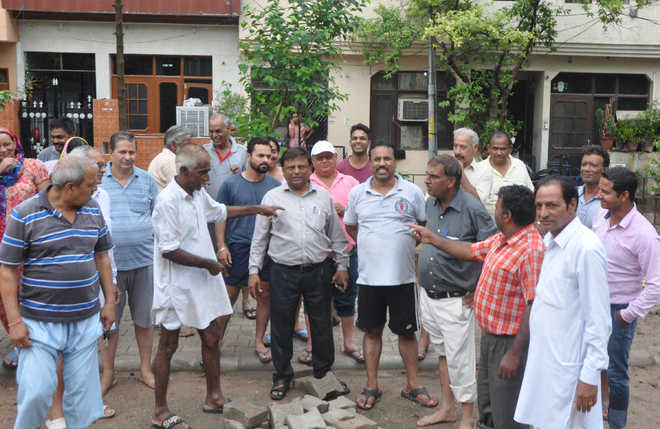 Tribune News Service
Panchkula, July 11
Residents of Sector 19 here today held two junior engineers of the Panchkula Municipal Corporation captive after rainwater entered their houses. They also raised slogans against the civic body.
On receiving information, the Executive Engineer reached the site and tried to pacify the residents. The residents freed the JEs after the XEN assured them that the problem in the area would be addressed soon.
Residents, including Vinod Sharma, Duli Chand, Arvind, DR Sharma and others, said rainwater had entered their houses after showers on Thursday. They said they immediately informed Municipal Corporation officials about it. When the two JEs reached the site to address the problem, people caught hold of them.
Residents said on July 10, they had written a letter to the Chief Minister that even after light showers rainwater entered the bedrooms and kitchen of their houses, and damaged household items. They said earlier too, they had brought the matter in the knowledge of MC officials but nothing was done to resolve the issue.
They further said some time ago, a pipeline was laid in the sector for drainage of rainwater but it was of no use as the authorities had failed to clean it before the onset of monsoon.
At Abhaypur village, people faced problems as their movement was restricted due to waterlogging.
Former councillor of the area Subhash Chand Nishad said people had to suffer due to the negligence of the MC.
Abhaypur residents said they face the same problem every year and demanded that cleaning of sewerage and drainage system in the village should be done immediately.