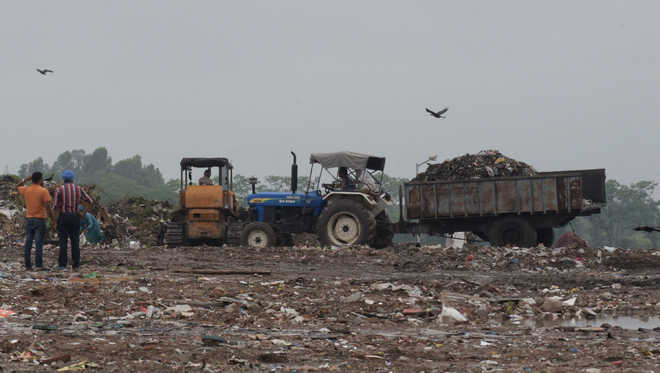 Tribune News Service
Chandigarh, August 2
Residents of Dadu Majra colony demand that the dumping ground in the area be shifted citing respiratory ailments and skin allergies from heaps of garbage dumped daily at the landfill.
Satish Kumar, a resident of Dadu Majra colony said: "The stench from the garbage is unbearable, especially when it's windy. It has caused TB, asthma, skin problems and is a health hazard. It is difficult to stand outside the house."
About 400-450 metric tonnes of garbage is generated in the city in a day. The plant in Dadu Majra, run by Jaypee Associates, has a processing capacity of 250-300 metric tonnes daily.
Narinder Choudhary, president, Dalit Raksha Dal, said: "Jaypee Associates has been asked to set up a waste-to-compost plant within three months, which will have a capacity to process 300 metric tonnes of garbage daily. The National Green Tribunal (NGT) has asked the firm to process all waste, failing which they would have to pay a fine of Rs 50,000 per day after one month."
"Last month, we had staged protests and stopped Municipal Corporation trucks from dumping the garbage at the landfill. We called off protests after assurances from Jaypee Associates," said Narinder.
"We also demand that the height of the boundary wall surrounding the dumping ground be raised to at least 12 feet from its current height of 6 feet. Around 70 per cent of families in this area belong to the Dalit community. They clean houses of bureaucrats, but their own houses are full of trash," he said.
Devi Ram Aggarwal, president, Market Association, Dadu Majra, said: "We had suggested that the dumping ground be shifted to the forest area near Patiala away from the residential neighbourhood. But the authorities concerned did not pay heed to our demands."
Suraj, a resident of the colony, said: "There is no drainage system at the dumping ground. All waste water finds its way into the colony. Even medical waste from hospitals is dumped here."
Shyam Lal, another resident, said: "Sometimes, the trash is burnt and poisonous fumes affect children and senior citizens."
"People are reluctant to get their daughters married into this neighbourhood. I am thinking of moving, but the property rates are depressed because of the garbage problem," he said.
Top News
According to the dossier, Brar arrived in Canada on August 1...
Nijjar, chief of the Khalistan Tiger Force, was shot dead by...
According to an order issued by the Ministry of Home Affairs...
The graffiti that came to light after a viral video, has sin...