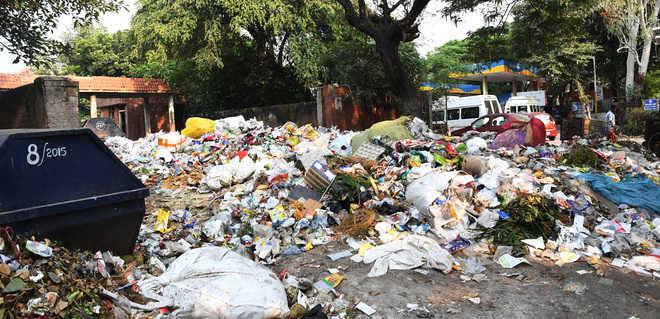 Sandeep Rana
Tribune News Service
Chandigarh, October 14
Even as the Municipal Corporation (MC) is 'unprepared' for its waste segregation project, it has decided to challan collectors as well as residents found not keeping dry and wet waste separately from Tuesday.
Speaking to Chandigarh Tribune today, MC Commissioner KK Yadav said, "We have already cleared garbage lying at Sehaj Safai Kendras (SSKs) and placed two big different bins for wet and dry waste there. Garbage collectors can dump the segregated garbage collected from residents separately in these bins. From tomorrow, we will start challaning people as well as collectors if waste segregation is not followed."
During a random check, Chandigarh Tribune found SSKs in Sectors 22 and 46 brimming with mixed garbage. There was no space to keep segregated waste. Garbage of previous days was not lifted and taken to waste processing plant in Dadu Majra yet. The situation was no different in colonies and villages.
With SSKs not ready for receiving segregated garbage, collectors' effort is too going futile. On the other hand, the MC did not hold any drive to make people aware of the October 12 launch of its waste segregation project in the city. Many residents are unaware about the MC move.
MOH Amrit Warring claimed they were issuing notices to defaulters from the day one.
"All our hard work is going in a vain as garbage gets mixed at SSKs. Keeping separate bins at SSKs in some main sectors will not solve the problem. There is single bin at SSKs in several areas, including Sector 25, 56, colonies, villages and housing societies. Besides, tonnes of garbage are lying at many SSKs for the past several days," said OP Saini, chairman, Door-to-Door Garbage Collection Society.
He suggested, "The MC should publicise waste segregation and hold awareness camps for some days. They only gave two days before launching the project, which was too less for all stakeholders. The civic body should hold a meeting with representatives of RWAs, market welfare associations and waste collectors, which it has not so far. By instilling fear of challan, people will only get agitated and the project will never succeed."
Hitesh Puri, chairman, Chandigarh Residents Association Welfare Federation (CRAWFED), said, "It seems the effort of the MC is half-hearted. It will be too early to penalise people. Make people aware of the penalty first."
Only a few people segregate waste in the city while collectors maintain that they had been seeking segregated garbage from every household. They say if people do not do it, they cannot help it. MC officials said no collector should take garbage if residents were not segregating it.