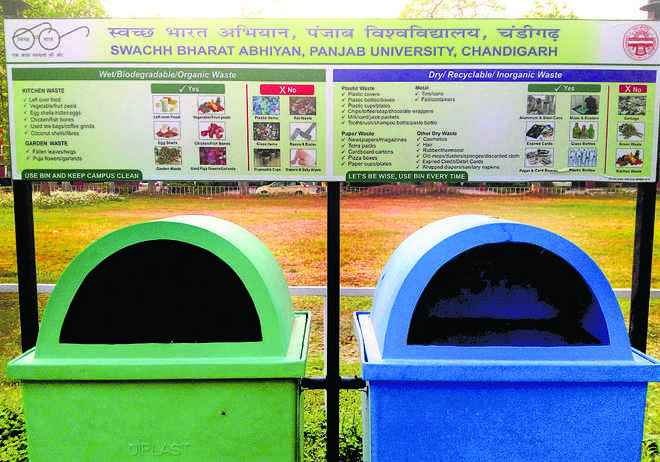 Ramkrishan Upadhyay
Tribune News Service
Chandigarh, March 26
After a delay of over two years, the local Municipal Corporation has finally decided to begin segregation of waste at source from June 1. Sources said the MC gave this assurance in its compliance report submitted before the National Green Tribunal ( NGT) today.
The tribunal had directed all states to submit action plans to reduce the pollution level and bring air quality standards within the prescribed norms, failing which they would be liable to pay "environment compensation". The NGT had directed the chief secretaries of all states to be present in the court and file the status report and action plans.
The sources said besides the Adviser, senior officers of the UT submitted the report.
The UT submitted the compliance report in areas of solid waste management, plastic waste management, bio-medical waste management and air quality control. On solid waste management, the UT said it already had an RDF plant, a compost plant and a bio-methanation plant.
The UT said around 2,500 kg bio-medical waste generated in the city was being collected and treated daily.
The affidavit also included plans to curb pollution in the Ghaggar. The report said all discharge points, releasing untreated waste into drains, were being plugged. Most of the points had already been plugged. It said all existing STPs would be upgraded to meet the latest prescribed norms by November 2021.
An action plan for control of air pollution in Chandigarh was also submitted. The plan has both short-term and long-term measures for prevention and control of air pollution. To tackle vehicular pollution, among short-term plans, the action plan talks of checking fuel adulteration and random monitoring of fuel quality data. Among long-term plans, the UT Administration is working on widening of roads and improvement of infrastructure for decongestion of roads. There is also a plan to run electric vehicles in the city. Around 136-km cycle tracks and footpaths have been constructed so far. On plastic waste management, the report said since the imposition of the ban on plastic carry bags in the city, the Administration had issued 364 challans and seized 1,884 kg plastic.
Rs 10,000 fine for littering soon
The Chandigarh Municipal Corporation has decided to issue a challan for Rs 10,000 for littering soon. The Administration had recently notified the solid waste management bylaws under which heavy penalties have been fixed for littering and violating provisions of the rules. The MC will empower sanitary inspectors to issue challans under the rules..
Top News
Resignation sent to Governor Banwari Lal Purohit for final a...
The attack comes days ahead of the celebration of the 75th I...
Abdul Rauf Azhar, born in 1974 in Pakistan, was sanctioned b...
Four people, including two women, arrested