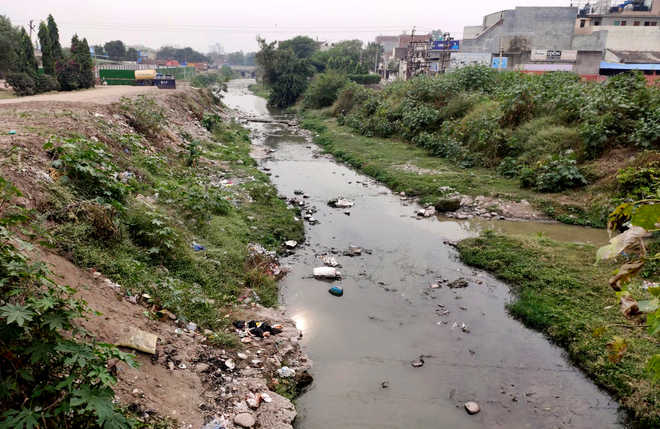 Sanjay Bumbroo
Tribune News Service
Panchkula, November 14
Singh Nullah passing through the city will attract tourists in future as the choe will be turned into a lake.
At present, the rainwater-fed nullah passes through Sector 1, 2, 4, 12, 12-A and the Industrial Area, Phase I, before going towards Zirakpur. The plan is to construct a check gate to stop rainwater from going into the nullah.
Local MLA and Haryana Assembly Speaker Gian Chand Gupta has directed officials of the administration and the Haryana Tourism Department to prepare a detailed project report in this regard.
Gupta said some green spaces would be developed on both sides of the choe so that people could stand or rest near the future lake. Restaurants will be set up and tracks will be laid near the lake.
Gupta said he had also asked the officials concerned to check the feasibility of setting up a lake near Kaushalya Dam on the lines of Sukhna
lake in Chandigarh to attract tourists. He said the dam was built to provide water to Panchkula but the town was not getting water from the dam after the pipeline was damaged due to cracks on the road near Amravati Enclave nearly a year ago. He said now, the town was getting 6 MGD of water from the Kajauli Water Works, which was enough. He said a lake near the dam would be a stopover for tourists travelling on the Panchkula-Shimla highway.
He said he wanted to develop Panchkula as a tourist destination. and with the setting up of lakes, the government would not generate revenue.
Another lake planned near Kaushalya Dam
Panchkula MLA and Haryana Assembly Speaker Gupta has asked the officials concerned to check the feasibility of setting up a lake near Kaushalya Dam on the lines of Sukhna Lake in Chandigarh to attract tourists
Gupta said the dam was built to provide water to Panchkula but the town was not getting the water from the dam anymore
He said a lake near the dam would be a stopover for tourists travelling on the Panchkula-Shimla highway
Top Stories