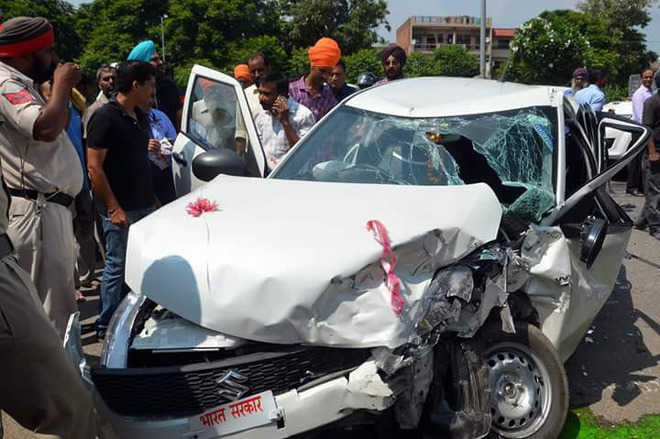 Tribune News Service
Mohali, September 9
Car racing proved costly for two persons when they escaped with injuries after their speeding Maruti Swift car hit another vehicle on the Airport Road at Phase XI here today.
According to the police, the victims have been identified as RK Aggarwal and Mohan Singh. The police said both were bank employees and belonged to Ludhiana. The Swift car had a plate with 'Bharat Sarkar' inscribed on the front and the rear.
According to eyewitnesses, the incident took place when occupants of a Maruti Swift car and a Renault Kwid car were engaged in a racing competition and coming at a high speed from the Indian School of Business (ISB) side and heading towards Chandigarh.
When the vehicles reached near the AC fruit and vegetable market here, the driver of the Maruti Swift car lost control over the vehicle. After hitting the divider, the vehicle jumped to the other side of the road. Later, it rammed into a cab (Toyota Innova) coming from the opposite side.
The brand new Swift car was badly damaged in the mishap. Both occupants escaped with minor injuries because the airbags opened instantly.
Gurinder Singh, cab driver of Innova, who hails from Jalandhar, was ferrying a passenger. According to the police, the occupants of Innova SUV are safe. Meanwhile, the police said the occupants of the Kwid car fled the spot leaving their vehicle behind.
The occupants of the Swift car were shifted to the GMCH-32, Chandigarh, immediately.
Inspector Amarpreet Singh, SHO, Phase XI police station, said: "When the investigating officer reached the hospital to record their statements, it was found that the injured persons were discharged from the hospital. The victims did not contact the police after being discharged from hospital."
"The police are trying to locate the duo and further details are yet to be ascertained," he said.
Top News
Attacker identified as ex-policeman dismissed last year, had...
Farmworker calls police to report the bodies of four of the ...
Jasdeep and Amandeep Singh came out with their hands zip-tie...
Jaishankar also talked about India's aspiration to become a ...
WHO has warned that Maiden cough syrup could be linked to th...