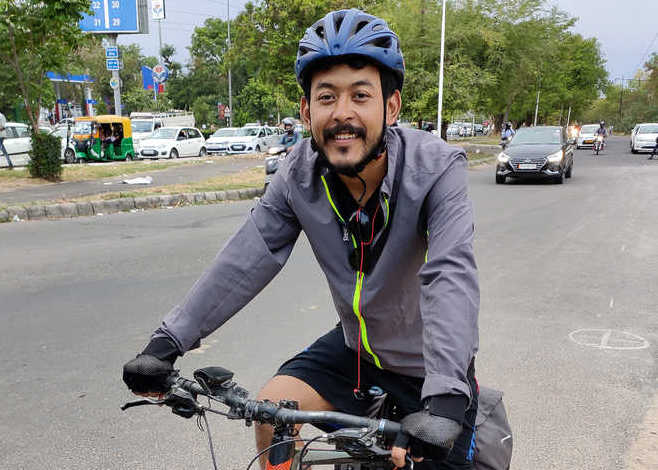 Tribune News Service
Chandigarh, June 24
To raise the issue of the looming water crisis all over the country, Manipur-based Rohan Singh has set out on a 5,500-km journey from Jammu and Kashmir to Kanyakumari on a cycle to sensitise the Central Government to the grave problem.
The 24-year-old has launched the "#WaterForLife" campaign, a video-based research report on water-related issues. He is a student of Sharda University and is pursuing MA (English).
Rohan reached Chandigarh today and interacted with local people of Daria village and examined the water-related problems they encounter on a day-to-day basis. He said, "I was taken aback on hearing that even in a city like Chandigarh, those living on the outskirts are badly affected by a water crisis. I interacted with five families, who told me they have not been able to get water for the past two days. There was also a problem of proper drinking water in the peripheral areas of the city."
Talking about his journey so far, Rohan said, "India is facing one of its most serious water crises ever and the '#WaterForLife' campaign aims at raising awareness about water-related problems. So far, I have travelled around 500 km and have interacted with people from different states and examined their water-related problems. Chandigarh and its neighboring cities of Mohali and Panchkula are currently facing a major water crisis."
The focus of the campaign is to identify issues leading to scarcity of safe drinking water and other water-related issues affecting livestock, farming, business and livelihood and the depleting groundwater level among others.
The findings of the project will be made into a documentary, which will be India's first video-based research report on water issues, findings and solutions.
During his travel to Punjab, he noted that the groundwater in the state is being over-exploited to meet the ever-increasing demand of water for irrigation, drinking, industry and power generation.
Rohan is pedalling through 12 states,
including Jammu and Kashmir, Punjab, Haryana, Delhi, Uttar Pradesh, Rajasthan, Gujarat, Maharashtra, Goa, Karnataka and Kerala.
The journey was flagged off from Srinagar by Dr Haseeb Moughal, Senior Superintendent of Police (SSP), on June 14.