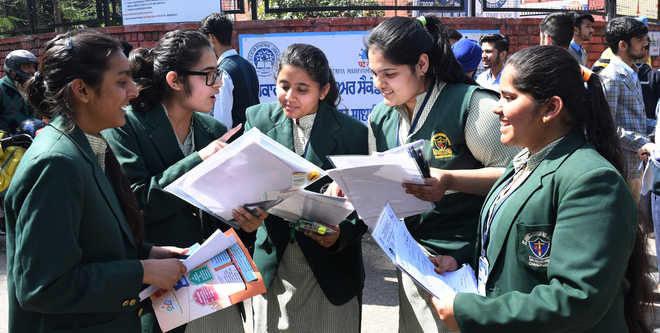 Tribune News Service
Chandigarh, March 12
The chemistry exam conducted by the Central Board of Secondary Education (CBSE) brought relief to Class XII students, who were dismayed by their physics exam a few days ago. Students and experts said questions were direct from the NCERT books and easy.
Rohan, a Class XII non-medical student, said: "The paper was easy and similar to previous question papers. However, it was a little lengthy. We found it much comfortable to attempt it than physics."
Vandan Khalesh Sharma, another Class XII student, said: "One could easily attain 60-65 marks out of 70 as the paper was set in accordance with the previous years' patterns. About five per cent questions were tricky in the paper."
Meanhwhile, at some examination centres, students reported that they were not allowed log tables, which panicked them.
Reema Dewan, city co-ordinator for the CBSE exam, said: "I did not receive any such complaint. The board had sent instructions in the morning saying students should be provided with log tables in the exam."
Experts: Predicable questions, scoring
Dilpreet Kaur, a chemistry teacher at St John's School, said: "The chemistry exam was a direct and balanced. Although five per cent questions were above average, still doable. The paper was based on previous year's sample papers, so it was predictable. Students can conveniently score in the exam. Some students reported that they were not allowed log tables, which is against the rules."
Neenu Rajwanshi, a chemistry teacher at Government Model Senior Secondary School, Sector 33, said: "There were more internal choices in the paper. The numerical questions were directly from the textbook. Students said initially they were denied the log tables, but after communication from the board, they were provided with the same. Log values were given in the questions as well."