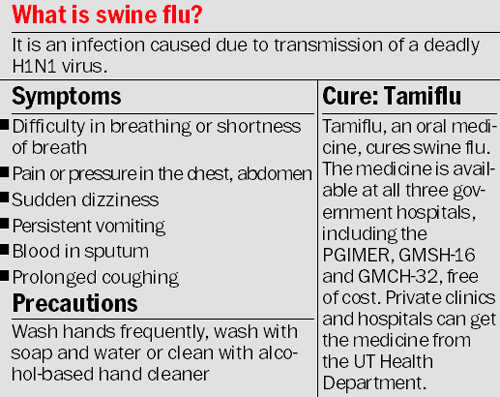 Tribune News Service
Chandigarh, January 7
A 20-year-old woman from Sector 42 tested positive for swine flu (caused by H1N1 virus). The woman was examined at Max hospital, Mohali, on Tuesday and after obtaining her report, the UT Health Department was informed about it. Immediately after the confirmation, she was quarantined at her residence.
"Our flu screening areas and isolated wards are already in place and we also have ample stock of tamiflu. We have intensified screening of suspected patients and our staff has been sensitised to refer suspected cases to the screening area. As many as five rapid response teams that were trained over the past six months have been alerted," said UT Director Health Service (DHS), Dr VK Gagneja.
This is the season's first swine flu case in the city. Last year, three cases of swine flu were reported in the city.
A detailed assessment of her schedule in the past 15 days revealed that one of her cousins from abroad visited her residence last week. Officials suspect that the visitor could be the source of infection in the city woman's case as the virus is currently most widespread in New Delhi (including airport areas).
Top News