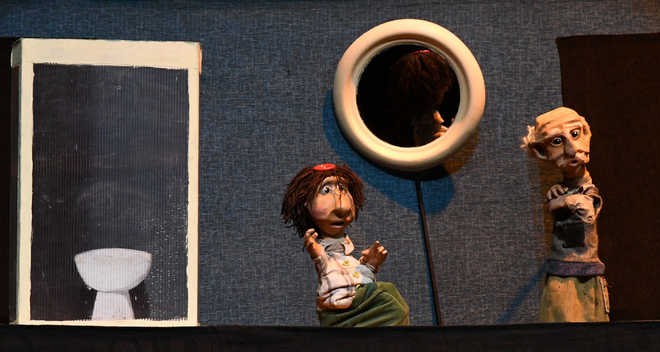 Our Correspondent
Chandigarh, February 27
The month-long TFT Winter Theatre Festival organised by the Theatre for Theatre in collaboration with the Union Ministry of Culture concluded at Navrang Theatre, here today. Undeniably the largest drama festival in India, it presented 29 full-length plays on diverse themes and one musical event from theatre ensembles drawn from India.
The concluding play "Sandhya Chhaya" adapted from Jayant Dalvi's Marathi play in Hindi by Kusum Kumar was presented by the host team under the direction of festival director Sudesh Sharma.
Weaved around the laments of old age couple of Nana and Nani essayed by Sudesh Sharma who played the lead role along with Madhubala await their two sons Deepu serving in the US and the younger Nandu serving in the Indian Air Force.
Shortly, the old couple was shocked to learn that their son Nandu has laid down his life while fighting insurgents and later on elder son having married a foreign national and decided to settle permanently in the US.
The old couple gathers courage to fight out the melancholy, loneliness and despair.
Argentina artistes cast a spell
Arriba Las Hu! Manos from Argentina (Chile) presented a puppet composition, "A button in my head" under the direction of Laura Soledad Mac Laughlin in hand and finger format at the ongoing sixth international puppet festival organised by the Tagore Theatre Society and the Department of Cultural Affairs at Tagore Theatre, here today. As the show opened, Green Hand generated the first puppet of the story named Clott which moved like a snake but does not want Clott to live, so it breaks the head of the newborn into two. Since that day, a Red Button holds Clott's broken head together, which makes him feel different from the others. Next creations by hand puppet include his sister Juana and his best friend Luchito. Clott wishes to be normal without the button on his part, Green Hand will do anything to unbutton and finally destroy Clott. The language used was English and the action by three artistes conveyed a lot, but still leaving something for the imagination of the audience, mainly schoolchildren.