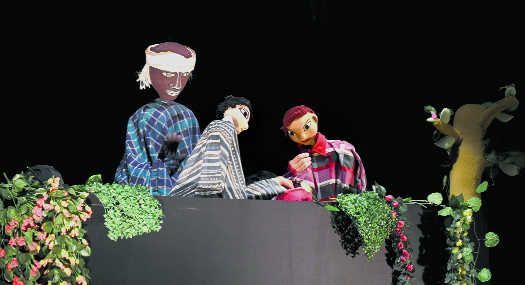 Our Correspondent
Chandigarh, February 7
The 13th TFT Winter National Theatre Festival under way at Navrang Theatre, Bal Bhavan, presented two puppet shows much to the delight of children in the audience, here today.
In the opening puppet show of a folk epic, director Ajit Bhatt chronicled the life and achievements of 17th century Raput warrior of Nagpur Amar Singh Rathore, who as the Army General won many battles against the Muslim rulers.
Ajit Bhatt and his team displayed utmost precision in the play of strings carrying and moving puppets representing various characters which depicted how Amar Singh Rathore won the battle of Gwalior fort for Emperor Akbar and the celebrations of victory in full swing.
The concluding show 'Haryali Zindabad' directed and manipulated by Shubra Saxena provided awakening of environmental upkeep and ecological balance.
Chief guest thespian Umesh Kant honoured the artistes.
Inter-college quiz contest on Punjabi language held
Chandigarh: The Punjab Arts Council organised an inter-college quiz contest on Punjabi language, literature, cultural and historical heritage as part of the ongoing Dr MS Randhawa Memorial Art and Literary Festival at Punjab Kala Bhavan, here today. Babbar Akali Memorial Khalsa College, Garhdiwala, emerged as the winner while the second spot was secured by Government College, Hoshiarpur. Punjabi University, Patiala campus, and Guru Nanak College, Budhlada, secured the third spot. PAC chairman Surjit Patar emphasised on holding such contests to connect students with Punjabi language, literature and culture.