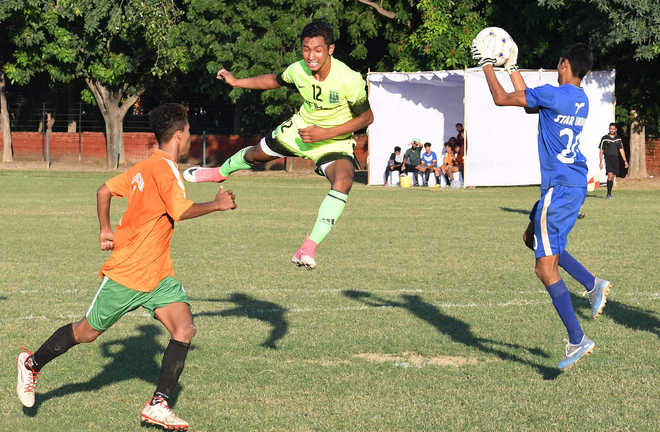 Deepankar Sharda
Tribune News Service
Chandigarh, September 16
In a departure from the past, the Administrator's Challenge Cup All-India Football Tournament this year will be held in the U-14 age-group instead of U-17 category. The eight-day long tournament is scheduled to be held here on September 22-30.
"The tournament will be held on a similar format as was done last year. However, the age-group for the competition has been changed from U-17 to U-14 years," said Tejdeep Singh Saini, Director, Sports, UT Administration.
Saini said the decision to lower the age-group for the tournament was taken to provide an opportunity to the budding footballers to showcase their talent.
"The decision was taken to provide a platform to the grassroots-level players and we have received a good response. Eighteen teams have confirmed their participation in the tournament," Saini revealed.
The matches will be played at the Sector 7 Sports Complex, Sector 42 Football Stadium and Sector 46 Sports Complex and the winner is likely to take home a cash prize of Rs 2 lakh. The team finishing second will pocket Rs 1 lakh, while the side claiming third spot will be richer by Rs 75,000.
Saini, meanwhile, said all the participants would have to undergo an age determination test before the tournament and only those players registered under the All-India Football Federation (AIFF) central registration system (CRS) would be eligible to participate in the tournament.
A member of the organising committee said: "A team will be barred from the tournament if three or more players in the side are found to be overage."
"All the terms and conditions have been conveyed to the participating teams," the member said, adding that the tournament would be held under AIFF rules.
The Administrator's Cup is one of the oldest tournaments organised by the UT Sports Department and top junior clubs from across India participate in it. To start with, the tournament was played in U-14 age-group for the initial few years but was subsequently upgraded to U-17 category to get more participants.
"There is no other tournament in the country which offers such huge prize money either for the U-17 or U-14 age-group," said another member of the organising committee.
He, however, lamented that in the past few years the teams were more concerned about the prize and compromised with the norms. "It has created a lot of problems for the organisers," the member pointed.
Apart from hosts Chandigarh Football Academy, the tournament this year will feature J&K Football Association, Himachal Football Association, Ahmedabad Football Club, Telangana Football Club, Delhi Football Association, Sudeva Club, IndianFootball Schools, Baichung Bhutia Football Club, Chandigarh Football Association, Manipur Football Association, Thau Manipur, Manipur Regional Academy.
Top Stories