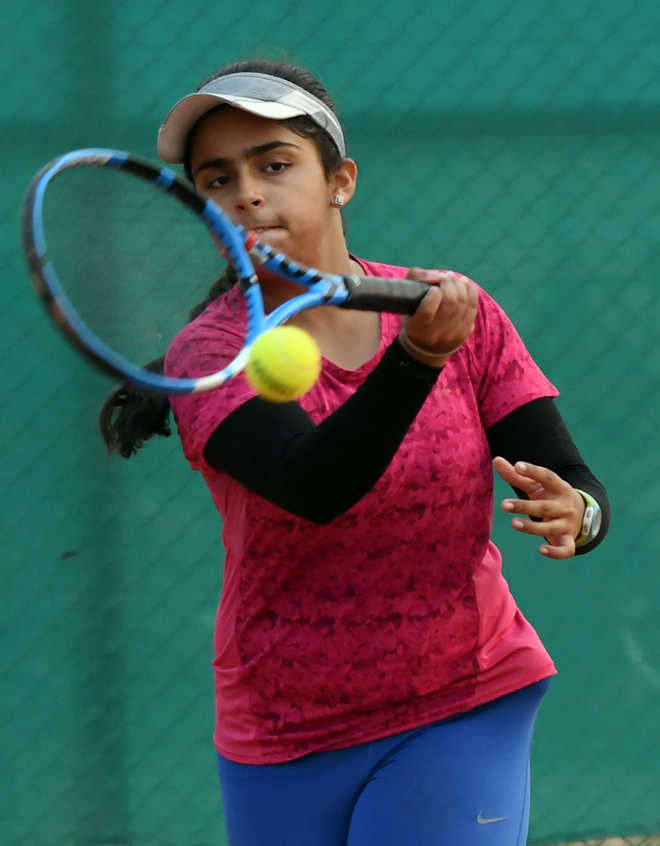 Tribune News Service
Chandigarh, October 25
Top seed Vanya Arora lived up to her billing as she dismissed Shriya Singh in straight sets to win the girls' U-14 title on the concluding day of the Roots-AITA Challenge Series (CS-7) National Ranking Tennis Tournament at Zirakpur today.
Vanya won the opening set 6-1 and blanked her opponent 6-0 in the second to race to the title.
Earlier in the semifinals, Vanya registered a 6-0 6-4 win over Kashvi Singla, while Shriya humbled Shrawasti Kundilya 6-4 7-5.
Shrawasti also bowed to Sidhak Kaur in the girls' U-12 final. Sidhak, who had been in great touch throughout the week, packed off Shrawasti 6-2 6-3.
In the boys' U-14 competition, Yashasvi Balhara stunned top seed Arnav Bishnoi to claim the title. The third seed won 6-0 6-2.
Top seed Anuj Pal continued his dominance in the U-12 category as he edged past Lavam Makharia to clinch the title. Pal won 7-6(2) 6-4 in the final.
Final results
Boys' U-12: Anuj Pal bt Lavam Makharia 7-6(2) 6-4
Boys' U-14: Yashasvi Balhara (3) bt Arnav Bishnoi (1) 6-0 6-2
Girls' U-12: Sidhak Kaur bt Shrawasti Kundilya 6-2 6-3
Girls' U-14: Vanya Arora (1) bt Shriya Singh 6-1 6-0
Top News
Over 250 win from 411 wards | BJP wiped out in P'kula AAP c...
20-yr-old killed while crossing road on cycle