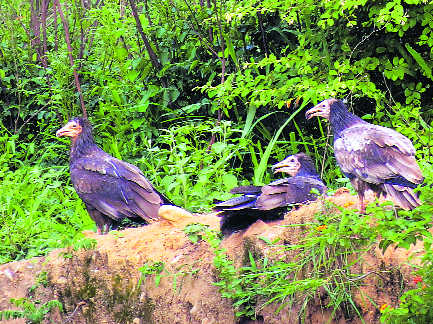 Arun Sharma
Tribune News Service
Ropar, July 31
There is good news for environmentalists as well as other residents of the area as the number of Egyptian vultures has registered a remarkable growth at two places in the district.
Ecologist TK Roy, who found these vultures near Ghanauli and Ganguwal Power House, said 40 per cent of the vultures found in the area were sub-adults. The presence of such a big number of sub-adult vultures at one place indicated that the breeding to the species was successful in this area resulting in substantial number of their survival.
Roy, who is also associated with Asian Waterbird Census, said Egyptian vulture population has been increasing during this decade in Punjab, especially where carrion are disposed of with the initiative of local panchayat or villagers.
He said more than 25 Egyptian vultures with nearly 30 per cent of them sub-adult at Ganguwal Point and more than 40 per cent sub-adults among 120 vultures at Ghanauli indicate successful breeding in the area. Earlier, vultures were not found at one place in such a large number in the past, at least in this area.
The ecologist said in 1990s due to the use of veterinary anti-inflammatory drug Diclofenac for cattle, nearly 95 per cent of vulture population had declined in Indian sub-continent. As per Birdlife International, present estimate of global population of Egyptian vulture was between 12,000 and 38,000 individual only.
Roy said on the initiative of Royal Society for the Protection of Birds, UK, a consortium "SAVE" (Saving Asia's Vulture from Extinction) was launched. In order to check the extinction of this natural scavenger in Asia, SAVE took steps for vulture captive breeding, ban on use of Diclofenac, Diclofenac-free safe carrion feeding to vultures and concept of "Vulture Restaurant".
In India, several states, including Punjab, introduced vulture restaurants with funds from the Centre.
In Punjab, one such restaurant was introduced at Dhar in Pathankot where wildlife division successfully runs this vulture saving project for a few years.