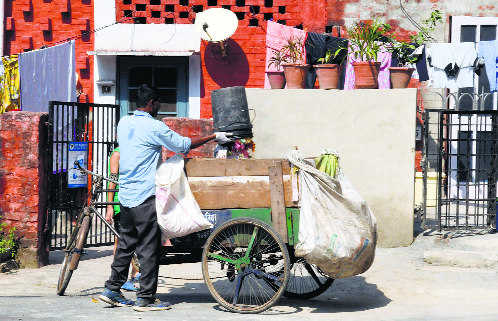 Sandeep Rana
Tribune News Service
Chandigarh, October 12
The first day of dry and wet waste segregation at source failed to evoke much response from residents. Even if garbage collectors received segregated waste at a few places, it was mixed at most of the city's sehaj safai kendras (SSKs), defeating the purpose of the exercise.
Garbage collectors said they asked people to give them segregated waste. However, most residents did not do it. Many residents were not aware that it was launched today. Some no longer had the two-coloured bins distributed by the Municipal Corporation (MC) two years ago. Though a few residents bought new ones, most of them were using only one of these.
"Our waste collector asked us to segregate it. I was unaware and I have given him the waste in a single bin the way I do daily," said Sumitra, a housewife in Sector 47.
"Collectors themselves segregate it as they earn from dry waste like plastic and glass bottles. Why should we do it?" questioned Ramesh, a resident of Sector 16.
A waste collector in Sector 28 shared, "We told people to segregate garbage. If they are not doing it, what can we do? We have to lift it anyway. Once the corporation gets strict, people will start doing it."
An MC's sanitary supervisor at an SSK said, "I think people will gradually develop the habit of segregating dry and wet waste. Everything takes time. We cannot expect everything to become fine in one day. It will take a month or two for things to fall into place."
"Only issuing a public notice and giving information in newspapers are not going to make people aware. The MC should involve resident welfare associations. They should also issue pamphlets or notices in water bills so that people come to know about it. After doing all this, fine should be imposed on those who do not segregate waste. The penalty amount should be added to the violator's water bill," said Hitesh Puri, chairman, Chandigarh Residents Association Welfare Federation (CRAWFED).
Baljinder Singh Bittu, chairman, Federation of Sector Welfare Associations Chandigarh (FOSWAC), said, "Some residents are doing it and some are not. However, it needs to be monitored whether the system is followed at the SSKs or not. They must hold a one-month awareness drive; forcing people will not work."
OP Saini, chairman, Door-to-Door Garbage Collection Society, said, "We are asking people to give us segregated waste, but people are not doing it. The MC has made no preparations for the day. They have placed two different coloured bins at the SSKs only in main sectors, not in colonies and societies."
Medical Officer of Health (MOH) Amrit Warring said, "Being the first day, it was a good start. But it will take time. The mixed waste seen at some SSKs could be waste of old days. We have already issued a public notice about waste segregation. We informed some waste collectors as well as some residents, who were not segregating waste, about the notice. In the coming days, we will get stricter. Collectors should not lift waste if residents do not give it in a segregated form."
Separate bins for dry, wet waste
Dry waste in blue bin: Plastic (must be rinsed if soiled), paper, metal, rubber, thermocol, old mops, dusters, sponges, cosmetics, ceramics, wooden chips, hair and coconut shells.
Wet waste in green bin: Vegetables, fruit peels, cooked food, leftovers, egg shells, chicken/fish bones, rotten fruits, tea bags, coffee grinds and leaf plates.
---
MC should Involve RWAs: CRAWFED
Issuing a public notice and giving information in newspapers will not make people aware. The MC should involve RWAs. They should also issue notices in water bills. — Hitesh Puri, chairman, CRAWFED
MC was ill-prepared: Waste collectors
People are not giving us segregated waste. The MC made no preparations for the day. Different-coloured bins were not placed at SSKs in colonies and societies. — OP Saini, chairman, door-to-Door Garbage Collection Society
Will get stricter, says MC official
Being the first day, it was a good start. But it will take time. We have already issued a public notice about waste segregation. In the coming days, we will get stricter. — Amrit Warring, Medical Officer of Health
Top Stories