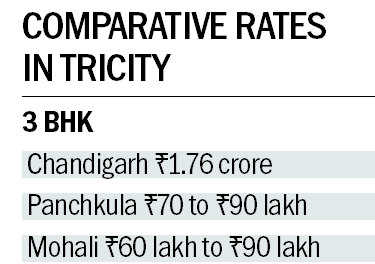 Ramkrishan Upadhyay
Tribune News Service
Chandigarh, June 26
Providing affordable houses is the main aim for which the Chandigarh Housing Board was established in 1976 by extending the Haryana Housing Board Act, 1971, to the UT. However, the record high prices of flats fixed for the UT Employees' Self-Finance Housing Scheme, 2008 has raised many an eyebrow over the purpose of the CHB.
While employees have already refused to give their consent to buy the flats at such exorbitant prices, questions are also being raised over the success of the proposed general housing scheme to be floated in Sector 53 soon. The CHB has fixed a price of Rs 1.76 crore for a three-bedroom (BHK) flat, Rs 1.35 crore for a two BHK flat, Rs 99 lakh for a one BHK flat and Rs 58.07 lakh for one BHK (EWS) flat under the employees' scheme.
The new prices fixed by the CHB are the highest in the tricity. Kamal Gupta, president of the Property Consultants Association, Chandigarh, said the CHB had forgotten its aim. He said three BHK flats were easily available between Rs 60 lakh and Rs 90 lakh in Mohali and Panchkula. He termed the CHB prices unreasonable. He said the new rates would help those who had invested money in properties, particularly in CHB flats, as now they would ask for higher prices for the flats.
Prem Kaushik, one of the directors of the CHB Board, also accepted that the prices fixed by the CHB were unrealistic. He said he would raise the issue at the next board meeting and would ask officials to think of ways to reduce the prices.
Ruchi Singh, secretary of the CHB, said the rates had been fixed on the basis of the prevailing collector rates. The Ministry of Home Affairs has fixed the prevailing collector rates to transfer land to the CHB for the construction of the employees' flats. The board cannot fix the prices below the collector rates as per the directions and it would pay the land cost after collecting money from the employees.
When the scheme was announced in 2008, the rates were Rs 34.70 lakh for a three BHK, Rs 24.30 lakh for a two BHK, Rs 13.53 lakh for a one BHK and Rs 5.76 lakh for a one BHK (EWS).
Top Stories