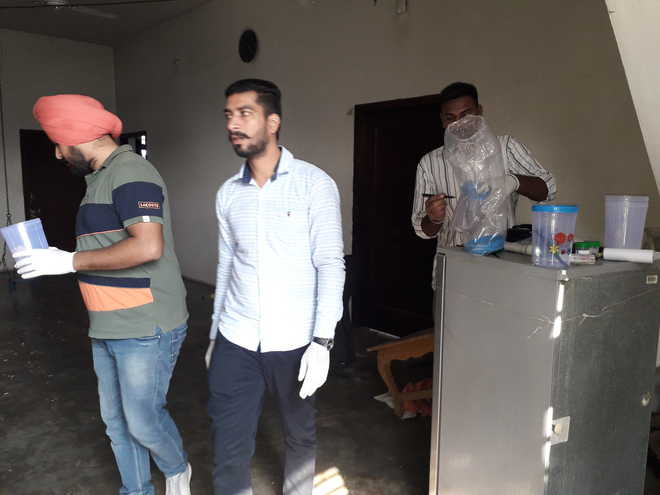 Satinder Pal Singh
Dera Bassi, November 8
A 25-year-old woman set herself as well as her one-and-a-half-year-old daughter on fire over a domestic dispute at her in-laws' place at Dhanauni village, Dera Bassi, here early this morning. Both of them died.
Harmanpreet Kaur, a resident of Dhanauni village, set her child afire and then immolated herself using kerosene in the kitchen.
The police said Harmanpreet Kaur had an argument with her husband last night over a domestic issue.
Upset over it, Harmanpreet went to the kitchen along with her minor child around 6.30 am today, poured kerosene and set herself and her daughter on fire.
Hearing their cries, the victim's husband and father-in-law rushed towards the kitchen and saw the two engulfed in flames. They tried to rescue the duo and received minor burns, said the police. The mother and the child, who suffered over 90 per cent burns, died on the spot.
The police said the woman's father, Gurmukh Singh, a resident of Karkauli village in Yamunanagar district, had lodged an FIR against her in-laws, including husband, accusing them of torturing his daughter for the past few years.
Gurwant Singh, SHO, Dera Bassi, said in his complaint to the police, the victim's father stated that his daughter got married to Jaspal Singh, a resident of Dhanauni villge, Dera Bassi, three years ago. He alleged that Jaspal and his family members used to harass his daughter and beat her up.
He said they received a phone call from someone in the village that his daughter and granddaughter had died of burn injuries.
The SHO said in a bid to misguide the police, the victim's husband and his parents cooked up a story that the incident occurred due to gas leakage in the kitchen when the woman was preparing tea. They even cut the gas pipeline with a cutter to make it look like an accident.
The SHO said acting on a statement of the complainant, the police had registered a case against the victim's husband and his father and mother at the Dera Bassi police station. Gurbakshish Singh, DSP, Dera Bassi, told The Tribune that a forensic team had collected samples and evidence from the spot. "All possible angles are being probed," the DSP said.