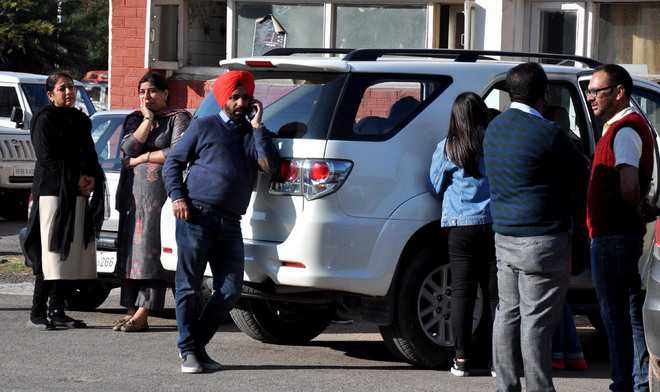 Tribune News Service
Panchkula, February 14
A woman was killed in an accident close to Yadavindra Gardens, Pinjore, today as her hair got entangled in a go-kart while taking a ride. Her hair got severed from the scalp in the accident.
The victim has been identified as Puneet Kaur (28), a resident of Bathinda district.
The accident took place around 2 pm.
Puneet had come along with her husband Amarjeet Singh, a two-year-old son and other relatives. Singh is a farmer and both had come for sightseeing to Pinjore.
An amusement park, Aqua Village, has been set up near the gate of Yadavindra Gardens at Pinjore. It has been given to contractor Sushil Malik for 10 years on lease. He has been running it for the past four years.
Both Amarjeet and Puneet decided to take a ride in a go-kart. According to the police, her hair was open at the time of the accident.
Amarjeet was driving and she was sitting with him on the left side. A relative was looking after their child.
As the go-kart raced off, her hair got entangled in the rear wheel of the go-kart on the left side. She shouted. Most of her hair got pulled off. The go-kart was stopped. Her helmet fell off. The police said she asked her husband where her hair had gone.
She then fell unconscious and was taken to a private hospital from where she was referred to the General Hospital, Sector 6, Panchkula. There, she was declared brought dead.
Her postmortem will be conducted on Thursday.
"Puneet Kaur was wearing a helmet. However, her hair was long and open. As the go-kart raced off, her hair got entangled in the axle. Within seconds, her hair got pulled out," said the SHO of the Pinjore police station, Inspector Sukhbir Singh.
He said, "So far, no FIR has been registered as no one has recorded a statement. Investigations are on." "The amusement park is on lease. Usually, managers at the park take care of the security of visitors as helmets and hair band are necessary. The incident is shocking. The speed of the go-cart is also not high as it is between 20 and 30 km/hr," said Neeraj Gupta, a Haryana Tourism manager at Yadvindra Gardens, Pinjore.
Contractor Sushil Malik said, "It is an accident. If we are at fault, we are ready to face the consequences". Meanwhile, the amusement park management closed down the main gate and suspended the activities.