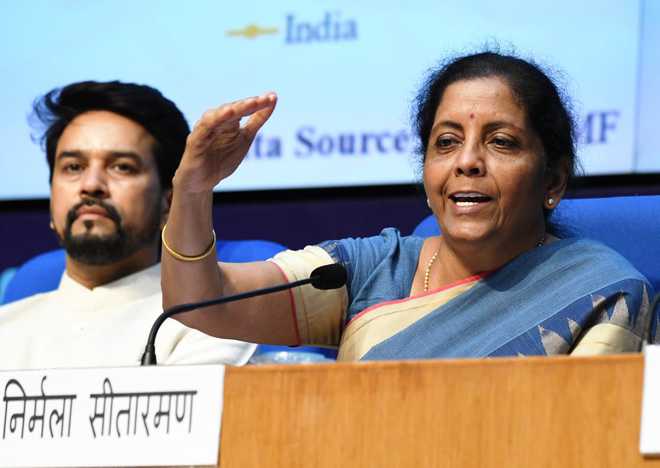 uttara@tribuneindia.com
New Delhi, August 23
Finance Minister Nirmala Sitharaman on Friday announced several measures to help boost the economy, including rollback of surcharge on foreign portfolio investors and making car and home loans cheaper.
Surcharge on long and short term capital gains arising from transfer of equity shares that the central government had levied in the Budget had been withdrawn, she said.
"The pre-Budget position is restored," the minister said.
It is being done to encourage investment in the capital market, the finance minister said.
Revenue Secretary Rajiv Kumar, who also addressed the press, said withdrawing the super-rich tax on FPI and domestic investors will cost the exchequer Rs 1,400 crore.
"Necessary orders will be issued for withdrawal of super-rich tax on FPIs," Kumar said. Withdrawal of super-rich surcharge on FPIs, domestic investor will be for entire fiscal yearSitharaman said that the government would come up with more measures to boost the economy.
---
READ
---
Addressing the media here, Finance Minister Nirmala Sitharaman also said that banks will pass on RBI rate cut benefits to borrowers through MCLR reduction.

She said that banks will launch repo rate and external benchmark-linked loan products that will lead to reduced easy monthly installments for housing, vehicle and other retail loans.
The decision taken in the Budget to levy enhanced surcharge had spooked the stock markets.
Following the increase in surcharge in the Budget, the effective income tax rate for individuals with taxable income of Rs 2-5 crore went up to 39 per cent from 35.88 per cent and for those above Rs 5 crore to 42.7 per cent.
Earlier this month, capital market participants and foreign institutional investors presented a charter of demands to Sitharaman, which included rollback of surcharge on FPIs and review of dividend distribution tax.
Sitharaman further said that to mitigate genuine difficulties of startups and their investors, it has been decided to withdraw angel tax provisions for them.
A dedicated cell under a member of CBDT too will be set up for addressing the problems of startups.
She also said banks had decided to pass on RBI's rate cuts to borrowers.
Central government will also infuse Rs 70,000 crore upfront into public sector banks to enable release of Rs 5 lakh cr liquidity in the market.
Among other measures, the finance ministry has announced that all tax notices will be issued from a centralised system to "end harassment of taxpayers".
"All old tax notices will be decided by October 1 or will be uploaded again through the centralised system," Sitharaman said.
Highlights
Superrich tax on FPIs, domestic investors withdrawn. To cost exchequer Rs 1,400 crore.
Central government to infuse Rs 70,000 crore into public sector banks
Cenralised system to issue tax notices.
Banks to make home, auto loans cheaper.
Measures announced to boost flagging auto industry. BS-IV vehicles purchased up to March 2020 will remain operational for entire period of registration. Both EVs and liquid fuel driven vehicles will continue to be registered.
Govt allows additional 15% depreciation on vehicles acquired from now till March 2020. Ban on government departments lifted for purchase of vehicles to replace old ones.
Govt to announce new policy for scrapping old vehicles. Agencies
Top Stories