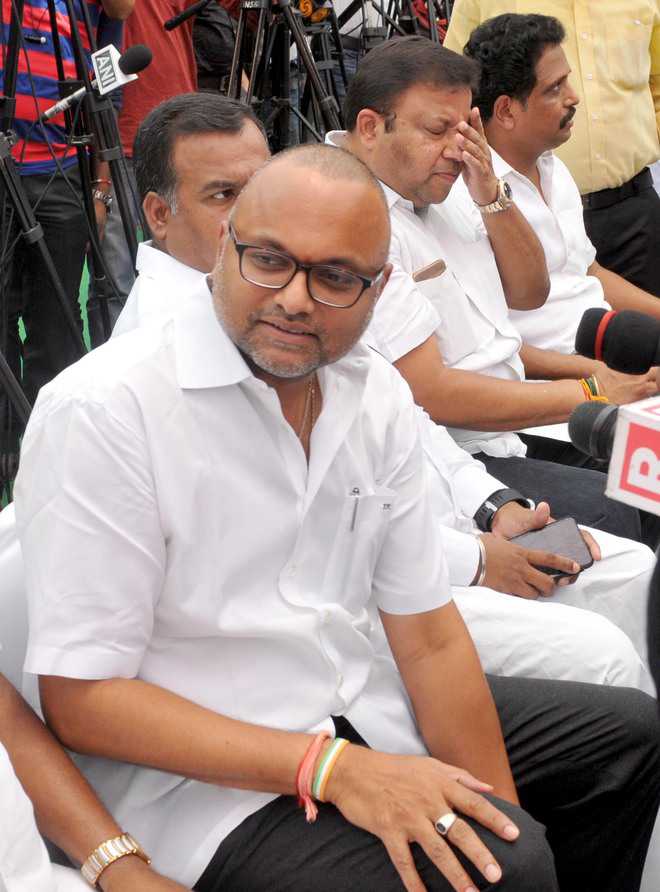 shalender@tribune.com
Tribune News Service
New Delhi, August 23
Arrested in the INX Media case, Congress leader P Chidambaram will continue to be in CBI custody for the next three days as the Supreme Court today deferred to August 26 hearing on his petition challenging a Delhi High Court order in the case lodged by the CBI that paved the way for his arrest.
Hearing on his petition against the August 22 Delhi court order sending him to four-day police remand for custodial interrogation will also take place on Monday.
A Bench of Justice R Banumathi and Justice AS Bopanna, however, granted protection from arrest to the former Finance Minister in the money laundering case registered by the Enforcement Directorate till August 26 when it will take up both CBI and ED cases related to the scam.
"Having regard to the fact that the petitioner (Chidambaram) was also granted interim protection on July 25, 2018, and that the co-accused were also granted bail by the HC, the petitioner is granted interim protection, insofar as the ED case is concerned… till the next date of hearing," the Bench said in its order.
The order came after hearing senior counsel Kapil Sibal and Abhishek Manu Singhvi for Chidambaram and Solicitor General Tushar Mehta for the CBI.
Chidambaram has challenged the August 20 order of the Delhi HC rejecting his anticipatory bail pleas in ED and CBI cases. He has also filed a third petition challenging the August 22 order of a special court sending him to CBI custody till August 26.
Directing the ED to file its reply to Chidambaram's petition, the Bench posted the matter for further hearing on Monday. Mehta opposed grant of protection from arrest to Chidambaram in the money laundering case, saying custodial interrogation of the former Finance Minister was necessary for unravelling the truth.
He said Chidambaram could not be arrested in the ED case till Monday as he was already in CBI custody and an accused could be arrested simultaneously by two agencies. "The ED has collected innumerable documents/evidence to show the money has been transferred from one company to another shell company… Chidambaram amassed 11 properties outside the country and has 17 bank accounts, not only in India but also abroad, and the money was transferred through a web of shell companies," Mehta said.
Countering the allegations of "political vendetta" levelled by the Congress, the Solicitor General said: "I am saying with a great sense of responsibility that this is a case of money laundering of a monumental magnitude."
There were several rounds of heated exchange between Mehta on one side and senior advocates Sibal and Singhvi on the other as they interrupted each other frequently. Having completed the first round of interrogation of Chidambram in the INX Media case, the CBI is likely to take him to Mumbai to confront him with Indrani Mukerjea, who turned an approver in the case.
INX: Judicial requests to 5 countries
ED says it has identified Rs 3.09 cr in payments by Peter Mukerjea to Advantage Strategic Consulting Pvt Ltd (ASCPL) and linked entities controlled by ex-FM's son Karti through manipulated debit notes
Money received by entities was channelled back into ASCPL. The funds were invested. ASCPL bought shares of Vasan Health Care and sold some at Rs 41-crore profit
Karti purchased tennis club in Spain, cottages in UK and several properties in India and abroad worth Rs 54 cr. Land and tennis club in Barcelona, Spain, are estimated at Rs 15 crore
Karti's FDs of Rs 9.23 cr in Indian Overseas Bank's Nungambakkam branch, Chennai, attached. Another FD of Rs 90 lakh of ASCPL with DCB Bank in Chennai attached too
The CBI has sent judicial requests to five countries, seeking details of international transactions by companies accused in the media case
Top Stories