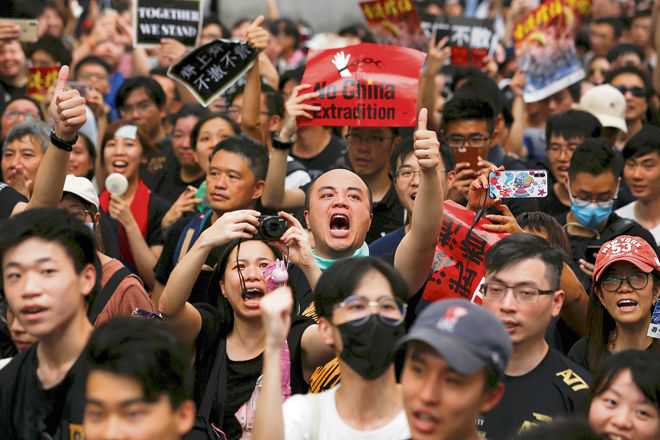 Shyam Saran
Shyam Saran
Former foreign secretary and senior fellow, centre for policy research
Every year in August, Chinese leaders gather at the seaside resort town of Beidaihe for an informal get-together, to brainstorm over important political and economic issues. No official communiques or reports are issued but consensus arrived at on key matters eventually gets reflected at more formal party or government fora. This year, too, meetings are underway at Beidaihe. While there is little available from Chinese official media, some information is trickling out on matters under discussion. The US-China trade war is high on the agenda but so is the worsening situation in Hong Kong. They have become interlinked as China is accusing the US of encouraging the protests to undermine China. What is not so obvious is that this twin crisis is playing out against the backdrop of a sharpening factional struggle within the Chinese Communist Party. Xi Jinping is unable to fashion a consensus on how the growing confrontation with the US should be handled and whether China should intervene directly, with PLA troops if necessary, to quell the growing swell of anti-China protests, now in the ninth consecutive week.
In May, Chinese and US trade pacts appeared to have reached an agreement on a deal which conceded most of US demands, including safeguards against intellectual property transfer, assurances against exchange rate manipulation and expanded purchases of agricultural commodities. The draft agreement was extraordinarily detailed, running into 150 pages. However, when it was taken back to Beijing for approval, it ran into opposition from hardliners in the party, who rejected several of its provisions as being one-sided. The draft was pared down to only about a hundred pages with several key provisions omitted or withdrawn. The Chinese chief negotiator, Vice-Premier Liu He, who is a trusted aide of Xi Jinping, has been under oblique attack. Commerce minister Zhong Shan, with a reputation of being a tough negotiator, has been brought into the Chinese team, diluting Liu He's authority. At the last round of negotiations in Shanghai last month, there was no progress. The US reportedly insisted on going back to the draft text agreed upon, though ad referendum, earlier. The Chinese side has no political room to do this even partially. This reflects the diminished authority of Xi Jinping.
The Hong Kong crisis has played into the US-China confrontation. At the outset in June, popular demonstrations in Hong Kong were local, protesting against proposed legislation which would allow the extradition of residents accused of crimes on the mainland. Although the legislation has been withdrawn, the protests have continued, acquiring unprecedented scale and taking on an anti-China flavour. The one-China two-system mechanism allows Hong Kong to enjoy a high degree of autonomy and retain its Anglo-Saxon legal and administrative system for at least 50 years after its return to Chinese sovereignty in 1997. What was regarded as an ingenious political artifice, now lies in tatters. There are echoes of the infamous Tiananmen incident of 1989, when pro-democracy demonstrations in the heart of the Chinese capital, continued similarly for weeks before China's most influential leader, Deng Xiaoping, swept aside opposition within the party to crush the movement with a brutal hand. Given Xi Jinping's carefully cultivated image of a tough and powerful leader, it is surprising that the Hong Kong revolt has been allowed to expand in scale. China has displayed uncharacteristic restraint so far. As was the case in 1989, there is a lack of consensus within the party over how the crisis should be handled.
Hong Kong remains important to China as a financial and banking centre intimately linked to the international financial network. It is an economic entity separate from China with independent membership of the WTO, and under an Act of US Congress, enjoys access to US market and technology greater than what China is entitled to. The Hong Kong dollar is pegged to the US dollar. A violent crackdown on the demonstrations will almost certainly lead to the US withdrawing Hong Kong's special status. The one-country two-system experiment will come to an embarrassing end. When the dust settles, Hong Kong will become like any other city of China stripped of its international profile. China would wish to avoid this denouement but will be ready to pay a heavy economic price if China's authority over Hong Kong is threatened. If and when that happens, US-China relations will inexorably slide towards ever sharper confrontation. The US may welcome this, hoping to slow down, if not severely damage China's emergence as a rival superpower.
A crackdown in Hong Kong will also mean that pro-China elements in Taiwan will lose traction and it will be difficult for the eventual and peaceful reunification with China. This may shift the weight of opinion in China towards reunification through military means.
China has been cautious in its reaction to the removal of the special status granted to J&K. The Hong Kong crisis may have been a factor. If and when it has to intervene militarily in Hong Kong, it would want India to refrain from joining the chorus of condemnation that will follow. India may be able to leverage this Chinese constraint in handling the international fallout to its action in Kashmir, most importantly by muting China's support to Pakistan.
Xi Jinping is facing a pushback within the party and this may explain the inability to come up with a coherent policy towards the US and the failure to manage the crisis before it heads towards a dangerous precipice. The power struggle is also reflected in the delay in the third plenum of the 19th Party Congress, due in 2018. The situation may become clearer once the current Beidaihe meeting is concluded.
All readers are invited to post comments responsibly. Any messages with foul language or inciting hatred will be deleted. Comments with all capital letters will also be deleted. Readers are encouraged to flag the comments they feel are inappropriate. The views expressed in the Comments section are of the individuals writing the post. The Tribune does not endorse or support the views in these posts in any manner.