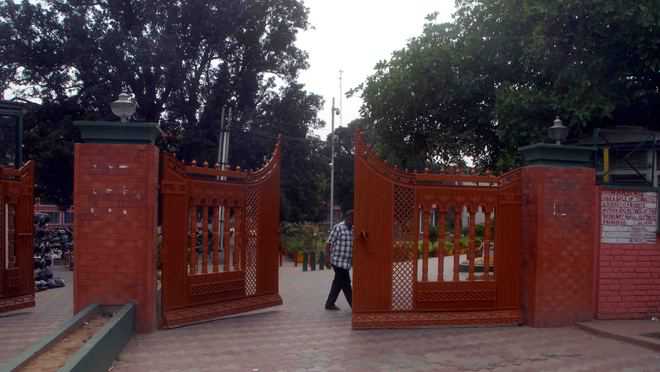 ROBINSINGH@TRIBUNE.COM
Amarjot Kaur
Tribune News Service
Chandigarh, July 21
Parents of students admitted to GGDSD College in Sector 32 suffered embarrassment at the hands of the college authorities today as they arrived for an orientation only to find the college main gate locked.
The college website and its prospectus had clearly stated July 21 as the date for the orientation on the college premises, but the authorities now claim that the information on prospectus and website is "tentative" and that students are updated about the college events through an "automated message".
Nevertheless, neither were they informed about the tentativeness of the schedule nor was the change uploaded on the college website, claimed the harried students and their parents. Some of them had come all the way from remote parts of Himachal Pradesh and Haryana.
Voicing her agony, one of the student's mother, Manisha, who arrived at the college at 11.45 am, said: "When we came here, the main gate was locked. I plan everything beforehand, so I checked the college website and it clearly stated July 21 as the orientation date. To check, I called one of the lecturers I know and she confirmed that if a date was sealed for an event in the prospectus and that if there's no change made on the website, it probably is right. I waited an hour, but in vain."
Arunesh, a student's father, who travelled all the way from a village in Kullu in HP, said: "This is harassment. We came all the way from Kullu and now we will have to cover a 10-hour journey back home. If there's some change in plan, it should be conveyed to people concerned well in time."
Responding to The Tribune query, Dr Balraj Thapar, Principal, GGDSD College, said: "The students had been informed at the time of admission that dates mentioned in the college prospectus were tentative and subject to change. Our college functioning is completely automated and the students will be informed through SMS about the start of the classes and other important dates. Information will also be updated on the college website. The students have been advised to wait for updated information before reporting to the college."