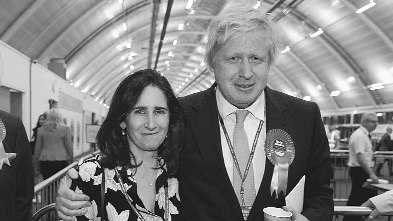 RAHUL SINGH
In all likelihood, the next British Prime Minister, following the recent resignation of Theresa May, will be the former Foreign Secretary (the equivalent of our Minster for External Affairs), the colourful Boris Johnson. We will know it in a few days when members of the ruling Conservative Party vote to pick their new leader. But he is the frontrunner, having decimated his main rivals in the earlier voting. Only present Foreign Secretary Jeremy Hunt remains to challenge him.
If Johnson finally succeeds, I believe he will be the first British PM ever with such a strong Indian connection. At which point I need to be a little personal. Though they are divorcing, his wife, Marina Wheeler — mother of their four children — is half Sikh. Her mother, Dip Singh, who is still alive, was married to my father Khushwant Singh's youngest brother, Daljit Singh. Daljit was briefly in Delhi politics and also a national junior tennis champion. The marriage did not last long and they had no children. Then, Dip met and fell in love with the distinguished BBC correspondent in New Delhi, Sir Charles Wheeler. They had two daughters, Marina and Shirin.
A Cambridge University graduate, Marina is an accomplished lady in her own right. She is a "Queen's Counsel", an honour given only after 10 years as a barrister and that, too, on a recommendation by the Lord Chancellor. Marina has several Indian cousins in Delhi and Mumbai, since her mother's sister was married to my father's eldest brother. In other words, two sisters married two brothers.
So much for the personal link.
Marina has kept closely in touch with the Indian side of her family, visiting India whenever the occasion arises (she was in Kasauli last October for the Khushwant Singh Litfest). In fact, she is writing a book on her family and told me she could not find much on Sardar Ujjal Singh, who was my grandfather and Sir Sobha Singh's brother, who was a minister of undivided Punjab soon after Independence and, subsequently, Governor of Punjab and Tamil Nadu. So, if anybody has personal material on him, do mail it to me at singh.84@hotmail.com and I will forward it to Marina.
Last year, she and her husband, along with three of their children, came to India to see tigers at the reserve in Ranthambore. One of my cousins, Pami, who is also Marina's cousin, hosted an informal dinner party for them, to which only Marina's close relatives were invited. Boris was at his charming best, connecting easily with everybody. What impressed me the most was that he knew the first names of all his wife's relatives who were there, some 15 or so of them. Though I had met him once before in Mumbai some years earlier, this was the first time I got a chance to talk to him one-to-one, at some length. I was surprised that he knew so much about India and its politics. Should he become Britain's next PM, I think those Indian insights, thanks mainly due to his 25-years of marriage to Marina, however rocky it may have been, and personal visits to this country, should augur well for better Indo-British ties.
My favourable impression of Boris is certainly not shared by many prominent and influential Britishers. When I was in London recently, he made to the front pages of all newspapers there, for all the wrong reasons. His latest lady friend, who is 24 years younger than him (he is 55) had such a noisy row with him one night that a neighbour recorded part of it and summoned the police who, after checking, withdrew from the scene, as no complaint had been made by either Boris or his lady friend. But the neighbour had told the media, which, of course, lapped it up. Outrage followed. Here is a sample. In a column of The Guardian, Max Hastings, a former editor of The Daily Telegraph (when Johnson was one of its foreign correspondents) and who has known Johnson for almost four decades, labelled him as a "cavorting charlatan", "a rogue", "a coward" and someone with "contempt for truth", who would be "unfit for national office." For one "who cares for nothing but his own fame and gratification", his elevation as PM would be "a tasteless joke", concluded Hastings. Would any Indian journalist dare to use such language against a likely Indian PM, and any major publications publish it? Inconceivable!
Nevertheless, despite such opposition and the publicised indiscretions of his private life, I sense that a majority of the British public is firmly behind the flamboyant Johnson, mainly for his record as a popular and effective Mayor of London and for his hard Brexit stand, which played a key role in the referendum. I have another reason why I think he has more to him than his detractors would have us believe: Marina Wheeler. If such a likeable, attractive and high-powered woman spent 25 years of married life with him, in spite of his infidelity, and bore him four children, there must be something profound and intelligent in the man, not just his superficial showmanship.
— The writer is a veteran journalist
Top Stories