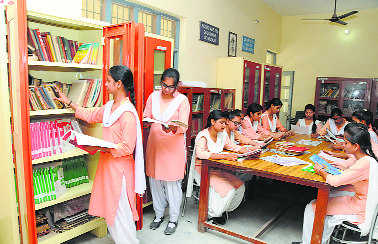 RAHUL SINGH
Our biggest failure, post-Independence, is in school education, no matter which party has been in power, including the present one. Under Jawaharlal Nehru, excellent institutes of higher learning, including the Indian Institutes of Technology (IITs) and Indian Institutes of Management (IIMs), were set up, but primary education was neglected. Most developing countries did not make that mistake. China, which used to have a lower literacy rate than India in the 1940s, overtook us a long time ago. Today, even their higher educational institutes score over ours in world rankings. Even Indonesia, a largely Islamic nation, has done better than India as far as literacy goes. It, too, had a lower literacy rate than India when it got its independence — at roughly the same time we got ours — but now it scores over us.
That is largely why the family planning programmes of developing countries like China, Indonesia, Turkey, Thailand, Sri Lanka, Brazil and Mexico (to take just a few examples) have been far more successful than ours. Literacy has been the key, along with good health and sanitation. There is a widespread feeling that Muslim families don't practise family planning and, therefore, Muslims will soon outnumber Hindus in India. The reality is that educated Muslims, not only in India but virtually all over the world, do practise it and, in the foreseeable future, the percentage of Muslims in the Indian population will still be the same, i.e. 14 to 15 per cent.
However, prejudices die hard. The scare, propagated by ignorant Hindu fanatics, that because Muslim men can have more than one wife, they will "overwhelm" Hindus in numbers is a false, mischievous myth. The truth is, very few educated Muslims have more than one wife. When this issue comes up in conversation, I usually ask my friends, "Tell me how many Muslims do you know who have more than one wife?" When that draws a blank, I add triumphantly, "And I know of at least three prominent Hindus who have, or have had, more than one wife at the same time — eminent lawyer Ram Jethmalani, actors Dharmendra and Raj Babbar!" Where the Indian Muslim community has perhaps failed is in its religious leadership. Most of them are unenlightened and backward-looking, thereby providing a handle to Hindu fundamentalists.
Returning to literacy and schooling in India, here are some telling statistics to indicate the low priority we have given to the subject so crucial for our overall development. Every Indian government since 1947 has allocated a lower percentage of the GDP to education than any other major country has. The latest figures show the allocation by the UK and French government"s being 5.5 percent of their GDP, India allocated only 3.8 per cent. As long ago as 1966, the high-powered Kothari Commission had strongly urged the Central and state governments to spend 6 per cent of the GDP on public education immediately. Even the recently released draft of the New Education Policy (NEP) has recommended the same percentage. The continuing failure to do so has saddled India with the highest number of illiterates in the world, an estimated staggering 300 million Indians, of which 32 million are youngsters in the age group 15 to 24. Hence, what could have been a demographic dividend is rapidly turning into a demographic disaster.
Let me now turn to perhaps the worst malaise in our education system: The pathetic state of our "free" government-run schools. While in countries like the UK and France, the state-run schools are models of excellence, some of the best brains emerging from them; in India, they are a disaster. Writes the respected Education World magazine, "Over 80 per cent of the country's 1.2 million government schools are defined by ramshackle buildings, furniture-less classrooms, unusable toilets, electricity shortages, and rockbottom learning outcomes." I should add that despite fairly high salaries that compare well with private schools, teachers in government schools, often appointed through political patronage, sometimes don't teach at all, and "outsource" their jobs! Which is why enrolment in private "paid" schools has been going up exponentially. An estimated 20 million children have moved from government schools to private schools between 2011 and 2016, even though many of the parents can ill afford to pay the fees of these private schools. As a result of this move, around half of Indian students are now studying in private schools (for secondary education, the percentage is higher). In other countries, a much smaller percentage study in private schools, simply on account of the fact that government schools there are so good. In India, they clearly aren't.
The Aam Aadmi Party (AAP) claims it is trying to stem the educational rot in Delhi. Sadly, it has gone about it the wrong way. It claims to have spent 26 per cent of the Delhi budget in improving the government schools infrastructure and standard of teaching. However, the academic results don"t reflect this. In class X, for instance, the pass percentage in 2018-19 of Delhi Government schools was 71.58; for private schools it was 94.15. Worse, the AAP, instead of sticking to improving government schools, has been trying its utmost to bring down the standards of the much better-run and better-performing private schools by freezing even modest and perfectly justifiable fee increases. The AAP authorities have also been guilty of harassing the managements of these mostly well-administered private schools. I intend to revert to this subject in a subsequent column, as it is so vital to our country's future, but I have just one question for AAP: How many of you send your children to government schools?
— The writer is a veteran journalist