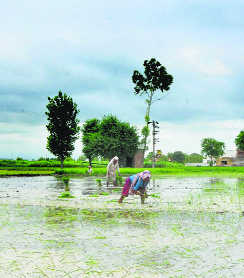 Suppose someone walks into your house and tells you that the place where you have spent all your life is needed for setting up a factory. You might say, "No, thank you, I am not interested." Suppose he turns around and tells you that this is not a matter of choice. He has decided that your house will be more useful for something other than your living there. There are orders in larger public interest, he tells you. "What exactly will you build here? And how will it serve the country?" you ask, but are told that this is none of your business.
Now that you know you have no choice, you are thinking about the price. You don't need to bother, he tells you: I will decide what price is to be paid for the house that you did not want to sell in the first place! He tells you that your neighbour had sold a similar house last year, so he will pay you the rate mentioned in the registry documents. "But the amount mentioned in the registry is a small fraction of the real rate. Most of the money was paid in 'black'. Besides, that was last year, prices have changed since." He is not interested. Rules are rules. He hands you a cheque. You lose your house and your memories. You lose the money you could have demanded as a fair price. And you lose your peace of mind, as you spend the next few years chasing lawyers and courts.
This is not a nightmare. This is routine in the world of Indian farmers. Ordinary farmers who do not know the Constitution or their fundamental rights, about Section 4 and Section 9. Welcome to the world of land acquisition.
Now and then, the government decides that some piece of agriculture land is needed for larger public good. The 'public good' could be a legitimate facility like a railway line, a road, or a canal for which the required land has to be taken, if necessary by force. But the same provision is used to 'acquire' land for carving out housing colonies, setting up factories or building universities and hospitals. All good causes, but you wonder why land could not be purchased for these. If you don't force people to sell bricks and cement for these causes, why force the poor farmer to sell his land?
The same route has been used to acquire land for building hotels, amusement parks and golf courses. You wonder which public interest is being served here. You also wonder why the poor farmer has to give up his land for all these public causes. Ever heard of a government plan to acquire the Race Course in Delhi, bang opposite where our PM lives, to provide housing to the poor? Farmers spend their lives visiting the Tehsil, Kachahari and occasionally the Thana, hoping to get compensation for the land they never agreed to sell.
This cruelty receded a bit last year. Parliament passed a law to repeal the old, colonial Land Acquisitions Act of 1894 that was used for forcible acquisition. Scores of movements all over the country had struggled for several decades to get this draconian law changed to recognise some rights of the affected people. Some of these movements like the Narmada Bachao Andolan have become iconic all over the world. The new, quite a mouthful, law - Right to Fair Compensation and Transparency in Land Acquisition, Rehabilitation and Resettlement Act of 2013 - acceded to some basic demands of the victims of land acquisition. The new law required that land acquisition must require consent of most of those whose land is being taken away. It also provided for a careful assessment of how the proposed acquisition will impact other people and the environment. Procedures were made more people-friendly and the compensation was enhanced. Parliament debated it for more than two years. A committee headed by Sumitra Mahajan, the current Speaker of the Lok Sabha, had then recommended the Bill and it was supported by all parties. Democracy me der hai magar andher nahin, you would think.
That is not what happened. The government has now issued an ordinance that rolls back all the positive features of the 2013 Act. The government has created five special categories that are exempt from the procedures specified in the Act. These five categories are so broad that the government will be able to bypass the new Act in virtually all the cases of land acquisition. Other positive features like punishment for violation of the new Act and returning the land in case of non-use have also been diluted. For all practical purposes, we are back to the British Act of 1894, if not a little worse.
The President of India reportedly asked the government about the hurry in using the emergency route of an ordinance rather than go to Parliament that had earlier debated it fully. But finally, he was pleased to sign the new ordinance that came into effect immediately, on the afternoon of the 31st of December.
That is how the country said Happy New Year to its farmers.
The writer is the National Chief Spokesperson of Aam Aadmi Party