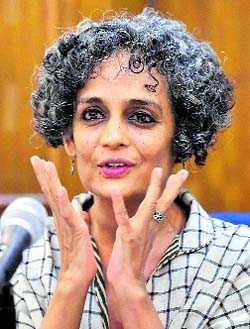 My recently begun life as an independent journalist/columnist has made it possible for me to set my own schedule and discover literature festivals. Hence in December 2015 I flew into Bangalore for a day to take part in a debate on intolerance that marked the end of the city's lit-fest. But it's in January that I've examined the lit-fest circuit as never before. There was a genteel pace to the Apeejay Kolkata literary festival (the group that also runs the Oxford book stores) where I moderated two sessions and was a speaker in the closing debate on media and social change at the fabulous venue of the Indian Museum. Somehow, the way things are these days, that debate too swerved into discussing intolerance.
But this column is about the mother of all lit-fests where I went for the first time as an onlooker — the Jaipur literature festival — and about a writer who has never gone there. I was impressed at the scale of the operation at Jaipur, the number of international writers who had gathered and the cinema celebs who kept popping up. I did not stay for the closing debate about freedom of speech but I gather from news reports that it was combative. Yet I must use this column to register a protest.
On the day that the closing debate in Jaipur took place, Arundhati Roy appeared in a court in Nagpur to face contempt of court charges. The very least a gathering of writers should have done is register a protest, signed a petition, made some noise about the manner in which Arundhati's freedoms are being impinged. The double whammy here is that the Jaipur festival closed discussing freedom of speech and whether there are limits to it.
Zee TV that sponsored the Jaipur event this year had gone with a vicious commentary about Arundhati when she took a position on what has come to be known as the intolerance debate. Yet the ideological proclivity of the sponsors cannot be the sole reason for this oversight as the venue was littered with free thinking liberals.
All the more reason to ask how writers gathered could have so casually overlooked the fact that an important writer is yet again facing a trial, both literally and metaphorically. Would this have happened in other countries that claim to guard certain freedoms, I wonder.
One of the sessions I attended in Jaipur was with Marlon James, who won the Booker in 2015. He mentioned Arundhati's writings inspiring him. I suspect if we line up the foreign writers at Jaipur and ask them to name a significant Indian writer (and one who actually lives in India), most would say Arundhati.
Arundhati, incidentally, does not attend sponsored events and lit-fests. Yet even those who disagree with her positions would perhaps concede that she is the most influential writer to have won the Booker because she has subsequently opened certain political debates.
That's made her an international icon but in India there are complex layers to the responses to her. Among them is plain misogyny. Let's face it; many Indian men just cannot cope with a good looking woman who does not sit pretty on a pedestal but instead challenges their consensus. Remember Arundhati's writings on the Big Bomb, the Big Dam, the Big War, the Big Terrorist and so on?
This is the third time Arundhati is facing criminal charges. In all instances a group of five or more (male) advocates had filed criminal cases against her. In 1997 she was accused of "corrupting public morality" in Kerala with her Booker winning novel, The God of Small Things. The case went on for years before being quashed. In 2002, lawyers accused her of inciting violence when she joined the protests against increasing the height of the Narmada dam (by then she had written the essay The Greater Common Good). This eventually led to the filing of contempt of court charges for which she was briefly jailed.
The ongoing case began when five lawyers of the Nagpur bench of the Bombay High Court filed an application on December 10 last year accusing her of "interfering in the administration of justice." They were referring to a piece published seven month earlier in Outlook magazine, titled Professor POW. The article was written to mark the year spent in prison by GN Saibaba, professor of English at Delhi University, after he was picked up by the Maharashtra police for suspected links to naxalites. The piece argued for bail for the wheel-chair bound professor, paralysed from his waist downwards. He did get bail later that has now been revoked.
Simultaneously, on December 23 a judge in Nagpur took suo motu notice and filed a case of criminal contempt of court case against Arundhati. The words used in the judgment to describe her writing were "nasty", "boorish" and "bombastic." The case is still being heard in the Supreme Court as well as in Nagpur. That is why Arundhati was in Nagpur although she has now been exempt from personal appearance.
How does it interfere with a writer's imagination when the possibility of legal harassment looms. Could that be a theme for a panel discussion at Jaipur next year?
Top News
2 others eject safely | Debris strewn across miles | Sukhoi,...
Visit comes ahead of NSA chief's US tour
Sarpanches of Haryana to hold 'chakka jam' against Amit Shah...