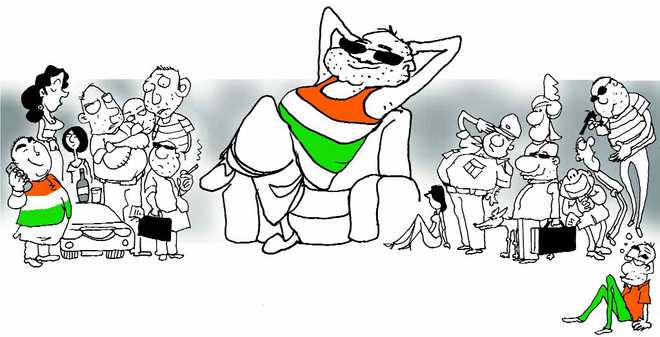 Tomorrow the country would observe our Independence Day. The Prime Minister will give the customary peroration from the ramparts of the Red Fort. And since he is such a powerful public speaker, tomorrow's show should be quite an event. Independence Day celebrations around the country constitute an outstanding rite of national re-affirmation. Notwithstanding its ritual symbolism, the unfurling of the National Flag at numerous places is a moment of national re-dedication and renewal.
Independence Day is a national festival. Unfortunately, in recent years, an unhappy partisanship has been sought to be injected into this grand occasion. Showmanship tends to replace statesmanship. Observance of the Independence Day gets worked around two evocative words — nationalism and patriotism. Since the last Independence Day, the country has been subjected to raw and, at times, violent definitions of the two words.
All over the world, 'nationalist' fever is on the rise. Asian countries, particularly those in transition, are sites of nationalist upsurges. "My country, right or wrong" seems to be the new sentiment. Of late, the social media is being used to empower the 'nationalist' voices and groups to make their presence felt, obtrusively, often obnoxiously.
A political divide is being created. The country is sought to be divided between the nationalist and the less-nationalist, the patriot and the less-patriot. Certain political groups and shadowy organisations have arrogated to themselves the right to be the sole custodians of nationalism. Such groups and individuals take it upon themselves to issue certificates of patriotism. History is sought to be rewritten, bringing this or that leader down and creating new 'heroes' and new 'history'. Independence Day should be the day for remembering all those who sacrificed and suffered in the freedom struggle, under the Mahatma. It is ironic that those very forces which were responsible for killing the Mahatma now feel that they have an exclusive franchise on patriotism.
This year, it would appear that an attempt is being made to embroil our brave jawans in petty manoeuvres. I find it a little disconcerting that partisan leaders are using the reputation of our soldiers to enhance their political standing. All in the name of patriotism and nationalism. Women ministers are being enlisted to visit the forward areas. Small-time leaders are leading "tiranga yatras." The sanctity of the National Flag is being besmirched.
Till Saturday, India had not won a single medal at the Rio Olympics. All of us hope — and, pray — that by the time the Games come to an end, our sportsmen would have something to make us feel good about.
As a nation, we are passing through a strange phase of self-congratulation. This is a case of doubtful distinction because only we keep telling ourselves what a great country, a great economy, a great government, a great prime minister we have; the rest of the world just shrugs us off.
But we refuse to see the rebuff. We think we are a big market and a big country and we do not need the external audience or approval to make it 'big.' We shout ourselves hoarse every evening in our television studios, patting ourselves for being on the 'largest' of this or 'biggest' of that.
Mediocre books by mediocre writers like the Chetan Bhagats and the Shobha Des are sold in millions. It is a case of the mediocre feeding the mediocre, edging out any globally competitive potential. We are content with being unrecognized globally. Our sights are so limited.
Take Amitabh Bachchan. He is the darling of millions and millions of Indians, but has never made it in the global cinema. Rather, we denigrate and refuse to recognize the Oscar award? We create our own inhouse 'awards' and hand them out to ourselves — of course, after some offstage haggling. Even better, we seek refuge in the applause of the NRIs.
In the international competitive arena, we flounder because the global system is beyond our rigging.
Our failure on the international competitive stage can easily be attributed to our culture: we have no quest for perfection. And, perfection means application, attitude, diligence, dedication, and dreams.
We are so used to buying shoddy goods from shoddy salesmen in every arena of public life that we are no longer capable of recognising the gold standard.
I hesitate to write about Josy Joseph's A Feast of Vultures — The Hidden Business of Democracy in India. This is an irritatingly brilliant book. Too sweeping, too condemnatory, and, perhaps, too true. This is not the kind of book Indians write. Such books are mostly written by foreign correspondents who after a stay of two or three years presumptuously do their obligatory "India book."
Joseph is a respected journalist — a fellow Prem Bhatia Award winner — currently with The Hindu. None of the chapters in the book would have made a report for any newspaper — nor would have any news editor let them get into the newspaper. Yet, there is a story to be told, and Joseph does it with considerable competence and style.
The central offering in this feast is a deeply troublesome thesis: dishonest businessmen — the so-called entrepreneurs, those who are serenaded in the pink press and on magazine covers — had first suborned in the pre-1991 'socialist' model and then went on merrily doing the same in the 'reforms' era.
It was not a question of this or that political party being in power. All parties and politicians of every hue were putty in the hands and machinations of these corrupt and corrupting businessmen. Anyone who thinks corruption began May22, 2004 and ended on May26, 2014 should read this book.
The most telling parts of the book reveal how the dreaded Dawood Ibrahim continued to have influence in the Maharashtra police, irrespective of which party – the Congress, the Shiv Sena or the BJP — presided over at the mantralaya.
The heart of Joseph's argument appears somewhere in the middle of the book: "economic liberalization built on shaky foundation of immoral politics, criminal gangs, dubious finances and criminal elements. Heart-warming stories of first-generation entrepreneurs succeeding in the information technology industry and news of philanthropic initiatives by business honchos cannot erase the big picture, which is that a significant portion of Indian business still thrives on criminal links and activities. It is no coincidence that India's most successful businessmen find themselves not just on the list of the world's richest people, but also at the cross hairs of Central and state regulators, auditors and investigators."
The other theme, depressing but equally true, is how the processes of law are used primarily by the powerful — in government, politics and business — to shut up dissent and protest. This nugget is about OP Jindal's mining operations in Raigarh (Chhattisgarh) which had evoked protest among local citizens, led by an activist named Ramkumar Agarwal. Joseph describes the train scene when a "group was going to a court in Haryana, where OP Jindal had filed a defamation case against Agarwal and his associates. The lower courts of Haryana had started issuing notices to the residents of Raigarh. Neither the protests nor the affected businesses were in Haryana. They had no connection with the state at all. It was just that OP Jindal was a politician with immense clout in that state. Filing cases against people in the faraway courts is the standard harassment practice in India."
QED.
A deeply sober and sobering book.
Poor Shah Rukh Khan. Detained for the third time at the Immigration in the United States. That is what happens to naughty little boys who insouciantly make movies with provocative titles like "My Name is Khan."
Let us just keep this in mind: the world and America changed on September 11, 2001. And, of course, there is racial profiling — not just in America but all over the world, including India, though no country would acknowledge it. At least, Shah Rukh is lucky. He got an apology from the US Ambassador.
That calls for a cup of coffee. Do join me.
Top News
The H-1B visa is a non-immigrant visa that allows US compani...
The chief minister is staging a two-day-long sit-in to prote...
Sources say it appears to be an IED blast