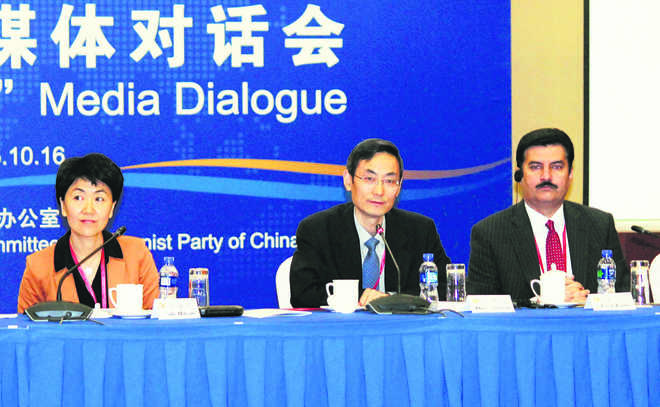 If China has its way, a new global order could emerge, economically linking several countries across Europe and Asia through a grand, multi-billion dollar, unified market. This market will ride seamlessly on inter-connected road, rail and sea routes. Not just goods but also oil and gas pipelines, as well as telecommunication networks running parallel to it, will give a Beijing an envious strategic reach.
Having pledged $50-billion for the "silk- route infrastructure", in October 2013, the Chinese President Xi Jinping announced a two-pronged grandiose plan that revives the two-millennium old "silk route". This grand plan is the reverse of what the 13th-century Italian merchant-traveller, Marco Polo did. He is credited in Europe to have "introduced" the West to Central Asia and China.
Beijing has suggested a modern-day "silk road" and a "maritime silk route" or MSR. It is now aggressively pushing for it in capitals of Europe, Central Asia and South-East Asia. It wants India to be part of the MSR only.
The move leaves India at a strategic cross-roads. India's dilemma is whether to join the 60-odd countries, which include its oldest post-Independence ally Russia, for what promises to be an emerging global order or not. India can choose to remain independent of it and push its own existing strategies in the Indian Ocean. New Delhi's "Act-East" policy does what its name suggests, while the second one, "Mausam" is to revive ancient trade routes between countries on the rim of the Indian Ocean. The Communist Party of China organised a special meeting of International Conference of Asian Political Parties (ICAPP) in Beijing, from October 14 to 16. The theme was: "New vision of the silk road, actions for common development". It set the tone for China's ambitious plan. Land-locked Central Asian countries like Kazakhstan, Turkmenistan, Tajikistan, Uzbekistan and Kyrgyzstan, along with east European countries like Bulgaria, Romania, Hungary and Belarus will act as "bridges" between the manufacturing plants of China and the consumption markets in Europe.
Some 60 political parties from more than 30 countries, including India, Russia and Japan attended it. At the end, a "Beijing Document" read out by Pakistan senator and ICAPP rapporteur, Mushahid Hussain Sayed, had a crucial sentence, "We warmly welcome and support the 'belt and road' (nomenclature for the silk road and maritime silk route) initiative by China". According to Li Yuanchao, the Chinese Vice-President, "It opens new windows to allow new cooperation".
At the ICAPP, the national vice-president of the BJP, Vinay Sahasrabuddhe, talked about the need for a greater "democratisation". "From sovereignty concerns to environmental considerations, from socio-cultural ramifications to governance issues; we believe that there absolutely is no short-cut to greater consensus building", he said, thereby indicating that India was not revealing its cards. Anil Shastri, who represented the Congress party at the ICAPP, told The Tribune, "We need to have an all-party meeting in India on how to deal with this". Sitaram Yechury, the General-Secretary of the CPI-M was okay with India joining the MSR and likened it to the ancient "spice trading route".
Is it China's master stroke?
Beijing's master stroke follows the teachings of an ancient Chinese scholar, Sun Zi (544 BC to 496 BC). He wrote in his book, The art of war, some two-and-a-half millennia ago, how one could "play on the adversary's mind." Though the double-pronged initiative by Xi may not be aimed at an "adversary," it certainly targets "competing economies" and with one Sun Zi-inspired stroke, Beijing may have "played on the minds" of India, Japan and US.
Beijing's plan matches the Marshall Plan of US, in which the latter spent some $13 billion (between 1948 and 1954), in order to reconstruct infrastructure in Europe after World War II. It helped the US economy to capture the global markets and China seems to be attempting something similar.
A statement by the US President Barack Obama on October 5, while advocating its own Trans-Pacific Partnership (TPP) — a MSR kind of plan — noted: "....We can't let countries like China write the rules of the global economy".
Access through J&K into Kashgar
For India, there could be deep interest in the project if it gets access to the planned "silk road" — that is almost identical to the ancient silk route — but has no link-up with India's ancient silk route which had an artery running through Leh in Ladakh, linking it with Kashgar and Urumqi in Xinjiang (now part of China). If this happens, the oil and gas in Central Asia republics can be tapped easily. Turkmenistan and Kazakhstan can solve India's energy problems but do not have a pipeline route to supply gas to India. Would China allow India to have such a link-up, that too through Ladakh?
Culturally, it was through this route that Buddhism spread to ancient China, Xinjiang, the Tibet Autonomous Region, Japan and Korea. Trespassers on the roof of the world, authored by Peter Hopkirk provides ample evidence of the Indian connection with the "silk road" of yore.
Will disputes keep India out?
The India-China bilateral trade for the year 2014 stood at $71.59 billion, making China India's largest trade partner in goods. However, global issues may dictate interests. Bilaterally, India has issues with China — firstly, along the un-demarcated 3,448 km-long Line of Actual Control (LAC) that runs all along the Himalayas and secondly ensuring free navigation in the South China Sea. Almost all of New Delhi's two-way trade with countries east of it, passes through the South China Sea, which China claims in entirety. It is locked in dispute at the UN with Brunei, Taiwan, Malaysia, the Philippines, and Vietnam. The US, Japan and India oppose any such claims of China, which in turn often advices "external powers" (read that as US, Japan and India), to remain out of the regional dispute.
The, modern-day "silk road" shall run from the ancient city of Xi'an in Eastern China and end at Rotterdam in the Netherlands. This is proposed to run in loops around strategic-geographical divides in Central Asia, besides Iran, Turkey, Russia and Europe. While one artery shall cross Kazakhstan, another will pass through Mongolia and link up with the trans-Siberian railway to reach Moscow and Europe. Beijing terms this as the "One Belt One Road" (OBOR).
The MSR, as per China, includes India. It proposes to run the sea route from China's south-eastern coast, via the contentious South China Sea, Cambodia, Thailand, Indonesia, Singapore, India, Sri Lanka, Kenya, Sudan ( Red Sea) onwards, across the Suez Canal to Greece and Venice in Italy. Other than the European nations, all others are part of New Delhi's existing initiatives.
ajaynewsman@gmail.com