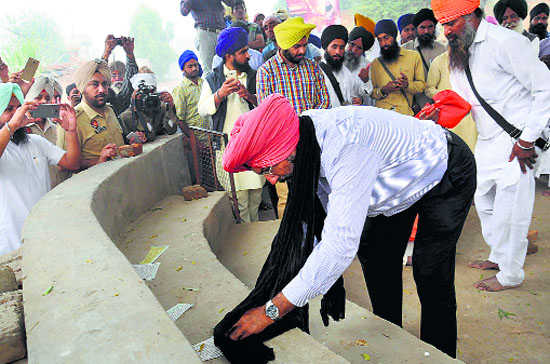 FAIZAN MUSTAFA
VC, Nalsar University of Law
The Punjab Cabinet's decision to prescribe life imprisonment for blasphemy signals a dangerous trend. The state SAD-BJP government led by Badal in 2016 had made the sacrilege of Guru Granth Sahib punishable. The Modi government objected to this restrictive scope of proposed law and now the Congress government has extended it to other religious books such as the Quran and the Bible. Strangely, while the Gita is covered, the Ramayana has been left out.
Shashi Tharoor's statement of India becoming a 'Hindu Pakistan' if the BJP returns to power was wrong. True, there is no possibility of us becoming a Hindu theocracy, but there are worrisome signs all over. The rise of synthetic religiosity is disturbing. The increasing political use of religion and religious symbols to garner votes is problematic. Religious beliefs should not be enforced as societal norms by the State. Blasphemy has a 'chilling effect' on free speech.
Even though Muslims constitute 96 per cent of Pakistan's population, they continue to behave like the minority, therefore needing the State's patronage of Islam and a highly regressive blasphemy law. We are instilling a similar fear in our Hindus.
Chapter XV of the IPC, 1860, deals with offences relating to religion. Section 295 punishes a person with two-year imprisonment or fine or both who destroys, damages or defiles any place of worship or any object held sacred by any class of persons with the intent of insulting the religion of any class of persons. Section 296 punishes the person who voluntarily causes disturbances to any assembly engaged in the performance of religious worship or religious ceremonies with one-year imprisonment or fine. Section 297 makes trespassing on burial places a punishable offence. Section 298 makes uttering of words or making of sounds or gestures with deliberate intent to wound religious feelings of any person a criminal offence.
The original IPC did not have blasphemy as an offence. It was inserted in 1927 and punishes deliberate and malicious acts, intended to outrage religious feelings of any class by insulting its religion or religious beliefs. The punishment of two-year imprisonment was enhanced to three years in 1961.
In ancient Greece, blasphemy comprised speaking ill of the gods, disturbing peace and dishonouring principles of government. The arrival of monotheism gave a new impetus to blasphemy and Jews constituted perhaps the earliest blasphemous 'archetype'. The State collaborated with religion in punishing blasphemy. In passing a sentence upon John Taylor in 1671, English Lord Chief Justice, Sir Matthew Hale, argued that attacks upon religion were attacks upon the law itself and thus blasphemy was treated as treason. A boatman in 1528 was burned in Paris for denying the power of the Virgin. In 1662, an individual had his tongue mutilated in Sweden for cursing the Holy Communion whilst in a drunken stupor. Similarly in 1699, two young members of the Swedish Royal Navy were executed for having substituted the words 'I have the devil in my heart' for 'I have Jesus in my heart' whilst singing hymns.
British blasphemy law that protected only Christianity was finally abolished in 2008. The US Supreme Court in Joseph Burstyn v Wilson (1952) declared blasphemy as unconstitutional. Australia abolished it as federal crime in 1995. Only 25 per cent countries today punish blasphemy.
Sections 295 and 295A of the Pakistan Penal Code were the very same like the IPC. From 1980 to 1986, the penal code was amended to include punishments for blasphemy or insulting the feelings of Muslims. Sec 295-B made wilful defiling or damaging of a copy of the Quran punishable with life imprisonment. Section 295-C, added in 1986, is the most draconian. It laid down that 'whoever by words, either or written, or by visible representation, or by an imputation, innuendo, or insinuation directly or indirectly, defiles the sacred name of the Holy Prophet Muhammad (peace be upon him) shall be punished with death or imprisonment for life, and shall also be liable to fine.' In October 1990, the Federal Shariat court ruled that for the offence described in this section the punishment prescribed in Islam was death. Thus the deletion of the words 'or imprisonment for life' from the statute was ordered and death penalty became mandatory.
Muslim jurists are divided on the question of death penalty as blasphemy is not one of the capital offences prescribed in the Quran. From 1987 to 2014, 1,300 people have been accused of blasphemy. Christians and Ahmadiyas are the worst victims. Gul Masih was the first person to be awarded death sentence under Sec 295-C in 1993. The complainant submitted to the court that in the presence of two witnesses, Gul Masih defamed the Prophet. Upon examination, the witnesses denied what the complainant had attributed to them. He was still awarded death penalty solely on the complainant's own evidence. The allegations against Ahmadiyas included inscribing Islamic Kalima on houses, shops, etc., writing Bismillah on letters, writing Inshallah on wedding cards, etc.
Cases have been instituted against Muslims too. Sajjad Farooz, a hafiz (one who has memorised the Quran), was killed in 1994 after a neighbour spread the word that he had burnt copies of the Quran. He was later declared innocent by the very mosque from where injunctions to kill him had been aired. Salman Taseer, Governor of Punjab, was killed in 2011 as he favoured reforms in blasphemy law. In 2017, Mashal Khan was beaten to death by fellow students for posting blasphemous material online. Investigations proved the allegations were wrong.
At a time when people have been killed on mere allegations of possessing beef, taking cows for selling, child-lifting, rape, etc. by the mob, Punjab's law will give new impetus to mobocracy and lynching in India. Let us not go the Pakistan's way. Let India not become a 'persecuting society'.
Top Stories