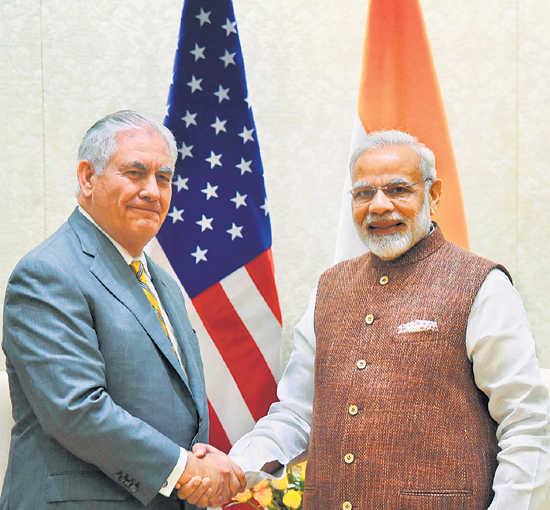 We feel a sense of exultation at Rex Tillerson's statement in Delhi that the US will not tolerate "safe havens" for terror groups in Pakistan. But, Pakistan Foreign Minister Khawaja Asif has clarified to the Senate that "no specific demand" had come from Tillerson. A list of 75 wanted terrorists passed on to Islamabad contained no names of Pakistani nationals, but it included elements of the Haqqani network — some of whom were dead, some had taken refuge across the border and some were shadow governors of the Taliban in Afghanistan.
Tillerson's Islamabad visit has been dubbed as frosty, but the leadership there reportedly exploited the moment not just to negate the US allegation over terrorists' 'safe heavens' but also for broaching on the "Indian atrocities" in Kashmir.
On Afghanistan, Islamabad showed its readiness to help the US not as its "proxy" but in political assistance, provided Washington admits its military failure in Afghanistan. What is more, Islamabad seemingly abdicated its role by saying that it is not Pakistan but other regional players (Iran, Russia, China and Turkey) that have more influence on the Taliban. However, it offered to promptly act if actionable intelligence is given, as in the case of the recent rescue of a US-Canadian couple.
Asif also said that Pakistan made it "crystal clear" to the US that any effort to give the so-called "stabilisation role" in Afghanistan to India was "simply unacceptable."
What has come out clearly, therefore, is that Islamabad has tried to throw the ball in the US court. Tillerson's statement in Delhi that "Pakistan is important to our joint goals of providing peace and security to the region and providing for greater economic relationship" shouldn't have come as a surprise.
In addition, Tillerson's qualified remark in Delhi that "US wanted to work in a positive way with Islamabad as terrorism also threatened Pakistan's own security and stability" was rather an intended smokescreen to convey that exerting pressure on Islamabad beyond a point is risky.
Familiar trend on Pak
Certainly, there is a lurking apprehension, therefore, that dependence on fickle US policies could be risky for India. In fact, we should be careful about rejoicing in Trump administration's "determination" to confront and put an end to terror havens in Pakistan. There is also no cause for getting enamoured with Washington's call for providing India a pivotal role in Afghanistan, which may have, though momentarily, caused diarrhoea among some Pakistanis — perhaps, even rattled Beijing and Moscow.
We know Trump is not known for sticking to his guns. His dramatic flip-flops —from publicly pillorying Pakistan for offering safe havens to "agents of chaos" (August 21) to developing a better relationship with Pakistan and thanking them for their "cooperation on many fronts" (October 14) — were appalling enough.
The recent devious rescue by the ISI of a US-Canadian couple and their three children from the captivity of the Haqqani Network in Kohattoo had a familiar formula replay value — a classic case of how Pakistanis operate on deceitful delivery tactic, an art they have mastered for long. But for Trump, the incident was "a sign of Pakistan honouring America's wishes." Trump may have been hoodwinked, but don't blame him: he is new in this game.
We have heard enough about Washington's tough measures, including withholding of military aid to Islamabad. No one knows better than Indians how Washington turned a blind eye to Pakistan's use of terrorist proxies and to its clandestine nuclear weapon programmes for years.
We should know how the Americans and Pakistanis always worked hand-in-glove, willing or forced, and their clandestine and illicit ties that Trump calls as the world's "worst kept secrets". They are aware about each others' weaknesses and strengths.
In fact, Pakistanis have developed such ties with the Chinese, Russians, and Uzbeks under the rubric "Pakistan as an indispensible partner in the fight against terrorism."
Therefore, we should be aware. No matter what the US says, Pakistanis will be confident of making it through, for they also know how to jump quickly into the American bed. These are familiar trends and more sordid compromises are expected, albeit in the name of real-politick.
That Trump's India outreach strategy wouldn't be followed by action on the ground was a foregone conclusion. After all, Tillerson sought action only against the Afghan Taliban and the Haqqani Network through drone attacks in the Kurram Agency. There wasn't any sign of the US turning up the heat on Pakistan-based LeT and HuM groups. JuD chief Hafiz Saeed's name wasn't even on the list of militants the US handed over to Pakistan.
Instead, speculation is that the newfound "relationship" may have emboldened Islamabad to acquit Hafiz Saeed from detention, citing "no terrorism charges are pending against him."
US' Afghan policy
The danger in Trump's new Afghan policy is the risk of India once again getting hyphenated with Pakistan, for Americans know full well that Pakistan's Afghan policy and its support for terrorists are mainly embedded in its design against India.
Whereas, the current floundering state of relationship between the US and Pakistan seem only provisional and transitory. In fact, Pakistanis would be simply waiting for the inevitable moment of the US military failure in Afghanistan once again. We should know the US considers the Taliban a political entity and if the ongoing effort to bring reconciliation with the Taliban materialises, it will not only vindicate Pakistan's policies but also paved the way for deepening ties with the US. This would mean that US would dump India and once again plonk for Pakistan as its subedar for the region.
Therefore, India getting ready acceptance as a reliable US partner is rather hasty. In fact, the US desire for India's stepped-up engagement in Afghanistan is only about what Nikki Haley said on Diwali: "India can help the US keep an eye on Pakistan" to determine that Pakistan has given up using terrorist groups. That's a very small job indeed.
What ultimately Washington would tell India is: leave Pakistan for us to handle and New Delhi should focus on containing China in the Asia-Pacific region.
After all, the crucial US new Afghanistan and South Asian policy was accompanied by the showering of a bigger geopolitical gift to India — applauding its commitment to a global rule-based order as opposed to China's subverting sovereignty of its neighbours. This, in fact, enthralled us more as many commentators have already started to construe the US openly siding with India, should a Doklam-like conflict vis-à-vis China is repeated.
But, make no mistake: China was seemingly doing its full strategic probing of the US potentially coming to India's rescue during the entire 72-day standoff in Doklam. Observers have noticed that during the conflict in the Himalayas, Chinese military activities were seen more focussed in the West Pacific. Apart from keeping the US tied down on the North Korean front, China was deterring the US and Japan from joining the Doklam conflict. Actually, it wasn't India, but China that was fighting a two-front war on both the Pacific and Himalayan theatres.
For India to rely on Trump's promises would, thus, seem foolhardy. In fact, many statements that Washington makes can't be taken, except for their face value, for it is getting clearer that while India and the US have developed concurrences at multiple levels, the signs of converting them into real and obligatory strategic congruencies appear very little.
The writer is a former ambassador and expert on strategic affairs
Top News
Says wants it to commit constructively to establish facts
Blinken says it is 'important for India to work with the Can...
Says the US has engaged directly with the Indian government ...
However, neither the government body nor the politicians sin...
Canada's trade and ability to be a part of Indo-Pacific and ...