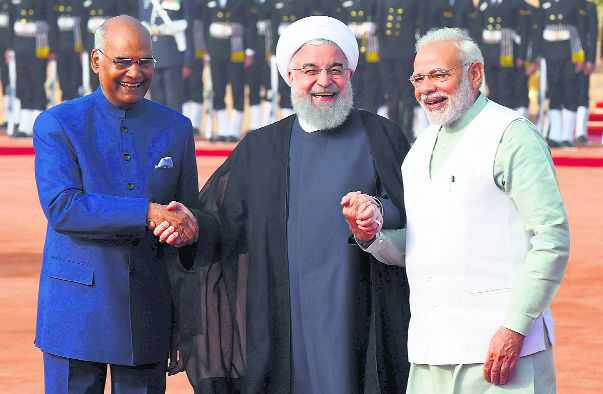 MK Bhadrakumar
former Ambassador
On the face of it, Iran is down 0-2. That is, if a metaphor from soccer were to be used to describe India's affection toward Iran's archetypal West Asian rivals — Israel and Saudi Arabia. After all, Prime Minister Narendra Modi receives their leaders at the tarmac of Delhi airport with a hug, but there was hardly anyone to receive Iranian President Hassan Rouhani when he landed in Delhi in February last year, alighted from the plane, got into a limousine and drove off.
If Israeli PM Netanyahu visits again later this month, the tally may even jump to 0-3. Our criteria for display of affection to world leaders remain confidential. It causes some unease, since it is exceedingly foolish if India becomes a partisan in the power struggle in that region over the rise of Iran. The US is actively promoting a regional axis between Israel, Saudi Arabia and the United Arab Emirates aimed at creating 'strategic depth' for Israel and weaken Iran. The Trump administration resuscitated the moribund geo-strategy against the backdrop of the steady drain of American influence in West Asia. The rational thing to do would have been to normalise relations with Iran by following up on the constructive engagement embodied in the 2015 nuclear deal but the Trump administration, which is heavily under the influence of Israel and the neoconservative lobby, opted for exactly the opposite.
The West Asian power struggle has already affected India by way of US sanctions against Iran, with Washington inserting itself into the India-Iran oil trade. Meanwhile, pressure is also building up on India to align with the US and its regional West Asian allies. In some ways, the Saudi Crown Prince Mohammed bin Salman's visit last week and the proposed one-day trip by Netanyahu (amidst the hurly-burly of the Israeli election in April) can be seen in this light. Broadly, the game plan is to offer India an alternative package to its Iran ties which it cannot refuse. The Crown Prince's loud musings about India qualifying for $100 billion investments and his offer of Saudi oil to make up for disruption of (Iranian) supplies fit into the paradigm.
This pantomime can be expected to play out on five templates — energy, Indian diaspora, trade and investment, regional connectivity and terrorism. For a start, take energy. Saudi Arabia and the UAE are sources of supply of oil, but Iran is the gas superpower, while Israel can never be a significant energy partner for India. If we take trade and investment, Iran is the biggest market (population: 82 million), exceeding by far the combined population of Saudi Arabia (33.5 million), the UAE (9.5 million) and Israel (8.4 million). Besides, Iran's reconstruction is yet to seriously begin. Again, Saudi Arabia, UAE and Iran are potentially big investors in the Indian economy, but Israel lacks any investible surplus of capital.
To be sure, millions of Indians live and work in West Asia but the bulk of them are in Saudi Arabia and the UAE — close to 5 million Indians. Whereas, the Indian communities in Iran or Israel are miniscule in comparison. And that puts Saudi Arabia and the UAE into a special category. However, when we turn to regional connectivity, the partnership that Iran presents is unique for India's Eurasian integration. Unless and until Kashmir issue gets resolved, India's access to Afghanistan and Central Asia and its capacity to tap into the vast mineral resources of that region will depend almost entirely on the transportation route heading north from the Chabahar Port. Neither Saudi Arabia and the UAE nor Israel can offer a substitute to Chabahar.
To be sure, India has major concerns over terrorism emanating from West Asia. Saudi Arabia, the UAE and Israel have used terrorist groups as tools of regional policy in Syria, Libya, Yemen, etc. The Syrian government has repeatedly uncovered massive quantities of Israeli weapons and ammunition in areas liberated from Al-Qaeda affiliates. While Israel armed and equipped extremist groups as proxies against the Syrian government, Saudis and Emiratis recruited and funded them.
Meanwhile, the Saudi-Emirati bailout for the Pakistani economy (to the tune of $12 billion), the proposed $20 billion Saudi investments in Pakistan, and the recent visits by the crown princes of the two petrodollar states to Islamabad — these signify the revival of the alliance between the three Muslim countries in the West Asian geopolitical matrix. Pakistan becomes a crucial partner for Saudi Arabia and the UAE as they return to Afghanistan and size up its utility as a potential staging post to encircle and destabilise Iran from the east. They hope to reboot the Afghan Taliban with Wahabi ideology and reinvigorate the movement's anti-Shi'ite moorings as of the nineties when they mentored the late Mullah Omar and his regime. Above all, Saudi Arabia may have need of Pakistani mercenaries if push comes to shove and Washington is unwilling or incapable of acting as the provider of security.
Suffice to say, the spectre of Saudi-Emirati-Pakistani convergence with tacit US and Israeli backing haunts India in its western neighbourhood. India cannot help cherrypicking. The grouping of the US' allies in West Asia, leave alone any single partner country in that region, can optimally fulfil India's aspirations as a rising power. In a medium-term perspective, Iran is the only 'natural ally' for India in that region, while for the present, the Sheikhs and Netanyahu are useful, too. India should tread warily. Hugging shouldn't mean guards are lowered, when there is so much evil around. Nor can it be the case that by not hugging we are spurning outstretched hands of sincere friendship.