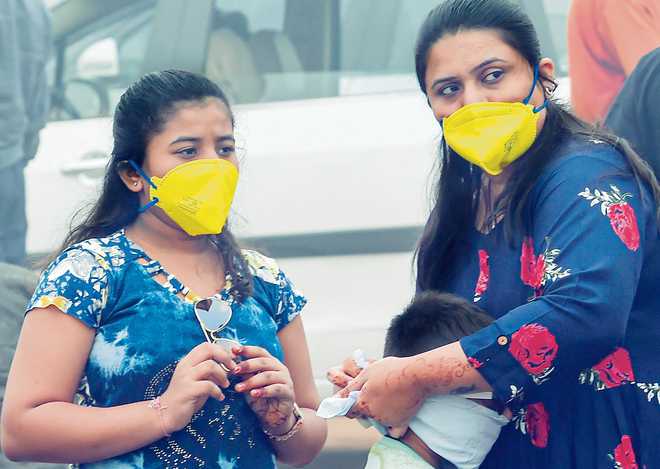 Rajesh Ramachandran
The comprehensive failure of the Indian political class was recently on splendid display in — where else! — the national capital. Delhi turned into a toxic gas chamber; Delhi's policemen blockaded their own headquarters pleading for justice. Mao's call to bomb the HQ during the Cultural Revolution was his shortcut to get rid of his powerful old comrades of the Long March. But the protest of the constabulary in Delhi was of a meeker kind — it just wanted the gavel of justice to fall on the thugs in black coats. Meanwhile, the skies opened up, the rain gods sprinkled some water on the pollutants and allergens, and constables are back to their beats. And all is well in Delhi.
Not really. These two episodes helped demonstrate the disastrous performance of three leaders, three parties and three different kinds of politics: Arvind Kejriwal, the CM of Delhi and the AAP he founded; Congress's Punjab CM Captain Amarinder Singh; and, of course, PM Narendra Modi and his BJP. These three leaders represent three different ethos, ideologies and aspects of Indian politics and life. Captain's Congress stands for the old guard, the feudal elite and the compromising, incremental governance model that has been universally pilloried by those in a hurry to ring in the New India.
The AAP, the youngest political entity to storm Delhi, winning 67 out of 70 Assembly seats in 2015, was the most impatient of all parties to sweep the Congress feudal debris off. But Kejriwal has turned out to be the biggest disappointment amongst all stakeholders in this past week. Despite his IIT degree, his idealistic past as a grassroots-level non-governmental activist and his experience in governance as a civil servant, Kejriwal has failed to address Delhi's pollution. Every time the weather plays foul, the city is forced to breathe toxic fumes. Almost every other healthy migrant becomes an asthmatic and a health emergency is the only way to usher in winter, year after miserable, breathless year.
Paddy straw burning in Punjab, Haryana and UP, no doubt, contributes immensely to the situation, but so do vehicular pollution, construction dirt and road dust in Kejriwal's Delhi. All of this is predictable, quantifiable and actionable. Yet, even after five years in power, the AAP could not make even an iota of difference to the lives of residents, almost trampling upon their right to live. The impatient, young party of change seems to have become more moribund than even the old establishment, which would have in its own slothful ways tried to turn Delhi's public transport greener, the way CNG was once introduced and flyovers were built.
Punjab contributes a lot of smoke to Delhi's smog, but that is not all. Its own villages and towns are choking and all that the government has done so far is to file a few meaningless FIRs — initially many of them nameless, though everybody knows who sets farm residue afire. Even the stubble-removing machines and their village collectives, specially set up to avoid farm fires, have gone missing, as reported by The Tribune. Captain is simply not bothered because the choking in Punjab is transient, unlike Delhi; once the fields are cleared, the air too gets cleared. This is exactly how old politics works. But unlike the radical new ones, the Congress always had the solution, though the problems never got solved. For instance, the Supreme Court's solution of paying Rs 100 as incentive per quintal of hay is exactly what Captain has been asking for. Now, this is a win-win situation for Captain, farmers and Delhi's residents. But then, neither Captain nor Kejriwal ever sat down to discus this payout or the all-important issue of the sowing-harvesting calendar. Has the groundwater level considerably increased after the change in the sowing calendar? Unlikely!
On its part, the Centre seems to be blissfully unaware of all that is going on in Delhi and its surroundings. Modi too is a resident of Delhi — or rather, its prime resident. Yet, he has not taken any initiative in tackling the issue. This lack of interest can only be interpreted as an attempt to show up Kejriwal as a failure and to get him defeated in the upcoming Delhi polls. Modi does not even have to try hard because Delhi is watching Kejriwal put up his own pictures on hoardings announcing the odd-even vehicle number punishment, as if it is an achievement.
Still, it does not behove the PM to play oppositional politics with the health of over two crore people, simply to expose his opponent's hypocrisy. If the PM had stepped in with innovative solutions like a switch to electric vehicles, regular washing of roads and new construction techniques along with incentives and disincentives to end the practice of farm fires all across north India, people would have voted his party in and booted Kejriwal out. But the PM is offering no alternative to Kejriwal's odd-even plan and is globetrotting as if the less fortunate Delhiites don't deserve clean air and sunlight.
Worse, the new national security state that the BJP has built shook violently when the Delhi Police threatened mutiny. Had there been an organisation or a charismatic leader like Jayaprakash Narayan present to tap this free-floating anger, the Delhi Police protest could have metamorphosed into a nationwide movement, threatening the structural stability of the government. Here again the trigger was something the Centre should have tackled long ago — the lawlessness of some lawyers. Studies have pointed out that about 30% of those posing as lawyers could be fake. This should have been tackled as soon as these figures were published. But then, the Ram temple, Article 370 and triple talaq are the priorities of a government whose only concern is the immediate next election — panchayat, Assembly or Lok Sabha. This election-winning Hindutva machine (it almost broke down in Maharashtra and Haryana) obviously can't achieve even mundane governmental targets.
Top Stories