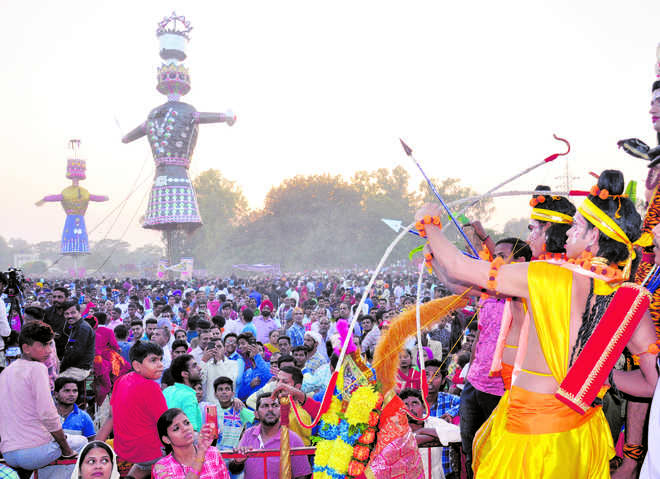 Salil Desai
Author, Columnist
It is less than a week since 61 people standing on rail tracks, watching Dasehra celebrations being held on a nearby 'maidan' in Amritsar were mowed down by a train, that was on its routine run. Yet, except for the political slugfest on news channels, most of us have already put this incident behind us. This, despite the fact that even a cursory search on Google will reveal that there has hardly been such a uniquely bizarre accident anywhere in the world, in which so many people were run over by a train. Embarrassingly, the last such accident occurred in India itself in 2013, when 37 people were sliced by a train at Dhamara, Bihar in 2013.
Is it because negligence and carelessness are a part of the Indian DNA? For, in which other country will crowds assemble on rail tracks in this manner, totally oblivious to safety concerns; police, civic and railway authorities shirk responsibility for their failure to discharge their basic duties; governments announce compensations, order inquiries and rely on the shortness of public memory to escape real accountability?
Rail accidents, hospital deaths, flyover collapses, natural calamities, epidemics, temple stampedes, sewer deaths - haven't we heard and seen such incidents all the time, happening in some part of our great country - a hundred here, a dozen there - Indians dying, suffering grave injury because of the negligence, carelessness, irresponsibility or appalling apathy of fellow Indians. As if we as a people have become much too accustomed to the idea that human life is of such less value in our country so as not to matter beyond a little outrage and momentary lament from our end. Thereafter we just return to our normal lives, thanking our stars it wasn't us.
What is astonishing, if it wasn't so shameful, is that we prefer to remain passive, content to impotently blame politicians, government officials, the system and the usual suspects, without displaying any will to bring about a real change. We want the media, the judiciary, various authorities, NGOs, RTI activists, whistle-blowers and other busybodies to hold the government and those guilty of dereliction of duty, accountable, but we don't want to personally play any part in it, other than cribbing in our drawing rooms or ranting on social media.
Forget about matters involving life and death like the Amritsar tragedy, the sad fact is a huge majority of us don't want to lift a finger to even try and change the smallest of ills that plague our governance delivery systems, whether at the lowest level of administration or at the highest. Even if we are the ones directly affected, most of us shy away from personally challenging or holding accountable people or officials, who are not doing their jobs, or are in fact short-changing us. We prefer not to confront beyond a point, choosing not to annoy, tolerating their impunity, ingratiating ourselves by humouring or bribing or simply accepting their proclivity to deny, delay, complicate or dismiss our rights as humans and citizens. Rarely does anyone escalate matters or see the challenge through to the end. Those who do, often regret it, because of the enormous capacity of the authorities to stall or thwart an ordinary citizen.
This state of affairs has had two ramifications. Firstly, it has created a perverse mentality in our society, which constantly reinforces the attitude that this is India, in which things are going to remain the same for the foreseeable future, and so it is prudent to accept status quo - that as ordinary citizens we should resign ourselves to powerlessness against all systems, authorities and people, above our stations. Worse, those who do not accept this arrangement and dare to escalate or insist on governance delivery are mocked and ridiculed as unreasonable fools, who are inviting trouble, headache and even retaliation. It's as if the sympathies of people move away from such spunky individuals, perhaps because it reminds them of their own lack of spine in standing up to or taking on authority in the smallest of matters.
It is precisely this insufficient urge as a society to call out and correct even minor infirmities, which has completely destroyed our ability to challenge or change the big systemic evils afflicting our country and its administration.
We pretend to aspire and believe that we are on our way to becoming a modern, advanced country. Yet, in which developed democracy can there be a huge number of fatalities and large loss of life on account of hundreds of glaring instances of governmental negligence, carelessness, lackadaisical authorities, dereliction of official duties, year after year, without the government really being held to account.
As a people, instead of such tragedies leading to reflection, introspection and action, our response follows a typical pattern. After a few days of voyeuristic outrage, we will return to our default settings of long-suffering deference and meek acceptance of poor governance, sub-standard infrastructure and service delivery by the administration. What we simply don't seem to realise is that it is precisely our willingness to tolerate carelessness and irresponsibility in small matters that has cumulatively added up to the larger culture of negligence and dereliction of duty in the government and country as a whole.
To fix big things, small things need to be fixed first. Until we stop tolerating minor negligence and carelessness of authorities, macro-level negligence will continue being repeated, tragedies will continue happening, large-scale loss of life will keep occurring and authorities and governments will continue going scot-free.
Top News
Martyr PM's son who walked for national unity can never insu...
Says Rahul Gandhi's disqualification culmination of lawful p...
Indian Ambassador to the US Taranjit Singh Sandhu was not in...
Seeks explanation for 'security breach'
Search operation for 'Waris Punjab De' chief enters 9th day