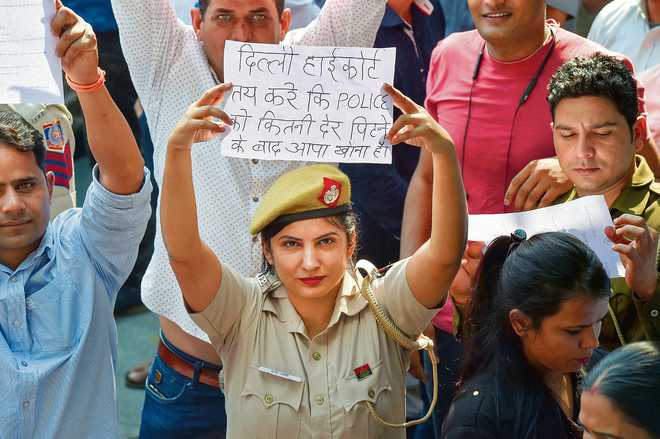 Vappala Balachandran
Ex-Special Secretary, Cabinet Secretariat
The unrest among the Delhi police which erupted as peaceful demonstrations on November 5 needs to be analysed dispassionately. Media headlines like "revolt" or "mutiny" betray a colonial mindset as our police is a civil department in uniform and not a military force like the Irish Constabulary, which the British imposed on us.
Also, the Delhi police, which had started with a strength of 1,152 in 1912 as an adjunct of the Punjab police, is now the largest police force in the world with 74,712 working personnel against a sanctioned strength of 86,531, according to BP&RD statistics this year. This is almost the same as in the entire Canada which has only 68,562 uniformed police officers and 31,050 civilian employees. Till a few years ago, the Tokyo Metropolitan Police was the world's biggest, with about 46,000 officers.
The fears that our governmental system will collapse if civilian uniformed units express their feelings through organised protests is also a colonial hangover. On October 2, nearly 27,000 policemen in Paris marched from Bastille, their iconic protest site, against the "physical and psychological" fatigue from Gilets Jaunes (Yellow Vest) protestors. In December 2018, the UNSA-Police, France's third largest union, advised members to stay at home except in emergencies to show their protest at the police budget cut of 62 million euros, pension reduction and long working hours.
'Work to rule' was organised in 2015 by the New York Police Department (NYPD) to express their resentment at Mayor Bill de Blasio's police reforms favouring the minorities which diluted Commissioner Bill Bratton's 'pro-active policing or Broken Windows theory.
The immediate provocation for the Delhi police demonstration is lawyers' violence on them. They also complained about work overload, adverse working conditions, political interference, lack of holidays and neglect by senior officials.
Private estimates indicate that 25 per cent of the 74,712 policemen are for VVIP security. No official confirmation was available as the Delhi police website was unresponsive. Combining VVIP security with street policing and crime control is never a good policy as resources for normal policing tend to get diverted with security responsibility. It also results in stretching working hours, causing hardships to the men.
This pattern has been given up by other countries. Arguments that separate sections are used to man VVIP security in Delhi are not valid as the same supervisory officers are managing crime, law and order and security. It needed an assassination of a prime minister in 1984 to make us realise that VVIP security and policing cannot be conducted together. This only shows that the same pattern of policing continues in Delhi since 1912, when it was only a village.
The NYPD, the largest police force in the US with a total strength of 55,000, shares security responsibility with other federal, state or local police systems like the Transport police, Park police and Bureau of Diplomatic Security. When our Prime Minister travels to Washington DC, the responsibility of the Washington DC police on his security is peripheral as it is directed by the State Department's Bureau of Diplomatic Security.
The basic problem with our policing which puts our men under severe strain is the carry forward of the colonial practice of entrusting all coercive, penal, investigation and law and order responsibility on the local police. The 1861 Indian Police Act listed 22 non-police duties like cattle impounding. This was contrary to what Sir Robert Peel had done in London in 1829, specifying only prevention and investigation of crime as well as maintenance of order as the basic police charter. The Bombay Police Act of 1951 asked them to check infectious diseases and street-dirtying. Over a period of time, successive governments started dumping municipal and social reform responsibilities either directly or stealthily on the state police.
The Maharashtra Maintenance of Parents and Senior Citizens Rules, 2010 made it mandatory for the local police to maintain a list of senior citizens and to visit them at least once a month, although the 2007 Act was meant to fix responsibility on their children. This should have been the direct charter of the Social Welfare Department as the Act only wanted the police to be 'sensitised'.
Such dispersal of responsibility has become the norm, whether it is protecting mangroves or detecting illegal building constructions. In other countries, municipal or social reform/protection laws are enforced by special departments like the senior citizens or child protection squads. As a result, our urban police system has become unwieldy gargantuan units.
This cannot be remedied unless we drastically trim the size of our police forces by casting away needless non-police functions. Thousands of police man hours now wasted on prisoner escorts could be handled by others like in Singapore by the Auxiliary Police or by Correctional Services in the US or even by trusted private groups like Serco in England. We should merge the State Railway Police (GRP) with the RPF, as was successfully done by Pakistan to save commuter harassment from jurisdictional quarrels within 29 states.
On July 23, 2015, I wrote in an online news portal that the Delhi Police should be made accountable to the Chief Minister. That was when Chief Minister Arvind Kejriwal was pleading with the NDA government for control over the police, like his predecessor Sheila Dikshit who had made a similar request on December 26, 2012 after the Nirbhaya incident. Public resentment on the Delhi Police following the December 16, 2012 Nirbhaya gangrape was also one of the reasons for the defeat of the Congress in New Delhi.
However, in the article, I had advised Kejriwal not to insist on control over the Delhi Police but to take advantage of a Home Ministry's advisory to all states on May 21, 2013 to set up 'municipal police' in cities with a population of more than one million, as recommended by the Second Administrative Reforms Commission. I had also said that not one state had come forward to do that.
Following the publication of my column, I received a call from Kejriwal on how to do it. I do not know whether he has made any attempts to draft a legislation to create a municipal police under him.
Top Stories