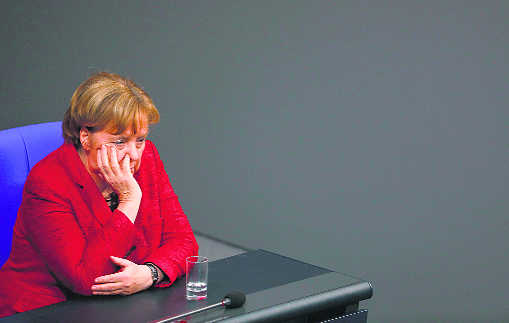 Hasan Suroor
THIS was to be the year when Germany, under a reinvigorated Angela Merkel, was meant to assume the leadership of Europe, and possibly the larger First World left floundering by an eccentric American presidency. This was also billed as a big year for European unity when it was to have sorted out its internal divisions and emerge as a more cohesive power on world stage. Instead, what's unfolding is nothing short of a horror story for both Germany and Europe. It's still early days, but the writing on the wall is clear. So, what went wrong? Simple. That optimistic scenario was based on a wrong reading of the public mood leading to an assumption, ahead of last September's German elections, that Merkel was headed for a big win which would boost her credentials as a strong leader.
In the event, German voters — upset over her decision to let in more than a million Muslim refugees into the country in 2015 in defiance of public opinion — used the elections to vent their fury, and gave her a severe drubbing. Her centre-right Christian Democratic Union (CDU) party and its Bavarian affiliate, the Christian Socialist Union (CSU), suffered heavy losses — losing 65 seats mostly to the anti-immigrant far right Alternative for Germany (AfD). Since then, Germany has been in a political limbo after she failed to form a coalition with two smaller parties. Four months later, the country continues to be ruled by Merkel's defeated "grand coalition" with the Social Democrats (SDP) which fared even worse than CDU. But with no other party willing to support her, she has been forced to revive her party's alliance with an equally reluctant SPD to avoid fresh elections. Political uncertainty, however, is likely to continue for some time as the two parties thrash out details of a mutually acceptable programme. A new government is not likely to be formed until late March.
Meanwhile, she is under mounting pressure to call it a day after 12 years in power, with one recent poll showing that half of Germans want her to quit and make room for a new generation of leaders. A "Merkel fatigue" is said to have set in, and the arrival of an energetic youthful leader in France has "suddenly made her look ponderous and managerial", The Times noted. And that's the irony. While Germany is distracted by a debilitating political crisis, the usually struggling France is luxuriating in the glow of its glamorous new President Emmanuel Macron, a breath of fresh air after Francois Hollande's four sclerotic years. Barely months into office, he has already shaken up the country's comatose economy with a series of hard-nosed reforms and re-energised foreign policy with a flurry of high-profile foreign visits and initiatives, notably his intervention in the Saudi-Lebanon row over Saad al-Hariri's resignation as Prime Minister. And he is to become the first Western leader to visit Iran since the 1979 revolutionas part of his doctrine of "honest engagement" which saw him roll out the red carpet for Donald Trump, Vladimir Putin and Recep Tayyip Erdogan, despite serious differences with them on a range of issues. He is also pushing for a more proactive French role in European politics and has proposed an ambitious plan for deeper European integration.
Macron is often accused of being vain and imperious but even hardened critics acknowledge that he's delivering. His popularity ratings remain high at 78 per cent. He's good news not only for his own country in a long time (France today is a lot more optimistic and confident than it has ever been in the past decade), but also for Europe which desperately needs a visionary leadership at a time when the Merkel magic is waning and much of the continent is in the grip of right-wing nationalists. France itself narrowly escaped getting one of its own (Marine Le Pen of National Front) but was saved by some smart last-minute tactical voting. All eyes are now on Italy where a coalition of right-wing parties, including Silvio Berlusconi's Forza Italia, is leading in the polls ahead of the elections in March.
But Macron has his work cut out as he seeks to step into Merkel's rather big shoes amid a simmering civil war among EU countries — not to mention the Brexit mess. Particularly, the eastern and Central European countries — Poland, Hungary, the Czech Republic — are out of control and need a strong hand to rein them in. Once upon a time when the Soviet Union still existed, they were hailed in the West as beacons of democratic spirit ruthlessly suppressed by dictators in Moscow. Ah! if only they could free themselves from its clutches they would be transformed into havens of democracy and free speech, it was said. After the collapse of the Soviet Union, they were assiduously courted and inducted into the EU, even though they didn't meet many of its stringent membership criteria. The aim was two-fold: to wean them away from Moscow's influence on the one hand, and extend Western reach right into Russia's backyard. A decision that has come to haunt the EU as these supposed beacons of democracy have turned out to be a democrat's nightmare. Governed by right-wing authoritarian regimes, they have shown scant regard for what Europe likes to describe as its core values of free speech, judicial independence, rule of law and individual rights.
Brussels has taken a serious view of attempts to erode press freedom and judicial independence, especially in Poland and Hungary, and is threatening to strip Poland of its EU voting rights if it doesn't withdraw a series of proposed measures that would give ministers power over the appointment of judges and members of the country's supreme court. Along with the Czech Republic, Poland and Hungary are also at loggerheads with the EU over the issue of Muslim refugees and are refusing to accept their share of asylum-seekers under a Europe-wide quota system. The EU has never been more divided since the 2009 eurozone crisis than it is today, with an entire bloc of members in a defiant mood. It survived the 2009 crisis largely because of Merkel's undisputed political and moral authority which she ruthlessly exercised. Today, she's a shadow of her former self; and Macron, for all his brilliance, is still a work in progress. All of which makes the current crisis more serious and a critical test of Europe's resilience in the months ahead.
The writer is a London-based commentator
Top News
The accused ASI was nabbed by local people, who then handed ...
Two frontline combat aircraft of the IAF crashed during a tr...
Gandhi was accompanied by his sister and Congress general se...
PM Modi also appreciated people for eating food items made o...