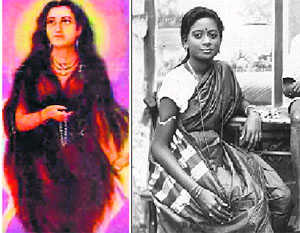 We have been told stories that are dated; men as protector heroes and women-always assessed in the context of her relationship with a man. There is a third dimension too -- of women without a tag. India has had a long tradition of women who resisted conformity, even under severe societal pressure. Their whispers of rebellion were bypassed or ignored by patriarchal documentations, mainly because the agrarian society depended on orality as a means for recording histories and the heroic male narratives took a precedence over what was considered inconsequential-the feminine narrative.
The idea of women's rebellion holds great interest for feminist sociologists, because it is these million mutinies that translate into the extent to which society would permit changes. Even today the general perception about a woman who makes choices being called a feminist is not a compliment. Feminism continues to resonate with social punishment and shaming because women's claim to their own space is perceived as threat to patriarchy. Therefore, feminists are stereotyped; from drawing room talks to popular media -- cinema being most influential of them all. If you look at the lead characters projected through the so-called "feminist films" produced by the unabashedly misogynist Bollywood, you would think of feminists as loony, spitfires, out to have their vengeance on men. The protagonists of Gulaab Gang, Damini, Mardani, Chingari are women who destroy the male chauvinists by their goddess-like wrath. In a few layered films that propagate a feminist worldview, the female lead undergoes transformation either by visiting a foreign land, as in Queen and English Vinglish or, under the influence of western education and culture.
Indian women did not have to borrow feminism from the West. Ancient women writers, thinkers, poets and seekers asserted in multiple ways to be "themselves". They were never the Alices lost in a wonderland. Over millennia, their diverse voices relating to society were recorded through feminist literature; exploring women's relationships with other human beings, nature, with men -- other than their family members or husbands, and with the divine. At times, even an erotic relationship with another woman! Their rebellious attitudes also included acceptance of their uninhibited sexuality as a part of their complete human experience. Often, one comes across a spiritual quest in these poems that paves the way against societal pressures of conformity, without pontificating piety. Their observations on life are laced with wry humour and grace, never self-loathing or pitying, as one would expect. And their sensuality is aesthetic.
The verses written from 1st to 2nd century CE show women's candidness in dealing with lust, envy, anger and spiritual quest for liberation with equal élan. "Distance destroys love/So does the lack of it./Gossip destroys love/And sometimes/It takes nothing/ To destroy love…"or writing of another woman," The cock crows and you/Wake up with a start/But you have spent the night/In your own bed, husband." Written in Prakrit, these unapologetic verses constitute part of the Gathasaptasati (700 verses from the gatha), perhaps the earliest anthology of verse. The speakers in these poems are almost solely women — of all ages. "Let faithful wives/Say what they like/I don't sleep with my husband/Even when I Do," writes a young woman, an old one remarks cynically "O hideous old age/Be content. I've come/To worship the stone/Men used for my pillow." The erotic content of some of these poems can make the poetry of so-called bold modern feminist poets like Kamla Das and Meena Kandasamy read like nursery rhymes.
It's imperative to know the worldview of these ancient contemporary women in times when gender identities are further narrowed by a new cultural narrative that is pushing women into an obsolete mould that perhaps never was. These rare documents of women's insights, written in different languages, which have begun to come to the fore, thanks to well-supported translation projects and niche publications, as also a fresh attempt to look at the history from the point of view of the feminist sociologists. Few of these poets have been discovered from the oral histories preserved by rural women.
"You are young and innocent/how can going forth be right for you?Come on, get rid of that yellow robe/let's enjoy each other in this forest/its flowers are in bloom…" the subtle suggestive poem is by a Buddhist theri (senior nun) which comes from Therigatha, written two millennia ago, the first anthology of women's literature in the world which was published in English translation by Murty Classical Library of India, in 2014. The poems written in Pali in Therigatha alert people about the "mental constructions" that one creates for oneself to contaminate the experience of living. The theris celebrate their "uprooting" and "udana" — flight. "You keep crying out, 'My son'! / to that being who was coming and going somewhere else/and who came from somewhere else/ none of which you know." The written records of the suffering of women thousands of years back, these verses carry a perpetual contemporarity in the voice of a widow, a childless woman, or a young woman trapped by traditions and expectations. The poems are highly sophisticated in content and construct. The recent efforts of the extreme right wing to claim Janabai, a Marathi Bhakti poet born in the 13th century notwithstanding, the poet was audacious enough to demand, "God my darling/do me a favour and kill my mother-in-law" (translation by Arun Kolatkar). The two worlds seem to merge in the unique worldview of these poets. Or, Akka Mahadevi, a 12th century Kannada poet considered by modern scholars to be a prominent figure in the field of female emancipation, based on the strong feminist content of her vachana poems. Akka describes her love for Lord Shiva as adulterous, and views her husband and his parents as impediments to her union with her Lord. Finding relationship with mortal men as unsatisfactory, she describes them as "thorns hiding under smooth leaves, untrustworthy" and feels no qualms declaring, "Take these husbands who die decay, and feed them to your kitchen fires!". The tension of being a wife and a lover becomes overbearing for her, "Husband inside, lover outside./I can't manage them both/This world and that other…" A K Ramanujan first popularised the vachanas by translating them into English.
The poems in Transgressing Boundaries: The Songs of Shenkottai Avudai Akkal, also use an erotic base for much of its highly lucid poetry penned by a medieval child widow Akkal from Tamil Nadu, who came to be known for her caustic ridicule of Brahminical rituals and traditions that Indian society continues to grapple with.
The tradition of feminist poetry has remained unbroken; few voices have a name, others don't, few are still heard-- others have faded. Poets with a strong feminist strand in Oriya, Bengali and other languages are now emerging from oblivion. Their verse show a clever manoeuvring of their way through the complexity of patriarchal social structure. The intransigent voices show them in a different light mocking the invented narrative of ancient women being passive and subservient.
vandanashukla10@gmail.com