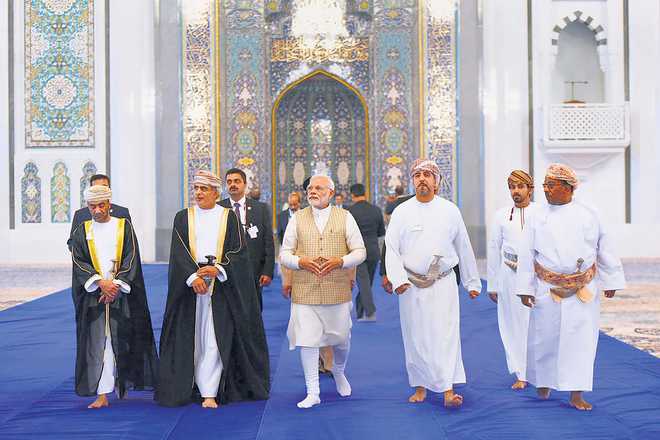 KC Singh
PRIME MINISTER Narendra Modi is three months shy of entering the last year of his term. Post-Rajasthan wipe-out of his party in two Lok Sabha and one legislative byelection — of which even the Congress was confident of winning one — murmurs within the BJP are louder about state of the party and the nation. All leaders use foreign visits to bolster domestic standing as the pageant and protocol, carefully calibrated in advance, rarely goes off-script. But the exercise has diminishing returns once the electorate at home begins to wonder where the promised achhe din are. The recent foray of Modi into West Asia and the Gulf falls into that category.
A Palestine visit was expected after Modi's stand-alone visit to Israel and Israeli PM Benjamin Netanyahu's Indian sojourn last year, with fanfare, including the shutting down of Ahmedabad for street extravaganza. President Mahmoud Abbas of Palestine Authority (PA) has been in power since the death of charismatic Yasser Arafat in 2004. There has, however, been no presidential election since 2005 nor parliamentary polls since 2006. His moral and political authority had dropped perceptively, particularly after his inability to implement the Cairo deal for gaining administrative control of Gaza, run by rivals Hamas. The continued siege of Gaza and sanctions have caused human misery and an explosive situation. Israel has been able to exploit the Palestinian disunity and civil war in Syria to stall any international push for West Asian settlement.
President Donald Trump opened his presidency by nominating his Jewish son-in-law Jared Kushner to obtain an Israel-Palestine peace deal. But his December 6 decision to recognise Jerusalem as Israeli capital ruffled Arab feathers. Abbas has employed it to reassert control over rival factions by espousing the popular argument that US sponsorship of peace process had now ended. India by sensibly voting for a UN resolution condemning US move kept its door open to the PA. Thus, Modi's visit was timed well as President Abbas was regaining lost authority. The $50 million developmental aid should keep India's traditional relations with Palestinians on track. Hamas has, meanwhile, revived links with Iran, overcoming misunderstanding over Iran supporting the embattled Assad regime in Syria. Future course would depend on Abbas holding long-delayed elections to Palestinian parliament and his own office, acquiring control over Gaza and ameliorating the humanitarian crisis and the political fortunes of Netanyahu on way to being indicted for corruption. By its untimely step, the US handed the reward before obtaining Israeli compliance with UN Security Council resolutions, including stopping construction of new settlements in occupied West Bank.
But by altering standard Indian formulations on the Palestinian issue, especially omitting mention of East Jerusalem as capital of Palestine, Modi succumbed to pro-Israel views in the RSS, which sees Israeli control over ancient lands of Judea and Samaria as analogous to their perception of Akhand Bharat as encompassing South Asia. They ignore that Theodor Herzl, the founding father of Zionism, conceived Der Judenstaat or Jewish Homeland at the beginning of the 20th century as any place on earth to colonise with people of Jewish faith. Even Uganda was considered for resettlement to escape anti-Semitism in Russia and Europe. The World War I and Ottoman Turkey aligning with Germany opened the possibility of Britain allowing European Jews to return to Palestine, post-liberation from Ottoman control.
This paradox in Modi foreign policy of selectively engaging Islamic nations, even ostentatiously hugging their leaders, while allowing the fringe at home to bait Muslims can only work fitfully or in the short run. His second visit to the UAE was really pegged on laying the foundation stone of a temple in Abu Dhabi and a global summit at Dubai on governance. Hardly any world leaders were visible in the first row, other than local sheikhs. It was vintage Dubai marketing itself as a focal point for global commerce.
The UAE has had temples for decades, although not in the capital Abu Dhabi. The late president, Sheikh Zayeed, father of Modi's host Sheikh Mohammed bin Zayed, had in 2001, when I was ambassador to the UAE, allotted land in the capital for a cremation ground, which was to have a small temple. When the then Home Minister LK Advani called on him and thanked him for this gesture, he replied that his family accepted religious pluralism. Thus, the current gesture is a next step in an old tradition rather than some strategic leap in bilateral engagement. In fact, two English television channels, devoted even more vigorously than Doordarshan to spin BJP's accomplishments, broadcast a clip wrongly showing Sheikh Mohammed chanting 'Jai Sri Ram' at a function. As the adage goes with friends like these who needs enemies? The UAE embassy in Delhi and newspapers in the UAE reacted with indignation.
The Indian purchase of a share in an oilfield and ADNOC, Abu Dhabi's oil major, participating in Indian oil reserve are old decisions announced during Sheikh Mohammed's India trip. The UAE and Saudi Arabia are aligned against Iran, exacerbating the Shia-Sunni confrontation, thus splitting the six-member Gulf Coordination Council as, indeed, the Sunni world. Modi laying a wreath at the military memorial in Abu Dhabi, largely honouring the UAE's dead in their intervention in Yemen and thus in a war against Iranian allies Houthis, would be read by Iran's Revolutionary Guards as India taking sides. The forthcoming visit of Iran President Hassan Rouhani cannot alter that reality.
Leaders who preceded Modi, whether of the Congress or BJP, operated from a shared vision to retain strategic independence vis-a-vis great powers and not get embroiled in Islamic world's quarrels. Modi tends to play by ideological biases and hope that sequential and tactical moves will paper over strategic weakness in his approach. The UAE would like to create a fissure between India and Iran. Iran would like the reverse. Modi's last stop was Oman to meet Sultan Qaboos, the last surviving titan of Gulf politics. He has kept Oman neutral in the Gulf nations' quarrels created by gen-next leaders of the UAE, Saudi Arabia and Qatar. Hopefully, he would have passed that wisdom to his Indian guest.
The writer is a former Secretary, Ministry of External Affairs
Top News
Sudha Yadav, Iqbal Singh Lalpura included in both key commit...
Security forces had on Sunday located a group of two to thre...
Kajal is MLA from Kangra while Lakhwinder Rana is MLA from N...
Centre tells SC that it's in active discussion with FIFA to ...
Meets sub-inspector Dilbagh Singh outside whose house the IE...