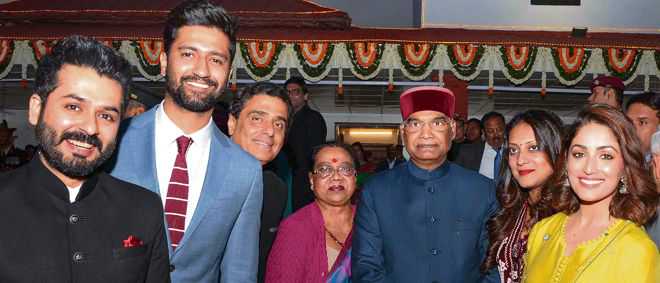 Salil Desai
Novelist and Filmmaker
The National Film Awards are almost as old as the Indian Republic. Instituted in 1954 to encourage good cinema across languages and states, the awards are still the most prestigious honours coveted by the film fraternity.
The 66th National Film Awards, announced last week, are a mixed bag — performing the vital function of giving the much-needed recognition to talented filmmakers away from mainstream cinema, alongside regional films in different languages — yet this time, they show a distinct preference in favour of popular, commercial, Hindi films.
Consider the list of major awardees. The Best Actor award is shared by Ayushmann Khurrana (Andhadhun) and Vicky Kaushal (Uri), Best Director is Aditya Dhar (Uri), Best Supporting Actress Surekha Sikri (Badhai Ho), Best Male Playback Singer Arjit Singh (Padmaavat), the Best Hindi Film and Best Adapted Screenplay award goes to Sriram Raghavan (Andhadhun), Best Music Direction is shared by Sanjay Leela Bhansali (Padmavaat) and Sashwat Sachdeva (Uri), Best Popular Film Providing Wholesome Entertainment is Badhai Ho and Best Film on Social issues is Padman.
This is not to say that even one of these awards was undeserved, but it's difficult to remember the last time popular Hindi cinema so completely dominated the National Awards. Moreover, a couple of facts make this domination a little odd.
First, the awards are usually declared in April and awarded on May 3 annually — the significance of the date being the release date of the first Indian feature film Raja Harishchandra in 1913. This year, the awards were delayed inexplicably by over four months. The General Election cannot be a valid reason, for this did not happen in the previous Lok Sabha elections in 2014.
Secondly, Uri, the film which won four awards, was released only in 2019, yet the jury was persuaded to consider it for the 66th National Awards, instead of next year, on the grounds that its CBFC certificate was dated December 31, 2018.
Thirdly, irrespective of their artistic merits, either the themes — Uri (surgical strikes) and Padmaavat (Indian medieval glory) — or the filmmakers (Padman) are seen as close to the current establishment. Make of this what you will. Of course, such coincidences have occurred earlier too when the Congress was in power, so this is not a sweeping comment on the merits of these award-winning films.
However, it is also rather strange that some well-made, incisive films released in 2018 — Raazi, Manto and Mulk — do not figure in the awards list.
But the two films on which there cannot be even a shadow of doubt are Sriram Raghavan's brilliantly wicked thriller Andhadhun and Amit Sharma's sensitive, hilarious comedy Badhai Ho. Sriram, who should have won a National Award a long time ago for his chillingly dark Johnny Gaddar (2007) and Badlapur (2015), finally struck gold with Andhadhun. A humdinger of a murder tale, Andhadhun is a battle of wits between a blind pianist, played by Ayushmann Khurrana, and Tabu, a woman who kills her husband, with twists galore, sewn together with the thread of macabre humour.
On the other hand, Badhai Ho gets audiences chuckling at the panic and discomfiture of a middle-aged couple, Gajraj Rao and Neena Gupta, who suddenly discover they are going to become parents again. Brilliantly capturing the embarrassment of the couple in facing the situation, starting with their grown-up sons, mother-in-law (award-winner, Surekha Sikri), and society at large, Badhai Ho is the triumph of light-hearted story-telling, without losing nuance and sobriety while handling an awkward subject.
Moving beyond the Hindi film industry, the award for Best Feature Film went to Hellaro (Gujarati), a film on women's empowerment, set in Kutch. The other major awards bagged by regional artistes include the Best Actress Award for South Indian actress Keerthy Suresh (Mahanati, Telugu and Tamil), for her role as the protagonist in the bilingual biopic on yesteryear South Indian films' heroine, Savitri, while Swanand Kirkire, better known for his wonderful lyrics won the Best Supporting Actor Award for his role as a mentally slow man (Chumbak, Marathi). Also, the winner for Best Cinematography is KJ Radhakrishnan (Olu, Malayalam) and the Best Female Playback Singer Award was picked up by Bindhu Malini (Nathicharami, Kannada).
This has naturally led to some heartburn. Malayalam film fans are particularly incensed that Kerala superstar Mammootty was overlooked for his much-acclaimed performance, as the father of an adolescent girl suffering from cerebral palsy in Peranbu, while the Tamil film industry, used to bagging multiple awards every year, is fuming that Tamil films like Vada Chennai, Pariyerum Perumal, Ratsasan and 96 were ignored. In fact, the Chairman of the National Awards jury this year, Rahul Rawail, was mercilessly trolled on Twitter by fans of Mammootty, who profusely apologised on their behalf when Rawail complained to him about it.
But what the 66th National Film Awards has got right is in living up to its role of appreciating and giving due recognition to parallel and off-beat cinema. This is evident from the awards received by three films from North-East India, all of which have the distinction of being the first films to win National Awards in their respective languages. This includes Dominic Sangma's Ma.Ama (Garo), the story of a man in search of his dead wife, Manju Borah's In the land of Poison Women (Pangchenpa dialect) about the Pangchenpa superstition that women have poison in their nails, which can kill men when they serve food, and Bobby Sarma Baruah's Mishing (Sherdukpen dialect), based on Sahitya Akademi Award winning author Yeshee Dorji Thongchi's novel.
Yet what does one make of the short film Chalo Jeetey Hain being awarded the Best Film on Family Welfare, which is based on the early life of PM Modi? One can only pray that next year's National Award for Best Feature Film does not go to Vivek Oberoi's Modi biopic, released this year!
Top News
The H-1B visa is a non-immigrant visa that allows US compani...
Sources say it appears to be an IED blast
It will be extended for Tinsukia, Dibrugarh, Charaideo, Siva...
Remaining 12 in preventive custody to be freed soon, Jatheda...
Vishal alleged when he was walking on the road, Aman came fr...