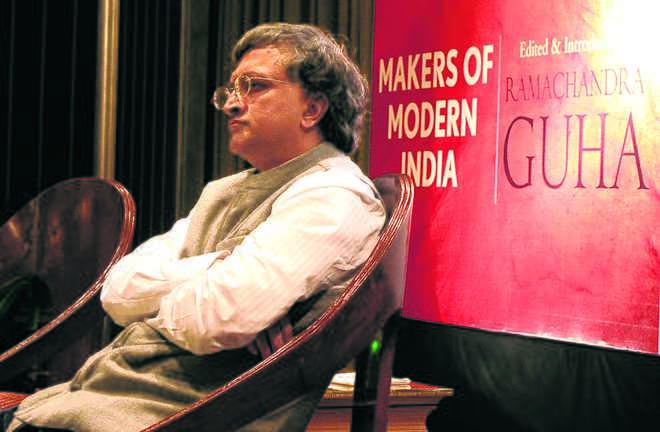 Salil Desai
Pune-based author and columnist
ACADEMICIAN and author Ramachandra Guha tweeted recently that he was unable to join Ahmedabad University because of circumstances beyond his control. Subsequently, it has been revealed that the circumstances he was referring to were the threat held out by the Akhil Bharatiya Vidyarthi Parishad (ABVP), Ahmedabad, to him and the university authorities that they would oppose an 'urban naxal' such as Guha from contaminating the university and from transforming it into a breeding ground of anti-national activities like Jawaharlal Nehru University (JNU).
Guha has taught at several prestigious universities in India and abroad, and has written some of the finest books on the 19th and 20th century Indian history like India before Gandhi (2013), Makers of Modern India and has been earning plaudits for his latest book Gandhi — The Years that Changed the World.
He was slated to join as the Shrenik Lalbhai Professor of Humanities and Director of Gandhi Winter School at Ahmedabad University's School of Arts and Sciences on February 1, 2019. This was announced in mid-October.
The ABVP, the students wing of the BJP, then seems to have swung into action and it threw a spanner in the works by submitting a memorandum to the university authorities, demanding the cancellation of Guha's appointment on the grounds that his writing was critical of the Hindu culture and accusing him of being a 'communist' and an 'anti-national'.
What seems to have happened thereafter is that under immense political pressure and perhaps even fears for the renowned academic's safety, Ahmedabad University or Guha or both decided that discretion is the better part of valour.
The episode is shameful because it shows just how easily right-wing political forces, when in power, can go about scuttling and undercutting any independent-thinking individual or institution. All that they needed was to brand an eminent scholar as anti-national and anti-Hindu and hint at the threat of trouble. While an individual is always a soft target, the institution too felt it more prudent to buckle.
Indeed, it is also an early warning bell of what to expect if the same dispensation returns to power because these are standard tactics eerily reminiscent of what the Iron Curtain era communist (left-wing) regimes would do in several eastern European countries, or, for that matter, what even the USA did in the 1950s during the McCarthy 'red scare' years, when intellectuals, academics, writers, scholars critical of the government or inimical to it, were neutralised by the simple expedient of armtwisting, intimidation and informal blacklisting.
In fact, it is far more effective and sophisticated because it does not carry the social stigma associated with murdering intellectuals, like in the case of Professor Kalburgi, Gauri Lankesh, Narendra Dabholkar or Govind Pansare. This kind of tactic also provides right-wing political forces the alibi of democratic protest to justify targeting intellectuals by drawing parallels to other protests. For instance, typically, the protest by a students' body in 2015 against Gajendra Chauhan, appointed head of the Film and Television Institute of India (FTII), can be cited as a precedent for the right to oppose Ramachandra Guha. Never mind that the two persons' stature and credentials in their respective fields are hugely different as are the context and reasons. Moreover, Chauhan, unlike Guha, was a government appointee and, therefore, had its backing, nor was there a threat of violence to him. Most importantly, Ahmedabad University is a private university, unlike the FTII, which is financed by the Central government.
Despite these distinctions, in the current majoriatrian climate, the right-wing can draw a false equivalence and make naked intimidation sound like democratic protest with astonishing ease.
Nor is it the only weapon in its armoury against intellectual dissent or suppressing academic and scholarly points of view considered anti-Hindu. Recently, an attempt was made by Delhi University's Standing Committee on Academic Matters to remove three books written by a Dalit scholar, Dr KanchaIllaiah Shepherd, from the post-graduate syllabus of its political science department course on social exclusion. The books — God as Political Philosopher: Buddha's Challenge to Brahminism; Why I am not a Hindu; and Post-Hindu India: A Discourse in Dalit-Bahujan Socio-Spiritual and Scientific Revolution — were recommended for removal obviously because they were seen as searing critiques of Hinduism.
Again, the tactic used was similar. The books were denounced as derogatory to the Hindu faith, and its author anti-Hindu. While the resultant uproar has staved off acceptance of the committee's recommendation for the moment and DU has said the final decision will be taken by its Academic Council, it is clear that the central idea is to keep chipping away at islands of intellectual independence.
A third strategy is also at work in this project which was evident in a decision taken earlier this week when Indian-American author Rajiv Malhotra was appointed honorary professor at JNU's Centre for Media Studies.
While the capture of state-funded academic institutions like the Indian Council of Historical Research (ICHR), Nehru Memorial Museum and Library (NMML), Indian Institute of Advanced Studies to rewrite history is well documented and has been in full swing since the current government came to power, it is being actively complemented by disguising ideology as academics and ideologues as scholars, which is probably the most dangerous and damaging development of all.
With intimidation, infiltration and indoctrination all at work in tandem, one shudders to think how long before the few islands of academic independence are completely inundated by waves of anti-intellectualism.
Top News
Harried passengers take to social media to vent their ire at...
Lapid had stirred a massive controversy by terming Vivek Agn...
Voter turnout less than 66.75 pc recorded in first phase of ...
DigiYatra will provide seamless entry and embarkation proces...
His song 'Mahakaal' removed from YouTube after 19 hours