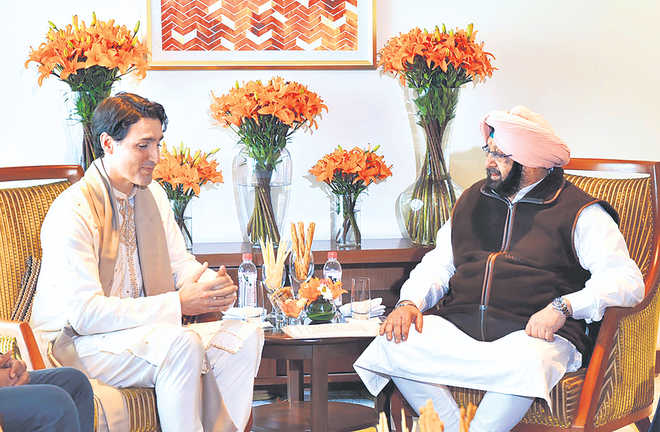 KC Singh
NORMALLY the "K" word that overhangs Indian diplomacy denotes Kashmir. Canadian PM Justin Trudeau's recent visit, instead, resurrected the "Khalistan" issue. The rumbles had been heard since last year.
The stage for the fracas was set during last year's Punjab state election. A resurgent Aam Aadmi Party, perceived as the main challenger to incumbent Akalis, as a volunteer and movement-based startup had clocked unexpected success in New Delhi and in four Punjab Lok Sabha seats. The Sikh diaspora, particularly in Canada, liberally funded and supported them. Punjab CM Capt Amarinder — denied a visa before the Punjab election to campaign in Canada as it was illegal — felt PM Trudeau's Liberal Party had played into the hands of "Khalistani" supporters of the AAP. Such electioneering was standard fare in the past by Punjab politicians and thus Canadian sanctimony was suspicious.
The Captain turned the snub into a political weapon, painting the AAP as the Khalistani Trojan horse, calculating that while the peasantry's vote would get divided, Congress' traditional Hindu vote needed retrieving from the BJP, Akali ally and in power at the Centre. The Captain persisted with his Khalistan gambit by now targeting Trudeau's Sikh ministers, numbering four. He refused to meet Canadian defence minister Harjit Sajan visiting Punjab, despite on an official visit. Trudeau was travelling with his Sikh ministers and thus a repeat bout was anticipated.
In Canada, meanwhile, the Sikh diaspora's relations with the Indian government had worsened. Ontario legislature, in a resolution, called the 1984 Sikh killings as genocide. The legislator moving that was honoured in a Toronto gurdwara. Trudeau attended a nagar kirtan in Toronto where Khalistani flags, posters and pictures of Bhindranwale were displayed. Six days of meandering across India by Trudeau and his charming family kept the "K" issue alive with doubts lingering over his meeting with the Chief Minister during his short Amritsar trip, principally to pay obeisance at the Golden Temple.
Fresh controversy arose over Jaspal Atwal, attempted murderer of a visiting Indian politician in 1986, being in India and invited to the Canadian High Commissioner's reception. Though promptly disinvited, the issue got murkier when, subsequently, a news item claimed he was removed from the blacklist by the Modi government and was a recanting radical used for outreach to Khalistanis. Was the fracas then tripped-off by Liberal Party rivals in Canada or a crude attempt by the Indian Government to put Trudeau on the back-foot on the Khalistan issue? At any rate, it riled the Sikhs in India for reviving Sikh bashing, even by liberal voices in media.
The joint statement after Modi-Trudeau parleys reiterates that while both nations are democracies and committed to the rule of law, they accept each other's territorial integrity and sovereignty. This could have been done at the start of the visit to avoid the whole sordid Khalistan saga. Canada agreed to act against Babbar Khalsa and International Sikh Youth Federation activists. The issue, however, may not be that simple. The world changed after Arab Spring in 2011. Social media facilitates flash funding and activism allowing ideas to proliferate rapidly. Khalistan 2.0 is being propagated peacefully, and within the ambits of Canadian law. Freedom of speech, including freedom to propagate political thought that India may consider grossly seditious, stuck as India is with colonial criminal laws crafted for 19th century India, is not forbidden in Canada and the US. The Canadian federal government watched patiently as Quebec held a referendum, a second time, to secede in 1995, which was later held unconstitutional by the Canadian Supreme Court. In the US, too, in the year 1869, the Supreme Court ruled similarly in Texas v. White.
The Khalistan 2.0 playbook rests on a "vote" ( #Referendum2020 ), to be held among the global Sikh diaspora. If Khalistan gets a thumbs-up, the issue will be internationalised and taken to the UN. This route has been tried before, unsuccessfully.
The idea of a Sikh homeland first appears in a pamphlet by Dr Vir Singh Bhatti in 1940 as riposte to the Muslim League's Lahore Declaration. Post-Independence, it has recurrently played into Punjab politics, exacerbated by the Nehru government unwisely denying Punjab a linguistic state when other states were so permitted in 1956. It reeked of distrust of Sikhs. Lal Bahadur Shastri rectified this mistake, when, in the middle of the 1965 War, he won over an agitating Sant Fateh Singh by promising a Punjabi Suba. It was a Sikh Lt Gen, Harbaksh Singh, and the Punjabi peasantry that turned a collapsing western front into victory. Had PM Shastri not suddenly died in January 1966, Punjab may never have seen militancy, as he would probably have kept his promise of a fair deal, which, unfortunately, his successor Indira Gandhi reneged on.
Khalistan 2.0, again, has a domestic and international context. In Punjab, the 10-year Akali rule worsened an unsustainable agro-economic model that is depleting subsoil water, creating indebtedness and rural distress and poor job growth for youth. At the national level, Modi's rise and his delinquent fringe is de facto turning India into a Hindu majoritarian state, as the BJP reinvents Indian history, redefines nationalism and rebrands Indian icons. Internationally, the drift is towards populism, nativism and anti-liberalism. Kemal Ataturk's secular Turkey has been bludgeoned into a quasi-Islamic state. The US appears on the way to being a Christian state, over-riding the First Amendment, which, as Thomas Jefferson said, created "a wall of separation between Church and state". In China, President Xi Jinping has just been reincarnated as Mao 2.0. Russian President Vladimir Putin has masterfully adopted the Russian Orthodox church as his handmaiden in perpetuation of power. The Patriarch practically campaigns for Putin and the portraits of Lenin have been replaced by religious icons.
In the 14th century, Chishti Shaikh Nizamuddin Auliya said, "My room has two doors; if the Sultan comes through one door, I will leave by the other". That was the Sufi version of the Jeffersonian wall. As walls crumble and atavistic and nationalistic forces abound, it is hardly a surprise that Sikhs, who are 1.7 per cent of the Indian population and 1.4 per cent of Canada's, find their youth restless. Leadership deficit among the Sikh clergy, Punjab and India can only help revive the past ghosts. Hopefully, at least in major democracies, people will ignore the siren song of 21st century neo-emperors and elect leaders espousing liberal, democratic politics.
The writer is a former Secretary, Ministry of External Affairs