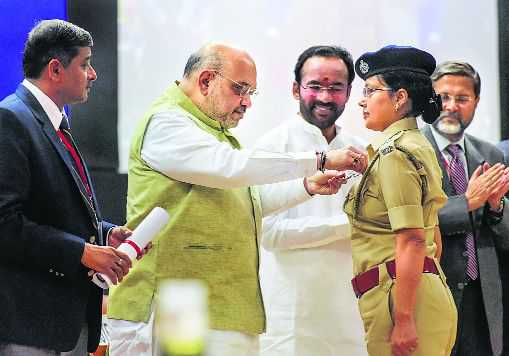 Vappala Balachandran
Former Special Secretary, Cabinet Secretariat
Union Home Minister Amit Shah's address at the Bureau of Police Research and Development (BPRD) function on August 28 should be considered as a significant move of raising the matrix for police working as we are observing September 22 as Police Reforms Day. It was on September 22, 2006, that the Supreme Court had delivered its landmark judgment with seven directives to the Central and state governments on a public interest litigation (PIL) moved in 1996 by Prakash Singh and NK Singh, two distinguished police officers.
True, the media had highlighted Shah's rejection of 'third degree' methods and his concern over the high percentage of acquittals. However, the essence of his speech lay in underlining the correlation between economic development and maintenance of law and order. Shah is, perhaps, the first senior minister in recent years to do this. By doing so, he has elevated the importance of the police to a higher level, aligning them with international thinking.
In 1992, the UN Security Council recognised the spillover of globalisation and non-traditional security threats (NTS) into internal security. In 1997, the United Nations Conference on Trade and Development (UNCTAD) said that globalisation had affected the traditional concepts of sovereignty and territorial integrity. In 2001, the International Commission on Intervention and State Sovereignty recognised more diverse issues posing threats to economic, environmental, energy, resources, food, health and bio-security concerns.
The 2004 Report of the UN Secretary-General's High-Level Panel identified economic and social threats, transnational organised crime, as well as inter-state conflict, internal conflict, terrorism, and weapons of mass destruction. A Harvard professor, Stanley Hoffman, called it as the "emergence of a transnational society that includes multinational corporations, NGOs, criminals and terrorists" (New York Review, August 10, 2006).
The United Nations Development Group's report (2013), A Million Voices — Post 2015 Agenda, prepared after 88 national consultations recommended a 'development response', not merely a 'security response', for "preventing, mitigating and deterring conflict and violence". This is to be achieved by building "strong and accountable institutions anchored in the rule of law" to "uphold people's rights and hold perpetrators of violence and injustice to account." This is necessary as internal conflicts deter foreign and domestic investment, our present priority.
All these would mean that the police, as guardians of internal security, have to operate with an elevated code of responsibility and accountability as we are expected to surpass China in 2024 in population and emerge as the most populous country in the world by 2030. Are we in a position to undertake this heavy responsibility with the present state police systems? The answer is a loud no if we consider the recent report, State of policing in India-2019, by Common Cause and the Centre for the Study of Developing Societies (CSDS) which reveals poor police morale.
Why is this so? The reason is the 1935 Government of India Act which we copied in Schedule 7 of the Constitution. The Constituent Assembly which started under British tutelage from December 9, 1946 was guided strictly by the Cabinet Mission's directive for a "weak Centre" under a façade of instilling confidence among the minorities, but for a covert purpose of planting seeds of future disunity.
The three Round Table Conferences in the 1930s had indicated that the Congress, then the only party fighting for freedom, was isolated and weakened. Schedule 7 of the 1935 Act had placed the states in charge of police, including railway and village police, public order and all crime investigations with no concurrent role for the Centre, as in other countries, except in emergencies. It was a tragedy that the Constituent Assembly which continued till November 26, 1949 could have modified this provision after watching the August 16, 1946, 'Great Calcutta killings' or the October 1946 Noakhali and Tipperah massacres, indicating how poorly the states had tackled these riots under local political pressure.
Thus, our state police systems started developing according to the priorities fixed by local politicians with only occasional Central guidance. It is true that Sardar Patel had tried to streamline the police working on an all-India pattern by introducing the Indian Police Service (IPS) and stipulating that 50 per cent of the officers should come from outside that state. He also insisted on posting IPS officers on deputation to Central government posts to give them a feel of all-India unity.
But clever state politicians found ways of avoiding this. They played favourites by continuing some in key positions and also by recruiting local candidates at the cutting-edge levels. That is the main reason why police reforms had faltered even after the 2006 Supreme Court directives. Also, Schedule 7 resulted in the state police investigating every penal law which has no correlation with basic police working.
Many states now consider police as the only coercive arm since other agencies have faltered. In addition to regular police work, they are also asked to demolish illegal shanties, collect fines, issue licences to eateries, 'tongas' and bullock carts, impound stray cattle, kill stray dogs, dispose of unclaimed bodies, round up beggars, protect mangroves and sand beds; courts ask them to detect illegal building constructions; a fastidious Maharashtra Home Minister had set a tradition of asking them to spend all their time at night in regulating dance bars.
Then they act as moral police, detect 'beef crimes' and cyber crimes, watch social media, work as ministers' 'telephone orderlies, collect political intelligence, protect vital installations, serve summons and warrants on behalf of courts, escort prisoners and also undertake counter-insurgency operations. More jobs are added by state governments and courts almost every day, leaving no time for honest investigation. Shortages of staff and accommodation plague them in 2019, as it was in the 1970s when I was a middle-level officer in Bombay.
Home Minister Shah could take the first step of lightening the load of state police by merging the Railway Police with the RPF which even Pakistan has done and by insisting on the states to implement the May 21, 2013, Home Ministry advisory on creating municipal police, as recommended by the Second Administrative Reforms Commission.