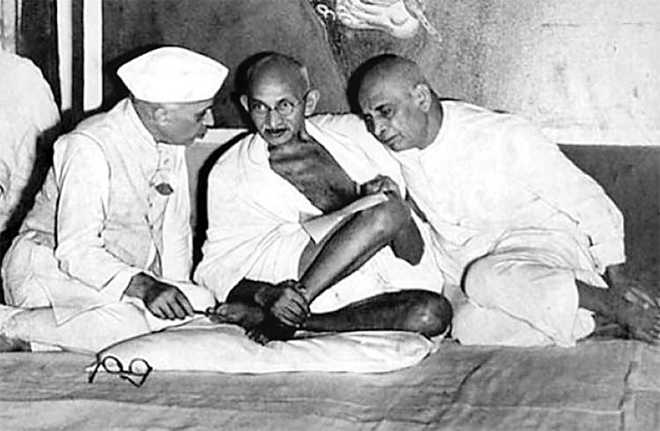 Rajmohan Gandhi
THIS valued newspaper asks me to write for free India's 70th anniversary, but I must begin with recent matters.
After that call was made for a tank on the JNU campus, artillery in fact moved. It moved to Karnataka, where Congress MLAs from Gujarat had secluded themselves to make poaching difficult. Big investigative guns confronted the MLAs' rich host, a Congress minister in Karnataka.
In the opening days of this month, August 2017, about the only person in all of India to be publicly targeted for alleged black money was the afore-mentioned Minister, DK Shivakumar.
The timing too may have been well-considered. Since Ahmed Patel, Gujarat's Congress leader, had shown the temerity to stand up to Amit Shah, the BJP president, shouldn't Patel be prevented from re-entering the Rajya Sabha? Why not immobilise Shivakumar and liberate Gujarat's MLAs for the market economy?
We live in no-nonsense times. A day or two before the raids on Shivakumar, this is what Minister of State for Home Kiren Rijiju told Parliament, during a debate on lynchings:
"When India's name is shining in the eye of the globe, when people the world over respect our Prime Minister, at this moment to ruin the image of our Prime Minister, our government is as bad as ruining the image of our country… I am ending my comments with a warning... As many times as you raise issues like this, those many times we will expose you." Wishes are not facts. India's name does not necessarily glow in the world today. Yes, India's global footprint has steadily expanded over the last 25 years. Persons of Indian origin play more visible roles on several continents. But farmers' suicides, violence against women, and lynching of humans in the name of the cow invite critical international coverage on TV, in print and on social media.
The world also rightly wonders about the media's independence in India. Our always-visible Prime Minister is also, unfortunately, wholly inaccessible. He is possibly the first Indian Prime Minister who does not hold press conferences or give interviews to probing journalists. When was the last time anyone read a candid interview with Mr Modi? Or watched such an interview on television?
Our Prime Minister tweets, launches projects, meets world figures, addresses election rallies, gives a monthly radio talk. He reaches us. Sometimes he makes constructive points. But we cannot reach him or ask him questions. A one-way torrent of words, even of eloquent words, is not democracy.
Mr Rijiju was right to refer to world opinion. We do not know whether the lynchings would have secured a debate in Parliament but for the international dismay aroused. Leaving out exceptions like North Korea's rulers, few regimes can wholly disregard international opinion. During our 1975-77 Emergency, Indira Gandhi kept, in a drawer near her South Block desk, a few small journals that had criticised her. If a foreign caller asked her about the freedom of the press in India, she would show the articles.
The journals preserved in Mrs Gandhi's drawer did not represent the state of India's conformist Press in 1975-77. Likewise, newspapers questioning the central government today do not speak for India's big media. Possessing a much wider reach, our TV channels seem unwilling to hold Modi and his team to account. When Opposition parties become weak and primary media is fearful, only Caesar may save us from Caesar and his supporters. However, Mr Modi, who has the platform and megaphone to reach millions, who expounds a great deal on chosen goals, refuses to address the nation on life-and-death matters.
A brief statement that the Prime Minister condemns lynching was not half enough. From a TV screen, Mr Modi must directly condemn culprits and their supporters. He must tell India's policemen, with the whole nation watching, that they must protect every person on India's soil.
He must assure India's women, Dalits and Muslims, specifying them, that their safety is his commitment. Publicly and privately, he must insist that state governments bring the guilty to justice. His record, unfortunately, does not suggest that Mr Modi will do any of this.
Following Independence, a far-from-perfect yet precious house of democracy was created in our land. Behind it lay the sacrifice of countless people, including the forebears of many who may read this.
In this piece, I cite only from two or three of them, but what a team of heroes we had. I marvel at all of them, thank God for all them, and do not compare them with one another. At that mid-August midnight 70 years ago, this is what Jawaharlal Nehru said:
"We shall never allow that torch of freedom to be blown out, however high the wind or stormy the tempest... All of us, to whatever religion we may belong, are equally the children of India with equal rights, privileges and obligations".
And here are BR Ambedkar's challenging words: "Political tyranny is nothing compared to social tyranny and a reformer who defies society is a more courageous man than a politician who defies government."
Narendra Modi himself often speaks of Babasaheb Ambedkar. He also often speaks of Mahatma Gandhi. The Swachh Bharat campaign has Gandhi, or at least Gandhi's spectacles, as its icon.
But the dirt that Gandhi sought to remove was more than physical. It was more than financial. Gandhi was above all an enemy of the arrow of hate between Hindus and Muslims that many of Mr Modi's supporters openly and repeatedly launch. Some of them also openly proclaim the goal of a Hindu Rashtra, the mirror image of an Islamic Pakistan.
Such a change in the Constitution and ideology of India would amount to a brutal reversal of Gandhi, Ambedkar, Nehru and all those who fought to replace foreign rule with an Indian polity that assured liberty of thought, religion and speech, equality and respect for diversity. Whether their effort has Mr Modi's support or not, the forces that want such a reversal have made solid progress, at least in preparing the political and social ground for it. Will their partial success grow into bigger triumphs? Will dissent and opposition be suppressed with the aid of state agencies and a pliant media? Will thought be controlled through universities and schools? Will it become increasingly hard, dangerous and finally impossible to mount a strong opposition? Hard enough to write, history is impossible to predict.
It may be a mistake, however, to count on the long-term gullibility or inertia of the Indian people, or to dismiss as old-fashioned the instincts passed on to the Indian people by the remarkable movement that saw success 70 years ago. Rousing India against the British Empire but refusing to hate the Englishman, hating Indian society's cruel injustices but refusing to condone ill-will towards any Indian, Gandhi knew he had invited enmity. He fully expected to join the ranks, large in number, of the subcontinent's victims of hate.
Equally, he expected his ideas to continue the fight. Alluding 10 days before independence to the possibility of being eliminated, Gandhi wrote in his weekly Harijan:
"I shall be alive in the grave and, what is more, speaking from it (Harijan, 7 Aug. 1947; Collected Works 96: 202).
Similar was the confidence of a great many others who offered their lives for a free India where citizens would be free to think, believe and speak as they liked, and where they loved fellow-Indians, no matter of what kind.
The hand holding it may be old or young, weak or strong, but the torch of national and individual freedom will be held, passed on, and held again, and again, no matter how fierce or long the storm.
The writer, the grandson of Mahatma Gandhi, is a historian dividing his time between India and the United States.