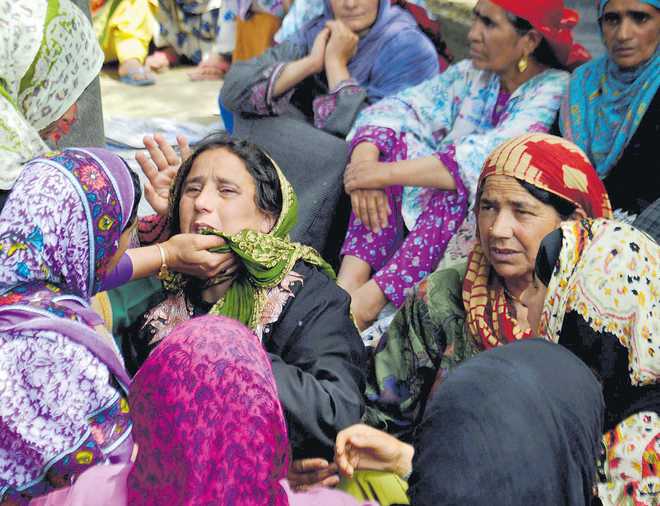 ON May 9, the joyous mood of wedding celebrations in the township of Batapura, Shopian suddenly turned gloomy, the terrorists struck. Their target Lieutenant Ummer Fayaz Parray was quickly bundled away; the next morning his bullet-ridden body was found. His only fault was that as an Indian Army officer he had decided to uphold the integrity of his country, contrary to the dictates of the terrorists. Earlier, families of police and Army personnel have been threatened and warning to either quit or get eliminated. Despite the danger, Ummer showed his strength of character and belief that he was on the right lines by going home on leave.
At the Indian Military Academy (IMA), he was highly motivated and a fitness freak. A one-liner on him by his course mates speaks volumes, he "could debate anyone on any topic!" Like every other young officer, he was ready to prove his worth, earn his spurs as a leader of fighting men, rise to higher ranks and what's more, to ensure a better tomorrow for his parents and two sisters. But as he lay wrapped in the Tricolour, his dreams were snuffed out with him, leaving behind a shattered family. His cold-blooded murder soon after the dastardly beheading of a JCO of the Army and a NCO of the CRPF shows the barbarism of the terrorists — brutality, cowardly conduct and total disrespect for human values and rights.
Their aim is clear, to terrorise the local population and show their helplessness. No terrorist organisation is likely to claim Ummer's killing, false propaganda will surface but silence is likely to rule. The local population, however, must see through the terrorists' game plan and rise to the occasion, instead of getting cowed down. Realisation must also dawn to perceive their future in the nefarious designs of the terrorists. Reaction to this heinous act has surprisingly been subdued. A few politicians did make a mandatory condemnation, but missing were the rhetoric-loaded human rights activists, the separatist leaders and civil society at large. Evidently, they do not see any wrong in the killing of an unarmed soldier at home feasting with his family? Sadly, his remembrance will be restricted to his family and his brother in arms.
Ummer's name will be engraved at the War Memorial at the IMA and the Hut of Remembrance at the NDA, he will rest for ever in the Valhalla of the Brave. However, his murder must not go in vain, it may just turn out to be a defining moment.
Terrorist violence will continue but their abhorrent acts will only strengthen the resolve of the Army and its leaders to crush the scourge of terrorism and its adherents. Yes, sacrifices will have to be made, but then the future officers on passing out from the IMA swear by the Code of a Warrior. The punch line reads, "I am a Warrior, fighting is my dharma," and they abide by the spirit of the Academy song, which says, "Diwarein ham banenge Ma, talwarein ham banenge Ma, chhu le tujhko hai kis mein dam, Bharat Ma teri kasam, tere rakshak rahenge hum!"
The reputation of IMA as a world-class military institute has been built by its alumni over decades. It is a matter of pride that since 1955, over 1,200 cadets from 32 friendly countries have been trained here fostering better relations with a host of countries. The training is dynamic, a confluence of tradition and technology in the field of warfare, to produce knowledge warriors. They are nurtured with attributes of outward and inner self, with compassion for the men and chivalrous traits to lead their men and order a resilient command of,"Follow me!"
Training covers a vast canvass but an interesting part is the development of military bearing and appearance by drill ustaads, our very worthy JCOs and NCOs. A different world awaits the new entrants to the IMA and for many it is a cultural shock. To start with, he is "privileged" to a new style of haircut, some refuse to recognise themselves, but given a few days and they realise that this was the easiest part of the training. Many have never seen dawn but here even before the cockerel calls, it is time to jump out of bed, rush through the morning ablutions and be on parade all spruced up and well before time. Here is where he encounters the inimitable drill instructors, who are unique and a class apart. To a greenhorn cadet, drill instructors are egoistic, who constantly preach the gospel of sincerity towards duty, honour and service to the country — their only qualities being an unnatural gloss on boots, immaculate dress, flawless creases, a chest with shining medals, ramrod straight and a voice which puts thunder to shame. But the drill instructors have their way, standards set are achieved and there is no wavering. Finally, when a cadet crosses the Rubicon of Antim Pag to the strains of the heart-touching Auld Lang Syne, he is a smart, upright and confident commissioned officer, chiselled by his ustaad who takes tremendous pride in being the first to salute the young officer. Here begins the very special Officer- Man bond. Some drill instructors are legends indeed. It's nearing five decades, but the memory of Subedar Major Kanshi Ram remains etched in mind, his penchant to speak in English had loads of humour but our smile had to be invisible as he boomed, "Who the he, understanding the tree!"
This brings me to the War Memorial, the sanctum santorum, where every cadet takes an oath to tread the path set by his predecessors, today stands proof of the tremendous sacrifices made; 845 names of brave hearts are engraved on its sacred façade, 846 and 847 are being engraved, Ummer will be at 847. Traditionally, every six months in June and December a day prior to the "Passing out Parade" a very moving and solemn remembrance service is held at the Memorial. Invited to the Academy are very special and honoured guests, the next-of-kin of the martyrs during the past five months; as paeans are read and wreaths laid, the Passing Out Course stand on vigil to honour their fallen brethren, the respect and care does provide some solace and strength to their departed comrades' family but wet eyes and emotions are in plenty.
Military training academies are also the edifice of national integration. Here petty loyalties of regionalism, caste or religion are subordinated to the brotherhood of Arms, it is indeed the Mahayana of nation building! The transformation in a short time is amazing. Cadets join as Bongs, Biharis, Jatu, Punji, Sardar, Tambi, Tante, Yado —but soon all this disappears into the realm of light banter and only Indians pass out. Camaraderie and friendships formed here are life-long, reminiscences and discussions on Army life are omnipresent, only the battleground of company-operating bases or COB has metamorphosed to charcha over beer! A few lines from a tribute to Ummer by an Army veteran, "Teri shahadat banegi aatank ki dushman; maut ka safeer 'Raji'chhipta rahega (Merchants of death will be scared and in hiding); Zinda hai Ummer Fauji tun, zinda hi rahega!"
The writer is a former Commandant of the IMA, Dehradun, & former Chairman, Punjab Public Service Commission.
Top Stories