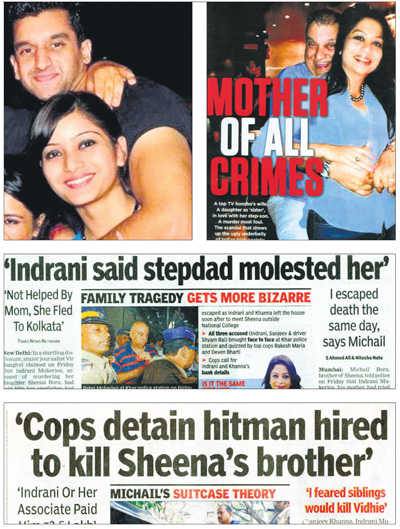 IF you were watching television news during the second half of last week, it might have seemed as if nothing newsworthy was happening in India, except the investigation into the grisly Indrani Mukherjea-Sheena Bora murder case. Yes we saw the occasional update on the OROP imbroglio and how yet another terrorist was captured alive by the Indian security forces, as well as a bit about the 50th anniversary of the Indian victory in the 1965 war. Otherwise, prime time was completely swamped by never-ending "breaking news" about some new (often recycled) development in the whole lurid murder saga.
We have of course seen this frenzy before, first when the infamous Aarushi Talwar case unfolded before our eyes and then the periodic spurt of media focus about Sunanda Tharoor's mysterious death.
In fact, the level of interest generated almost gives a massive inferiority complex to a writer of crime fiction like me. But leaving aside the voyeuristic overtones and questions about whether the 24X7 electronic media was really pursuing public interest, being unethical or simply salacious, there are two issues that deserve more attention.
Media attention
Firstly, why is it that only certain murder cases get so much media attention? Why are some victims more equal than others, some misfortunes more celebrated than equally hideous fates? Close to 35,000 murders occur in India annually (NCRB 2014 data), and while an overwhelming number of them are straightforward cases with commonplace, wretched motives, there are still a lot of unusual slayings with motives, methods, dramatis personae, twists and turns that provide shocking insights into human psyche and the nature of the society we live in. You just have to watch a TV show like Crime Patrol or Dastak based on true crimes, to become aware of the dark undercurrents and impulses — personal, societal and moral — prevalent all around us today. Yet, we rarely see the national news media follow and focus exclusively for days together on these equally intriguing and horrifying murder stories, which occur every day somewhere or the other in this country.
Disturbing case
For instance, just a fortnight before the Indrani Mukherjee-Sheena Bora murder case exploded on our screens, Pune witnessed an equally disturbing case of filicide — a divorced, single mother killed her partially disabled 13-year-old son for insurance money as also because he was the main hurdle preventing her from marrying another, younger man. Incredibly, she first tried to pass the death off as an accident and then later claimed to have killed her son in self-defence because he had made sexual advances on her. Disconcerting details of how she had mistreated her son for years also tumbled out — all of which made it a pretty sordid case. Yet, I doubt anyone outside Pune would have heard about the incident, because national television did not accord it the kind of coverage it saw fit to provide to the Mukherjee- Bora case. So does it all just boil down to the glamour quotient of the cast of "bold and beautiful" characters as in the Sunanda Tharoor and Mukherjee-Bora cases?
Amateur detectives
Or as with the Aaarushi Talwar case, is it the hubris or journalistic zeal of media's primetime anchors that is making them play amateur, armchair-detectives-cum-interrogators-cum judges, under the delusion that they can plumb the depths of the mystery far better even without domain expertise, compared to our much-maligned (to an extent rightly so) and bumbling police forces and other investigative agencies?
Which brings us to the second point. Why is so much of the news on a heinous crime dominated by speculative opinion, unconfirmed innuendo, spicy theories and suppositions, leaps of reasoning and superficialities like lifestyle or character of the people involved, rather than by the reporting of hard facts? Agreed, it makes for a compelling, human interest narrative but is it also not instrumental in completely reversing the basic legal premise from "innocent until proven guilty" to "guilty until proven innocent"? It is exactly such a media trial which condemned the Talwars, much before they were actually found guilty of causing their daughter's death by the legal system.
And yet again, it is solely due to the tone and tenor of last week's disproportionate coverage that everyone has already made up their minds that Indrani Mukerjea, the main accused in the Sheena Bora murder case and her two accomplices are culpable, beyond reasonable doubt. Not a soul will give them the benefit of the doubt, such has been the impact. It is entirely possible that the crime has indeed been committed by them, but how is the sustained media focus any different from a form of summary justice if supported only by circumstantial conjecture, instead of incontrovertible evidence? How does such an approach further public interest or improve anything? The annals of crime history show enough examples of grave miscarriages of justice on account of human prejudice and public opinion. How long before media overzealousness leads to a similar blunder? A top journalist argued that the media is only catering to public demand and curiosity about the case, but then the question is what happens to the concept of responsible journalism? More importantly, has the electronic media forgotten that this is not a crime novel or film, in which creative liberties are taken to hook the audience, because nothing is really at stake except telling a good story? That would truly be a travesty of both journalism and fiction
The writer is a Pune-based author of crime fiction.
Top News
Odisha government has issued helpline 06782-262286. The rail...
At least 50 people died and 350 were injured in a three-way ...
12837 Howrah-Puri Superfast Express, 12863 Howrah-Bengaluru ...
WFI chief demanded sexual favours in lieu of supplements and...
Said agitation will be intensified by holding panchayats acr...