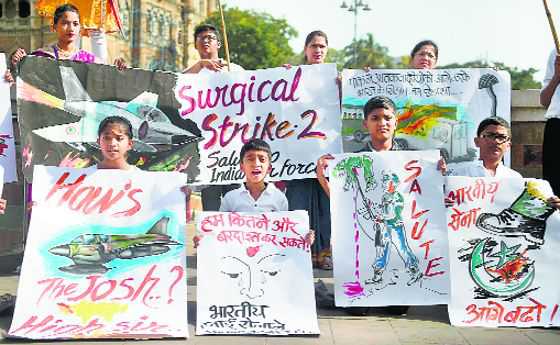 Bhartendu Kumar Singh
Indian Defence Accounts Service
AFTER the Balakot airstrike, strategic thinkers and the social-political elite are resurrecting national security consciousness. Social media warriors have jumped on the bandwagon and taken the lead in exploiting their public outreach. However, the dominant arguments revolve around the Balakot milestone. While some want everybody to 'follow the flag', others lack vision beyond their established anathema to an outright military option. In the process, both schools miss out the long-term war philosophy required to secure India's periphery and enable its focus on developmental goals in a cost-effective manner.
Balakot may symbolise India's baby steps beyond a defensive grand strategy where war could be a preferred response to similar provocations in future. But the public discourse on war is still problematic. We are coy of talking about all options on a State like Pakistan: are we happy with teaching a lesson to Pakistan? Since Pakistan has not stopped its proxy-war strategy, do we aim at further damaging its capabilities? Or do we fantasise total annihilation of Pakistan or at least fuel internal resistance from its marginalised provinces like Sindh or Balochistan? At a generic level, we don't want to discuss why modern wars are difficult to wage and win. Cost-benefit analyses is seldom done and war preparations are not being discussed in public (perhaps out of ignorance). Concurrently, alternative options like limited war, coercive exercises, diplomacy, politics of exclusion etc are not sufficiently being discussed. 'War by other means' strategy is dominated by 'war by other memes'singlehandedly channelled by social media. What we often have, therefore, is the propagation of false narratives masquerading as 'desired strategic response'.
There could be many reasons why such narratives often have an upper hand in the polarised debates. First, we are living in the immediate aftermath of a short, successful and jubilant military experience with a belligerent neighbour. Nobody had expected this kind of assertive response after the Pulwama tragedy. The overall environment is still euphoric and militarised. Warmongering, thus, emerges as an artificial social, psychological and political construct and a minor academic industry, courtesy social media. Second, the protagonists of such narratives also believe that military power is 'the power' in international relations and do not accord adequate respect to other aspects of power that can be of equal importance in containing a wild neighbour. There is also an inbuilt confidence of India being a military power in every sense capable of waging and winning a war. The near absence of decisive wars in contemporary international relations (like the US' failed invasion of Vietnam in the 1960s) or the very decline of wars are not factored in moderating the pro-war philosophy. Third, war language often gets flared up due to revenge politics, power politics, and social media advertisements. In this environment, we remain bogged down within the narrow and militaristic perceptions of national security, perhaps basking (without confirming) in the assumptions about our superior capabilities. People fall prey, rather easily, to such narratives and opinion-building exercises.
There has been a steady move in global politics towards non-violent and diplomatic means of dispute resolution. Wars, though, sometimes become inevitable and the morally preferred option. However, we need a right philosophy of war since every war has a cost in terms of losses of human lives, national assets etc and disruption in national priorities. The aftershocks of even successful wars are felt for decades. Considerations of war must always be studied and gauged through the economic, strategic and ethical prism so that an implementable and effective war strategy is agreed upon for feeding public policy mechanisms. At the end of the day, we need to strive towards what is the best for our national collectivity: good quality of life. Further, As Michael Walzer, a celebrated war philosopher, says, "We are not usually philosophical in moments of crisis; most often, there is no time." The time has come since the Balakot momentum is settling down and a comprehensive strategy can be worked out without getting too emotional and vengeful.
India, at least in the foreseeable future, needs a grand strategy for mobilisation of resources for meeting the twin threats from China and Pakistan on the one hand and internal security threats on the other. It also needs to balance defence and development through judicious usage of resources and channelise developmental aspects of security. Can the war talks visible against Pakistan resolve our security dilemma against a bigger neighbour like China? Do we have that preponderance of resources? We, therefore, need to debate a war philosophy that caters to all kind of external threats in a cost-effective manner.
India has the advantage of social and political arrangements on democratic lines. Enough literature has emerged in recent times hypothesising that democracies prefer peace over war options. If faced with a war scenario, democracies also tend to fight with better initiative and superior leadership. India may not have an established culture of national security like other great powers. The preference should be to make the best use of democratic space and debate a rational and comprehensive culture of national security that is socially and philosophically acceptable. Balakot has provided us a decisive moment and an opportunity. Instead of frittering away our energies in polarised debates, we should make use of these in engendering right norms, identities and culture of national security.
Views are personal